GMC's Sierra 1500 is one of the finest trucks out there. It's not afraid of dirt, mud, snow, or rain. The stock engine, in turn, is very strong and can handle whatever you throw its way. However, it might "run out of air" sometimes, especially when climbing up a hill off the road. To maximize performance and prolong the engine's lifespan, you might want to invest in the Best Cold Air Intake for GMC Sierra 1500.
Cold air intakes are an important part of improving your vehicle's performance and fuel efficiency. They help reduce engine temperatures, increase power output and improve fuel economy, which can save you money in the long run. With so many options out there, it can be difficult to know which one is best for your particular truck. Which one should you choose? The market is full of decent offers, and with the help of the following list, you'll be able to find right one!
1. K&N 63-3082 Cold Air Intake Kit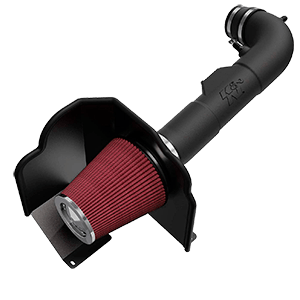 This company is well-respected and known among fans of aftermarket truck gear. As for the 63-3082 air intake system, it's a worthy product with a long list of pros. First of all, with it, you'll get a decent boost in horsepower and torque. The airflow increase reaches 50% – quite impressive. The company backs it up with a generous longevity guaranty (10 years or ten million miles).
This intake system is available in three different configurations, by the way. You can choose between different filters and tubes depending on your preferences. Easy installation, satisfying engine roars, and protection against contaminants are also a part of the deal. There's one tiny con, though: the included plastic fittings are a pretty much worthless. If you want your air intake to work properly, get a set of brass fittings at your local store.
Product Rating
Performance Increase
4.7 / 5
Pros & Cons
Guaranteed airflow, HP, and torque boost
Market-leading longevity warranty
Available in three different configurations
The fittings are practically worthless
Expert Recommendations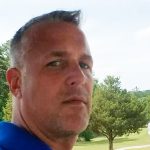 K&N's air intake system is a safe bet. It is easy to install, guarantees an increase in airflow and performance, and comes with an excellent warranty deal. Plus, there are several different styles/configurations at your disposal. The included fittings are useless, however, and won't do you much good.
2. Volant Cool Air Intake Kit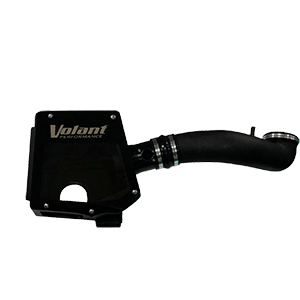 Ease of installation and maintenance is this air intake's strongest suit. It is OE-approved and meets all the important OEM filter standards. Everything is straightforward and intuitive. And, the five-layer cotton filter is reusable and cleanable. The sad part is – the mounting holes don't always line up. If you're lucky, three out of four will, but not all of them. That means you'll have to drill new holes.
Some drivers also report missing the breather hose, which, again, has to do with poor quality control. The included user guide, however, is quite detailed and helpful. More good news: this air intake kit packs premium-grade silicon connectors and steel clamps. They are highly reliable and add to the engine compartment's longevity.
Pros & Cons
Silicon connectors and steel clamps ensure durability and reliability
Effortless installation (and easy maintenance)
OE-approved; meets OEM standards
Expert Recommendations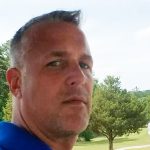 This is one of the most user-friendly and efficient air intake kits on the market. It boasts industry-leading durability ratings and will be a good addition to the already-impressive GMC Sierra 1500 engine. It does have some quality control issues, though, meaning you might have to do some bending, cutting, and drilling.
3. aFe Power Momentum Performance Intake System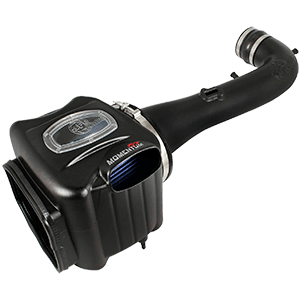 If you're looking for premium-level materials and construction quality, aFe might have exactly what you need. This high-grade air intake features a five-layer cotton gauge media that's quite effective at increasing the airflow. It also comes oiled and is easy to wash. The urethane plug, in turn, allows you to "shut" the air box when need be.
My only complaint about this otherwise excellent intake system is the price. Compared to the rivals from today's list, it is significantly more expensive. But, if you're not on a tight budget, you may want to choose it over the competition. In the long run, this air intake will actually be money well spent.
Product Rating
Performance Increase
5 / 5
Pros & Cons
Impressive build/material quality
Five-layer cotton gauge media (oiled and washable)
Includes a urethane plug for sealing off the air box
A bit too expensive for most drivers
Expert Recommendations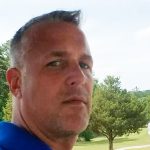 With the aFe performance intake system, you'll get an excellent balance of price and quality. While it is, indeed, pretty expensive, the high price is well-compensated by the industry-leading material and build quality. The five-layer media and the urethane plug are even more reason to consider it.
Comparison Table – Best Cold Air Intake for GMC Sierra (Updated October, 2023)
Product
Product Information
View on Amazon

Editor's Choice

1) K&N Cold Air Intake Kit

2) Volant Cool Air Intake Kit

3) aFe Power Momentum Performance Intake System

Best Features:
– Impressive construction and material quality
– Premium-level 5-layer cotton gauge media
– Allows sealing the air box completely
Fits Models: Sierra 1500 5.3L-6.2L (2015-2018)
Filter Types:
Dry, 3-Layer Filter
Oiled, 5-Layer Filter
Available Options:
– Sierra 1500 5.3L-6.2L (2009-2013)
Conclusion
K&N, Volant, and aFe are trustworthy manufacturers with a very user-oriented approach. If you're looking to buy a "birthday present" for your engine, an air intake system from one of these brands will be a good investment. With K&N, you'll get a reasonably-priced air intake that's backed by a good warranty and significantly increases airflow. Volant, in turn, is all about easy installation and maintenance.
aFe's intake system is the most expensive one on the list, but, it does have a couple of trumps up its sleeve. So, which one will be a better pick? It depends on what you're looking for, of course, and your current budget. Choose wisely, and be safe both on and off the road!