Tacoma's stock exhaust system is pretty decent. However, it's mostly made for "boring" highway and in-city driving. For conquering the off-road, an aftermarket replacement is a must. With the Best Exhaust System for Toyota Tacoma, you'll get more MPG (miles per gallon), HP (horsepower), and an overall boost in performance. A reduced noise level and efficient removal of harmful engine gasses are also a part of the package.
So, yes, this will definitely be money well spent, even if you don't necessarily need all that extra HP and MPG. My cousin works at an auto shop in Cali and he helped me make a list of the best offers on the market. After carefully testing dozens of options, we hand-picked the following three. Here they are!
1. MBRP S5338P Cat-Back Single Side Exhaust System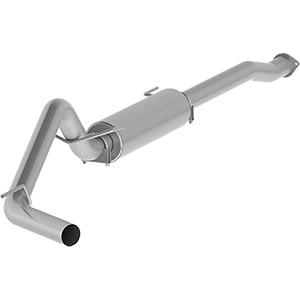 With the S5338P exhaust system, MBRP offers a user-friendly attitude while providing an above-average performance boost. By improving the exhaust flow and dropping the temperatures, it optimizes gas usage. Plus, the truck (especially the engine) will last longer and won't let you down in the middle of an off-roading journey. Made from heavy-duty aluminized steel, this system is very easy to install thanks to the bolt-on design (no welding is required).
The sounds are very "masculine", too. And the best news is – you won't have to pay a top dollar for this exhaust system. It is competitively-priced and carries excellent value for the Toyota Tacoma drivers. The package includes all the necessary clamps, screws, and fittings for installation. The process might take you up to an hour, though. As for the cons, the entire thing gets rusty after 10-12 months. This can be solved with exhaust coating paint.
Pros & Cons
Heavy-duty aluminized steel ensures durability
Easy bolt-on installation (doesn't take long to complete)
A very affordable purchase
Gets rusty after a year of driving
Expert Recommendations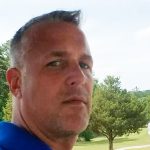 With this aftermarket exhaust system installed, you'll hear a satisfying rumble instead of the weird noises that the stock gear makes. Made of heavy-duty aluminized steel, it is highly dependable and increases the engine's life expectancy. The attractive price-tag is probably its biggest selling point. The biggest downside – it'll get rusty and corroded sooner than you think.
2. Borla Cat-Back Exhaust System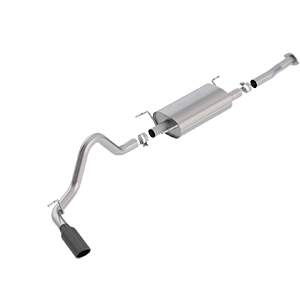 The #1 job of any exhaust system is to get rid of emissions as quickly as possible. That way, it maximizes the engine's output and improves fuel consumption (or, rather, economy). With this Borla gear, you'll get exactly that: excellent performance. It is made of premium-grade materials and easily fits a long list of trucks (not only Toyota's Tacoma). Installation won't take more than twenty minutes.
In real-world situations, the Borla exhaust system sounds exactly how you'd expect it to sound. When accelerating and climbing up a hill, it's pretty loud. But on a highway, it's super smooth. Now, there's a big con that I have to mention, and that's the price-tag. Compared to the other two exhaust systems, this one is rather expensive. It's a high-quality product and costs accordingly.
Pros & Cons
Sounds great on all kinds of terrain (both rough and smooth)
Won't take you long to install
Impressive construction and material quality
An expensive purchase for regular drivers
Expert Recommendations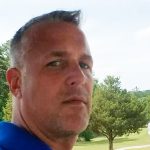 Top-notch construction/material quality and ease of installation are this product's biggest selling points. It works flawlessly, gives a nice boost to performance, and sounds just right. You'll have to pay a lot of money to get the Borla exhaust system, though, and that is its biggest con. But if you save for a couple of months and buy this system, it will be worth every single penny.
3.MagnaFlow Performance Exhaust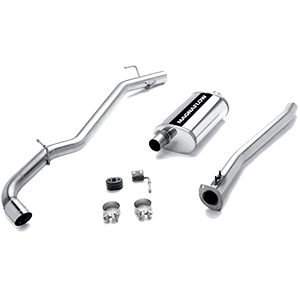 Well made, well packaged, and built to serve for many years – that's what this MagnaFlow exhaust system is all about. The engineers used heavy-duty stainless steel to ensure stability and longevity. This is a US-made product that meets the highest construction standards. Oh, and I also have to mention that the company backs it with a lifetime manufacturer's warranty.
So, don't hesitate to contact support whenever a problem occurs. There's one tiny con: the muffler (14") that comes with this exhaust system is too loud (at least for me). And there's nothing you can do except for replacing it (go with 18 inches instead). Thankfully, an aftermarket muffler won't leave your wallet empty.
Pros & Cons
A US-made product (designed and tested)
High-quality stainless steel
Comes with a lifetime warranty
The built-in muffler is a bit too loud
Expert Recommendations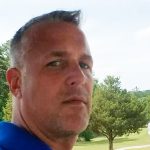 If not for the overly-loud muffler, I'd recommend this exhaust system to every Tacoma driver. It's reasonably-priced, backed by a lifetime warranty, and made right here in the States. A decent muffler won't cost you much, though. Besides, for off-roading, that extra "roar" might be a good thing.
Comparison Table – Best Exhaust System for Toyota Tacoma (Updated October, 2023)
Product
Product Information
View on Amazon

Editor's Choice

1) MBRP S5338P Cat-Back Single Side Exhaust System

Best Features:
– Heavy-duty aluminized steel
– Effortless (bolt-on) installation
– A low-budget purchase
Tube Size: 3"
Fits Models: Toyota Tacoma 3.5L (2016-2018)
Weight: 55 pounds
Available Options:
– Toyota Tacoma 4.0L (2005-2015 )

2) Borla Cat-Back Exhaust System

Best Features:
– Low rumble on highways, angry roars off the road
– Takes less than 20 minutes to install
– Impeccable construction and material quality
Tube Size: 2.5"
Fits Models: Toyota Tacoma 3.5L (2016-2020)
Weight: 40 pounds

3) MagnaFlow Performance Exhaust

Best Features:
– Designed and made in the US
– Heavy-duty stainless steel
– Backed by a lifetime warranty
Tube Size: 2.5"
Fits Models: Toyota Tacoma 3.4L (2000-2004 )
Weight: 34 pounds
Conclusion
An aftermarket exhaust system won't turn your Tacoma into a spaceship. It will, however, take some of the "pressure" away from the engine and help it serve you longer. The reason – it eliminates the emissions more effectively than the stock gear. Plus, it maximizes the mileage and horsepower output, which is a nice bonus. MBRP has one of the most affordable exhaust systems out there, and it performs adequately.
The Borla gear, in contrast, is quite expensive (almost four times the price). To be fair, though, it's more reliable, durable, and easier to install. With MagnaFlow, you can expect to get the golden middle: it's not that cheap but the high-quality materials and lifetime warranty make up for that.