A recovery rope might not be the first thing that pops in your mind when thinking about safety off the road. However, it's one of the most important "extras" that you should always keep in the truck/SUV. When stuck in the mud in the middle of the wilderness, it will be the only means of getting your Jeep out of an unfortunate situation. So, in this post, I'll help you find the best kinetic recovery rope deals available on the market.
Some drivers like to call them tow straps, tow-downs, or just cables. It doesn't really matter what you call them. What matters is how efficient they'll be in a real-world application. After carefully testing a long list of products from leading brands, I picked four tow ropes that offer the best price-quality ratio. Take a look!
1. DitchPig 447521 Kinetic Energy Rope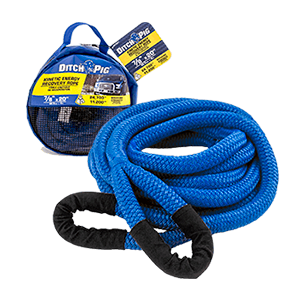 We begin the list with one of the most affordable recovery ropes available on the market right now. Mibro did its best to find a good balance of price and quality, and they achieved that with Ditch Pig. With it, you'll get a double-braided, high-tenacity rope that won't let you down on or off the road. It arrives in a cool bag, too, and, overall, has a neat design.
Add spliced eye loops on both sides with sleeves, and you'll get extra durability and longevity. The rope can stretch up to 1/3rd of the original length, which is great news. The manufacturer claims it's almost 50% stronger than a regular winch rope. The only downside – compared to similar products, this jerk rope a bit overweight. That's not a very big problem but does still matter.
Product Rating
Quality of Material
4.9 / 5
Pros & Cons
Double-braided, high-tenacity rope
Arrives in a trendy bag
A low-budget product
Not particularly lightweight
Expert Recommendations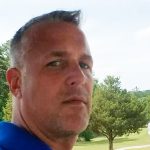 Jeep drivers looking for an affordable, yet decent-quality kinetic recovery rope might find Ditch Pig to be a worthy investment. It is sturdy, reliable, features nylon abrasive sleeves on both ends, and carries excellent value for the price. The company offers different sizes and lengths to choose from, by the way.
2. Bubba Rope 176680RDG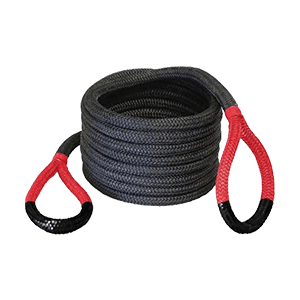 This next tow rope is not very cheap. It's almost twice as expensive as the previous one that we just discussed. So, should you even consider it, or maybe you'll be better off with the more affordable options? It depends, of course. First of all, in contrast to the other recovery ropes on the list, Bubba features premium-grade stitching that prolongs its lifespan and improves efficiency.
Secondly, it is incredibly lightweight and boasts advanced craftsmanship. On top of that, it's a 100% US-made product. This stretch tow rope was not only made but also tested in the States and is officially "battle-ready". I was impressed by its performance. There was very little jerk, which is always a good thing. Plus, despite the mud, it didn't get very wet and required little to no maintenance.
Product Rating
Quality of Material
5 / 5
Pros & Cons
Lightweight; features high-quality stitching
Market-leading craftsmanship
A 100% US-made product
A bit on the expensive side
Expert Recommendations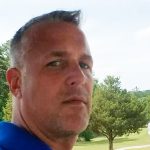 If you're ready to invest in a market-leading recovery rope, Bubba might have exactly what you need. This is a US-made product with impressive craftsmanship, top-notch stitching, and excellent performance in real-world situations. So, yes, the steep price is justified, and this will be money well-spent.
3. QIQU Tow Recovery Rope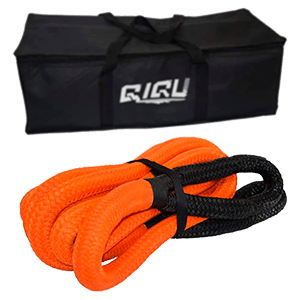 Moving on with the list of the best kinetic energy tow ropes, let's take a look at what QIQU has in stores for us. With it, you can expect to get enhanced stretching capabilities. This is very important when you're stuck in the mud and need that extra stretch. Another standout feature is the bright color. Some people might find it to be a bit "childish", but that makes it easier to see it when the sun goes down.
Along with that, QIQU's rope is well-protected against water and UV rays. Sadly, despite the overall high manufacturing standards, the dye isn't very strong and tends to wash off in a year or so. This isn't a very big con, but it's still worth mentioning so that you have a clear picture in your head.
Product Rating
Quality of Material
5 / 5
Pros & Cons
Above-average stretching capabilities
Clever design – easy to detect when it's dark
UV rays- and water-resistant
The dye washes off easily
Expert Recommendations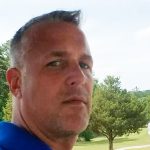 QIQU's rope is one of those products that you'll never regret purchasing. It's reasonably-priced, highly stretchable, and easy to detect during the night. On top of that, it is protected against water, snow, and the sun. The color tends to fade away, however, especially on the handles.
4. Smittybilt Recoil Recovery Rope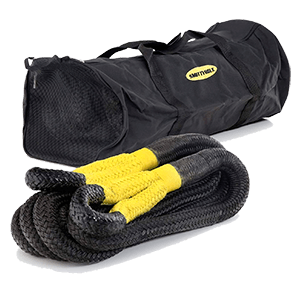 Of the four kinetic recovery ropes that I'm reviewing today, this is the sturdiest and the most durable one. And, it will be a good choice if you're living somewhere in Arizona or Alaska. It easily handles temperature extremes. Add easy, effortless maintenance, and you'll see why Smittybilt is one of the leaders in this field.
The bad news is – the handles aren't coated, which means it's not as effective against water and UV rays as the rivals from today's list. Other than that, you can trust this company and consider putting your Jeep's well-being in its hands. As a well-balanced product for regular use, this recovery rope is a safe bet.
Product Rating
Quality of Material
5 / 5
Pros & Cons
Highly durable and reliable
Easy maintenance – stays in good shape for a long time
Handles extremely cold and hot temperatures
The handles lack proper coating
Expert Recommendations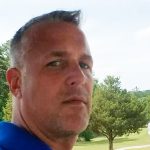 Drivers that appreciate ease of use/maintenance, resistance to extreme temperatures, and durability will probably find this recovery rope to be a good choice. It doesn't have any type of coating for the handles but is incredibly sturdy.
Buyer's Guide
Kinetic ropes aren't the most complicated Jeep accessory and they're pretty easy to use. However, since the market is pretty much overwhelmed with products of all shapes and sizes, it would be wise to learn your way around the topic. This will help you make an educated decision when out shopping for a new tow rope. Here are the most important factors to consider.
The Material Quality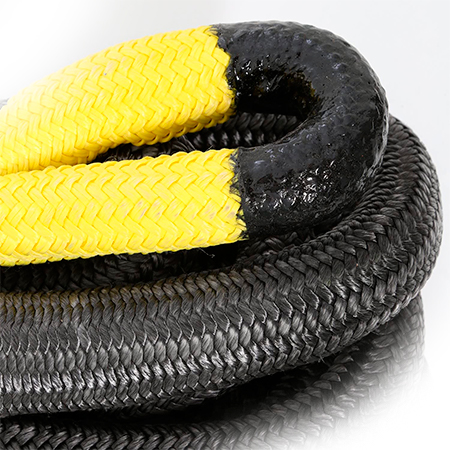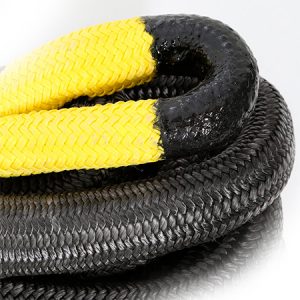 There isn't much to discuss here, as nylon is the dominant material when it comes to recovery ropes. The reason – nylon is highly stretchable, and for towing, that's exactly what we need. By stretching, nylon takes most of the shock and keeps the Jeep intact. The best ropes can stretch up to 30% (of the original length). With that said, always check whether the rope has protection against sun rays and water.
If you see "coating" in the specs, that means you can trust it. Urethane polymer is one of the best coatings for nylon, as it also protects against abrasion, among other things. And one more thing: look for a double-braided rope with sleeves on both ends. You'll get extra durability and reliability with that, along with safety.
The Size and the Breaking Strength
I made a size guide so that it's easier for you to compare different sizes and breaking strengths and see what it's all about. As you can see, ½-inches are where we start, while 2 inches is the golden standard for the industry. The breaking strength goes hand in hand with the size. For example, the owners of a small or mid-size truck will be ok with 7/8-inches and 28.6K pounds of breaking strength.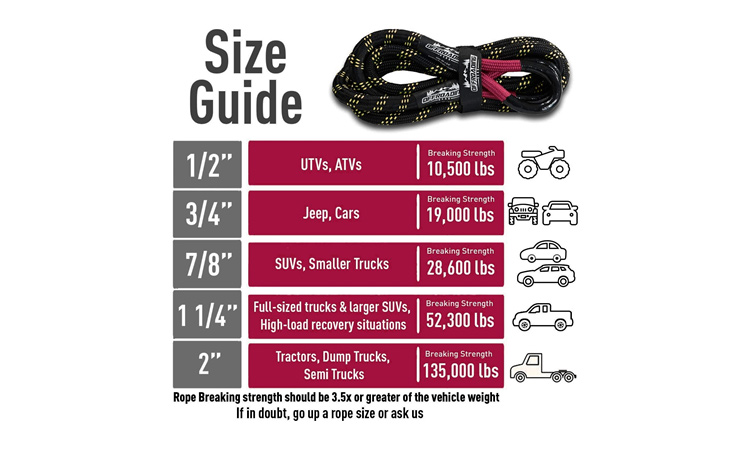 A full-sized SUV/truck, in turn, can only be handled by a 1 ¼-inch rope with 52.3K lbs. Keep this in mind and consider your Jeep's size and weight before purchasing a kinetic recovery rope. There's nothing worse than realizing you got the wrong size the moment you need the rope the most.
The Length of the Rope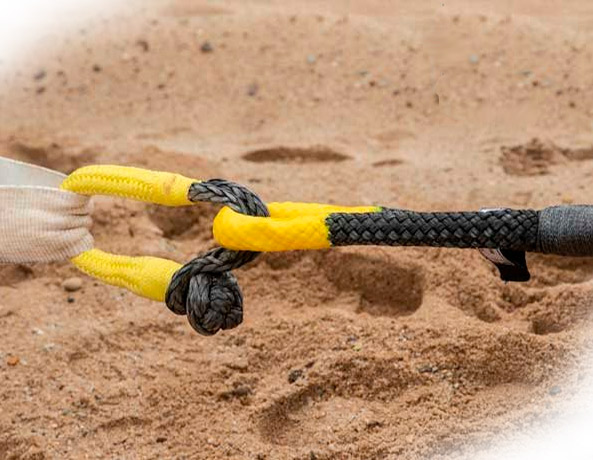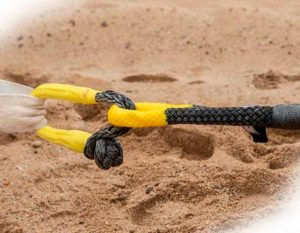 The industry average is 30 feet. That should be more than enough to "winch out" your Jeep from the toughest situations. Some construction-grade tow ropes are significantly longer, but for a regular driver who likes to do some off-roading every now and then, 30 ft. (which almost equals 10 meters) are usually just right.
The Price-Tag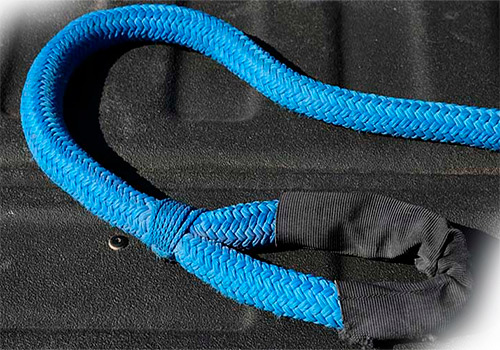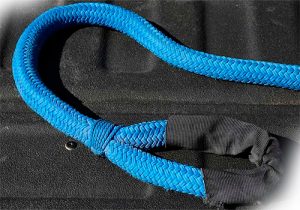 The price also matters when you're searching for that one and only kinetic recovery rope. As I like to say, familiarize yourself with the market average and only then make any decisions. You can use my comparison table and reviews for that: I always mention how affordable (or expensive) a product is and that will help you figure out the average price for a decent rope.
Mostly, it's the length, size, and breaking strength that defines the price-tag. The material quality and the brand also play a key role in this.
Comparison Table – Best Kinetic Recovery Tow Rope
Product
Product Information
View on Amazon

Editor's Choice

1) DitchPig 447521 Kinetic Energy Rope

2) Bubba Rope 176680RDG

3) QIQU Tow Recovery Rope

4) Smittybilt Recoil Recovery Rope

Best Features:
– Incredibly durable and long-lasting
– Very easy to clean and to keep in a good shape
– A solid choice for extreme temperatures
Size x Length: 1" x 30 ft
Capacity: 30,000 lbs

5) Synthetic Soft Shackle Rope Gator Jaw

Best Features:
– One-piece construction; wraps around easily
– Impressive breaking strength – can handle a full-size truck
– Available in many different colors
Size x Length: 6"
Capacity: 47,000 lbs
Conclusion
When you're off-roading on your Jeep, anything can happen. Nobody can predict the weather, the terrain, or what the next corner has in stores for you. That's exactly why it's so important to always pack the necessary equipment before embarking on a new adventure. And a reliable, flexible kinetic energy tow rope will always come in handy. If you don't want to spend your entire budget on a tow rope, DitchPig by Mibro might be worth your while.
It's reasonably-priced and carries decent value. Bubba Rope, in turn, has the most expensive deal, but it will also be money well-spent, despite the steep price. The other two options are more or less similar and won't let you down either. Still not sure about any of these kinetic ropes? Then check out the Buyer's Guide: it will help you make the right decision.