No matter how gentle you are with your seats, they won't be able to withstand the test of time. I'm talking about stains, wear, scratches, and more. That's especially true if you've got little kids and pets. So, what can a regular Jeep driver do to protect his/her seats? Well, what about a nice cover kit? These are very easy to "install" and are significantly cheaper than a brand-new set of seats.

In this post, I've collected the Best Seat Covers for Jeep. They come from world-respected brands – market leaders. Join me, and let's check out the worthiest options for the JK and the TJ – some of the most popular Jeep models to date. We'll talk about the pros, cons, pricing, ease of use/maintenance, and more.
1. Rough Country Neoprene Seat Covers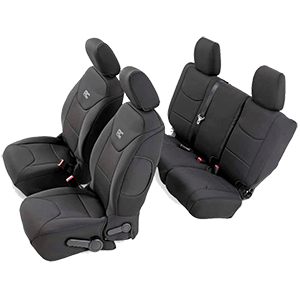 We start the list with Rough Country's popular set of Jeep seat covers. As always, the company backs its product with a one-year warranty. That will give you peace of mind in case something's wrong the covers (they arrived damaged, for example). The four-layer construction, in turn, will keep both the drivers and the passengers happy and comfortable even on the longest and toughest roads.
Foam padding and the protective shell are just right for the JK seats. Speaking of the JK, Rough Country followed strict OEM specifications, which means these covers will be a good fit for your Jeep. You won't have to do any cutting or stretching. I have to warn you, though: don't leave the covers exposed to direct sunlight, as that will make them fade.
Pros & Cons
4-layer construction ensures comfort and safety
A perfect fit for the JK; made to OEM specifications
Includes a one-year warranty
Can't handle direct sunlight
Expert Recommendations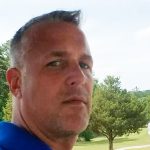 An easy fit for the JK, cozy, comfortable, and durable – that's the Rough Country seat covers in a nutshell for you. They come with a one-year warranty and will serve you for many years. However, they aren't very well protected against UV rays; so, make sure not to leave them out in the open.
2. OASIS Seat Covers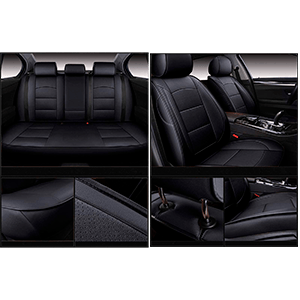 This is the most expensive kit on the list and won't be a good pick for drivers on a budget. On the other hand, the list of "perks" is quite impressive and actually compensates for the steep price-tag. First of all, the covers are available in various styles and colors, which is always good news. They fit a wide range of Wranglers and will be very easy to install. On the official YouTube channel, you'll find detailed instructions to help with the installation.
Another standout feature is the scratch- and wear-resistant nature of the synthetic leather that these covers are made of. It's also waterproof and protected against sun rays. Last, but not least, customer service is well above average. The staff is very quick to answer your questions and always follows a user-oriented approach.
Pros & Cons
Effortless installation (especially with the YouTube guides)
Well-protected against wear and scratches
Available in different styles and color combinations
An expensive set compared to rivals
Expert Recommendations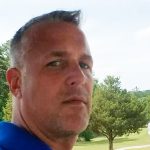 Are you ready to invest in an expensive, yet high-quality set of seat covers? Then take a good look at what OASIS has to offer. These covers are easy to install, well-protected against the sun, water, scratches, and wear, and are available in many different colors and styles.
3. Rugged Ridge Seat Cover Kit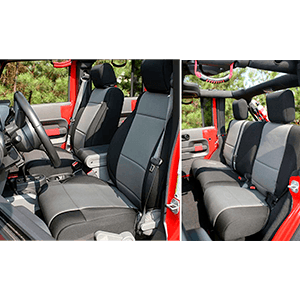 Affordability and flexibility are this kit's biggest selling points. Compared to the market average, it is, indeed, a low-priced offer. As for versatility, you won't have any problems with folding and "fine-tuning" these covers, which is very important. Plus, they are 100% washing machine-friendly. So, just put them in the machine once a year or so to keep that factory "shine".
My only complaint has to do with the rear cover's straps. They tend to get in the way, especially when you fold the seats, and that can be quite annoying. Other than that, this will be a reasonable purchase for the regular JK owners looking for a high-quality kit at an affordable price.
Pros & Cons
Easily foldable, highly configurable
Five-year warranty
One of the most affordable covers
The rear-seat cover straps can get in the way
Expert Recommendations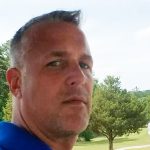 To save some bucks and still get a decent set of covers, you might want to consider this option. These covers are available in Black; Gray/Black; Red/Black; Black/Gray; Black/Red; Black/Tan, and will greatly improve the interior, especially if your seats are kinda old, dirty, and faded.
1. Rough County Seat Covers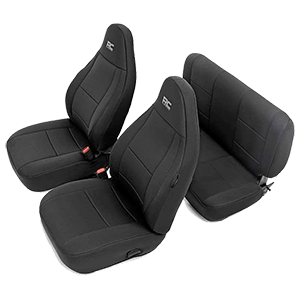 Searching for a cover set that will be an easy fit for the TJ? Rough Country might have exactly what the doc ordered. These covers are made to factory specifications and won't take long to slide on the seats. Add premium-grade material quality, and you'll get a winner. This is a four-layer construction that includes neoprene, top-notch polyester, and foam padding.
Plus, the company provides a standard one-year warranty. On the downside – the covers will require a week or two to stretch and fit the seat snug. At first, they may be a bit uncomfortable and "foreign". But, if you give them some time, they'll adapt to your Jeep's seats and look like a million bucks.
Pros & Cons
Made to factory specifications – no-hassle installation
Premium-grade material quality
One-year warranty included
Might take a couple of weeks for the material to stretch
Expert Recommendations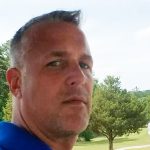 Premium-grade construction/material quality, OEM fit, and a one-year guarantee make these seat covers a worthy investment. They will need 10-15 days to stretch tight and make the seats look brand-new. This isn't the most affordable option on the market but it does offer excellent value.
2. Bestop Seat Covers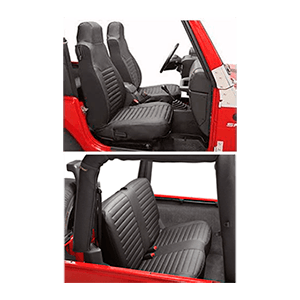 This company is a known leader on the market of aftermarket Jeep accessories. As for the seat covers, they're available in three different colors and will look good in any environment. Crafted from heavy-duty, non-stick textured vinyl, they greatly improve the comfort level and aren't "afraid" of water, UV rays, or wear.
Installation won't be a drag either – even a kid will be able to make sense of it. These covers were specifically designed to, well, cover the seats fully – the front, the back, and the sides. A quick note: in contrast to similar products on the list, they're not sold in a full set. The front and rear seat covers are only available separately.
Pros & Cons
Fit snugly and look like factory covers
Heavy-duty, non-sticky textured vinyl
Three different colors to choose from
Expert Recommendations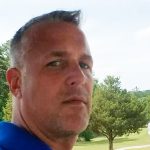 If you're not looking to update the covers on all four seats of your Jeep TJ, Bestop may very well be a reasonable choice. The reason – they sell covers for the front and the back separately. They're all made of heavy-duty textured vinyl (non-sticky) and fit snugly without any effort on your side.
3. Smittybilt 471225 Seat Cover Set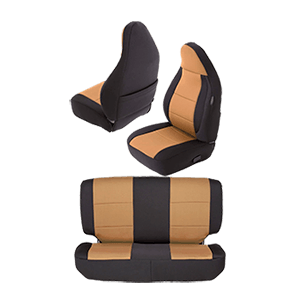 It takes one look at these covers to understand that you're dealing with a top-quality product. They were made in China, but the durability and reliability ratings are more than satisfying. Before hitting the market, Smittybilt tested them rigorously numerous times to make sure they're ready for the drivers. As a result, you'll get a durable, long-lasting set.
The extra padding makes long commutes comfortable, while the included instructions will guide you during the installation. Now, while the overall process won't be at all hard, to install the rear covers properly, you'll have to take the seats out. But that's pretty much the only significant con.
Pros & Cons
Extra padding for added comfort
Highly durable and long-lasting
The package includes a helpful user guide
You'll have to remove the seats to install the covers
Expert Recommendations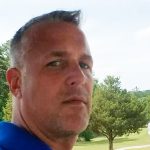 If not for the somewhat confusing and time-consuming installation, this Smittybilt seats would've been a no-brainer. They're still a safe bet for TJ owners in the market for a comfortable, durable, and good-looking set of seat covers.
Comparison Table – Best Seat Covers for Jeep Wrangler JK
Navigating the market of Jeep Wrangler seat covers can be challenging due to the range of options. Our comparison table below will help simplify your search, providing key details about the best seat covers for your Jeep Wrangler JK.
Product
Product Information
View on Amazon

Editor's Choice

1) Rough Country Neoprene Seat Covers

Best Features:
– Four-layer construction for optimal comfort and protection
– Meet all OEM specifications
– Backed by a one-year warranty
Type: Front and Rear Seat Covers
Material Type: Neoprene
Waterproof: Yes
Fits: 2007-2010 Jeep Wrangler JK 2 (Doors)

2) OASIS Seat Covers

Best Features:
– Easy installation; video-guide available
– Scratch- and wear-resistant
– Different styles, configurations, and colors to choose from
Available Colors: Black, Brown, Tan
Material Type: Synthetic Leather
Waterproof: Yes
Fits: 2007-2018 Jeep Wrangler JK/JKU (2/4 Doors)

3) Rugged Ridge Seat Cover Kit

Best Features:
– Highly versatile and flexible
– Include high-quality front/rear floor mats
– A highly affordable purchase
Type: Front and Rear Seat Covers
Material: Neoprene
Waterproof: Yes
Fits: 2007-2010 Jeep Wrangler JK/JKU (2/4 Doors)
Comparison Table – Best Jeep Wrangler TJ Seat Covers
If you prefer the TJ over the JK, the following comparison table is for you. Again, you'll find three best-selling and high-rated seat covers – I hand-picked them after carefully testing for a couple of weeks. Pay extra attention to the best features and the expert recommendations, as they'll help you make the right decision.
Product
Product Information
View on Amazon

Editor's Choice

1) Rough County Seat Covers

Best Features:
– Meet factory specifications for effortless installation
– Made of high-quality, durable materials
– Come with the company's one-year warranty
Type: Front and Rear Seat Covers
Material: Neoprene
Waterproof: Yes
Fits: 1997-2002 Jeep Wrangler TJ
Available Options:
– 2003-2006 Jeep Wrangler TJ

2) Bestop Seat Covers

3) Smittybilt 471225 Seat Cover Set

Best Features:
– Extra padding adds to the overall comfort
– Heavy-duty, made to last
– Detailed instructions included
Type: Front and Rear Covers
Material: Neoprene
Waterproof: Yes
Fits: 1997-2002 Jeep Wrangler TJ
Conclusion
There you have it – the best seat covers for the Jeep. Even if you're not planning on conquering the wilderness or camping out with your buddies, seat covers are still a must. Spilled drinks, pet hair, claws, and teeth can ruin an otherwise perfect set of seats. The covers, in turn, are much more affordable and will even add a trendy touch to your interior.
If you're still not sure which option is the best one for you, I recommend going back to the reviews. They will help you get a clear picture of what each cover has to offer. A lot will depend on the budget. Ease of installation, the material quality, and a generous warranty will also "sweeten the deal". Now, I'll always be happy to help out if you've got some questions. So, don't hesitate to reach me through the comments!