As a Jeep Gladiator owner, you understand the importance of securing and protecting your cargo. The truck's bed provides ample space for carrying gear, tools, and other items, but leaving it uncovered can expose your belongings to potential damage and theft. That's where a high-quality tonneau cover comes into play. Not only does it provide protection from the elements, but it also adds an extra layer of security for your valuable cargo.
In this comprehensive review, I'll be guiding you through the top tonneau cover options for your Jeep Gladiator, taking into account factors such as ease of installation, durability, and design. I've made a list of three outstanding products that offer an excellent balance of price and quality and are very easy to use. They each still have their pros and cons. By examining the features and benefits of each tonneau cover, you'll be well-equipped to make an informed decision that best suits your needs and preferences. Make sure to check my detailed reviews out and only then make a pick!
1. Tyger Bed Tonneau Cover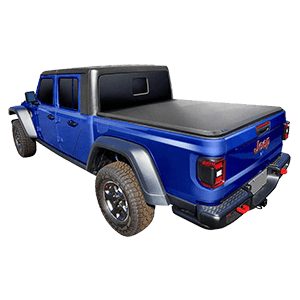 Let me say right from the beginning that this is an affordable tonneau cover. Plus, it carries excellent value and can compete with products that are twice as expensive. The cover is crafted from dual-coated marine-grade vinyl. It is tear-resistant and well-protected against whatever nature will through its way. The stainless steel clamps, in turn, ensure easy installation, which is also very important.
My only complaint is about the length. It's decent and fits most trucks nicely. However, the Gladiator's rear end is curved, while the cover is square. This can be solved by installing it a bit further to the back. That way, the cover will protect the cargo but might not look like a tight fit. Other than that, the aluminum frames, horizontal crossbars, and ease of installation are all good reasons to consider Tyger's offer.
Pros & Cons
Dual-coated (and tear-resistant) marine-grade vinyl
High-quality stainless steel clamps for easy installation
A low-budget pick with excellent value
A bit too short (but still works)
Expert Recommendations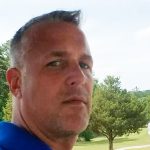 Tyger appeals to a wide range of potential customers with a low-budget price and high quality of construction. This dual-coated, tear-resistant cover will serve you for many years even in the harshest weather conditions. Personally, I'd like it to be a couple of inches longer, but that's a rather minor con.
2. Undercover Bed Tonneau Cover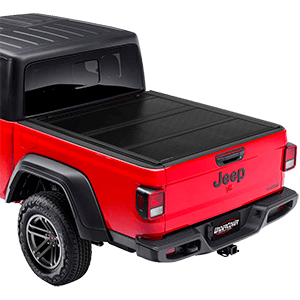 Ease of use is this company's motto. If you pick the Flex cover, you'll get fully automatic latching panels for easy access to the cargo area. Installation won't take more than 20 minutes. Undercover's tonneau cover also comes with full-perimeter seals. They will make sure nothing get throughs, no matter how bad the weather is. The Flex can be used in three different modes: fully open, partially closed, and fully closed.
And, it is available in gloss and premium matter finishes – pick the one that suits you best. I like the gloss black finish, as it looks great and serves as an extra layer of protection. One more thing: the dual-action tailgate is quite useful, and it can shut the tailgate without even toughing anything else. The only downside is the user manual. It isn't very clear and will probably confuse you rather than lend a hand. But, since installation is easy, that's not a big problem.
Pros & Cons
Automatic latching panels ensure smooth operation
Stylish gloss black finish; full-perimeter seals
Easy installation and easy access to the cargo
The instructions could've been clearer
Expert Recommendations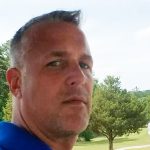 The somewhat misleading installation instructions are this bed cover's only con. The pros, in turn, include advanced latching panels, a dual-action tailgate, and a fancy gloss black finish with tight seals. The price-tag is reasonable, and the company backs its product with a three-year warranty.
3. Rugged Ridge Bed Cover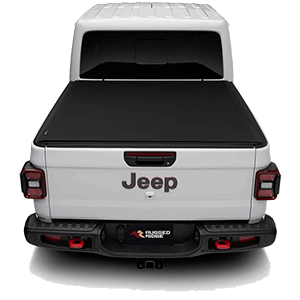 With this next tonneau cover, Rugged Ridge aims at the rich folks rather than the regular drivers. The price-tag is higher than the market average, but you'll get your money's worth. This is a hard rolling bed cover. That means it provides superb protection and is highly flexible. Versatility is very important when you're camping out in the wilderness, and with this cover, you won't have to worry about that. Heavy-duty aluminum, in turn, ensures longevity.
There's a big downside, though, and it's the lack of quality control. Some owners report bent pieces. Others claim while the bed itself is in excellent shape, the package lacks necessary installation hardware and rubber seals are too loose. These are rather exceptions to the rule than anything else – still, do keep it in mind. On the bright side, the bed is very easy to open/close, it's extremely durable (thanks to the woven fabric) and backed by a 5-year warranty.
Pros & Cons
Premium-grade, heavy-duty (and lightweight) aluminum
Impressive durability and flexibility
Available in four different styles
Expert Recommendations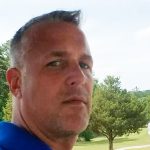 Everything about this tonneau cover is premium. It's expensive, true, but that's well-compensated by the fabric quality, ease of use, and generous warranty. If you're not 100% sure you're ready for such a big investment, you could check out the soft rolling bed. It's significantly cheaper yet can still be a good choice.
Best Tonneau Cover for Jeep Gladiator (Updated October, 2023)
Product
Product Information
View on Amazon

Editor's Choice

1) Tyger Bed Tonneau Cover

Best Features:
– Dual-coated, tear-resistant
– Sturdy stainless steel clamps
– A highly affordable purchase
Available Types:
– Hard Folding
– Soft Folding
Fits: 2020 Jeep Gladiator (JT)

2) Undercover Bed Tonneau Cover

Best Features:
– Automatic latching panels
– Gloss black finish with water-resistant seals
– Easy installation with full access to the bed
Available Types:
– Hard Folding
Fits: 2020 Jeep Gladiator (JT)

3) Rugged Ridge Bed Cover

Best Features:
– Crafted from heavy-duty aluminum
– Extremely lightweight, yet durable
– Available in different variations
Available Types:
– Hard Folding
– Hard Roling
– Soft Roling
– Soft Folding
Fits: 2020 Jeep Gladiator (JT)
Conclusion
Fans of camping out in the middle of nowhere probably know all too well how frustrating it can be to wake up to a completely ruined cargo. When the things (equipment, food, etc.) that you carry in the truck's bed get wet or something worse, that can instantly destroy the mood. That's where the tonneau covers come in. They're mostly affordable, easy to use and do an amazing job of protecting your precious stuff.
Jeep owners in the market for an affordable purchase should probably go with what Tyger Auto has to offer. Rugged Ridge, in contrast, is all about premium-quality construction and materials (and costs accordingly). For something more balanced, Undercover might be worth your attention. If you've got a list of your own favorite picks, don't hesitate to share it in the comments!