Sometimes I think that there are no limits when it comes to Jeep modification. The truth is that with the majority of accessories that offer improved performance, it may seem hard to find the ones that actually matter. At the same time, you should think about details that no off-roader can operate well.
Larger tires are surely a must-have for a Jeep, yet it is advised to consider improvements that allow the tires to ensure that absolute performance. That when wheel spaces come in. The main aim of which is to increase the distance between the vehicle body and the wheels. Such a distance increase adds up to both Jeep performance and its general edgy outlook.
In case that sounds like something you wish to give a thought to, I have a list of the Best Wheel Spacers for Jeep to share with you!
1. RockTrix Wheel Spacers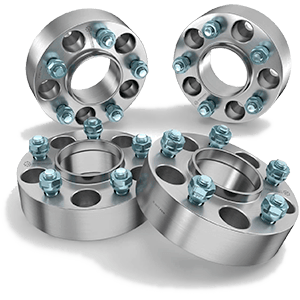 It is not enough to put your tires far out. You need to make sure that no difficulties will arise after the installation. That is why RockTrix produces wheel spacers that are made of quality material, and that is not all. With these spaces installed, you won't experience your wheels vibrate intensively for no reason, all due to hub-centric design.
These days the technology has reached the heights. It is hard to describe but not all applied to practice when it comes to wheel spacers. RockTricks is the brand that applies CNC technology to the production so that every spacer is cut out precisely to fit the size and the model of the vehicle. Some view such precision as disadvantageous – I don't. The better the spacer fits, the less squealing and squeaking you will hear when on the off-road.
The aluminum that the spacers are made of is durable and created to fight corrosion well. Lastly, the aggressive look and the long lifespan make the spacers worthy of the attention.
Pros & Cons
High-quality spacers
The durable and aggressive design
Increased rust-resistance
May require professional assistance in installation
The spacers come in a single variation
Expert Recommendations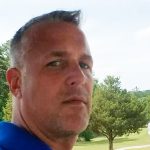 If you are looking for a set of wheel spacers that are both affordable, great to look at, and performance-enhancing, RockTrix is the brand to consider.
2. Supreme Suspensions Wheel Spacers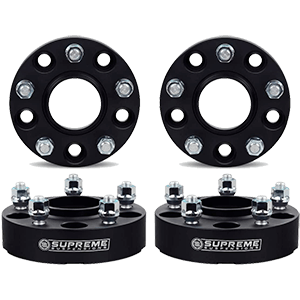 One of the main issues to face after the wheel spacer installation is the corrosion due to exposure to harsh conditions. That is why when shopping for suitable wheel spacers, many drivers pay a lot of attention to the material they are made of. In the case with Supreme Suspensions, the item is made of high-grade aluminum, which is rust-resistant no matter the conditions you are driving under.
Unlike some other spacers which come in one size, Supreme Suspensions grant you a choice so that you can decide how far the wheels should be placed. You can pick between 2- and 1,25-inch options. Such an approach allows every driver a chance to choose the item that would improve the performance of the vehicle, not otherwise.
Some wheel spacers indeed require professional installation approach, and that is a significant drawback for those who are willing to put up with the task on their own. With Supreme Suspensions, there will be no issues arising since you can install them in the safety of your own garage with a set of basic tools at hand.
Pros & Cons
The size varies depending upon your personal needs
Supreme quality aluminum the spacers are made of
Corrosion-proof wheel spacers
The cost is a little higher than average
Expert Recommendations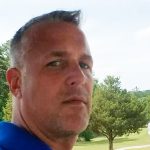 While supreme Suspensions has raised the cost for the item a bit, you should not consider it as overpaying. I think it is a long-term investment which will pay off in no time.
3. Orion Motor Tech Wheel Spacers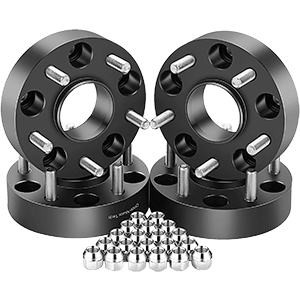 Just as many advantages the larger tires bring so challenging to manage, they can be. This comes especially true when we are talking about stability and balance while driving. That is precisely what Orion Motor has considered while designing the wheel spacers. The brand has made it possible for the spacers to operate with maximum precision so that the maneuverability is insanely increased. All due to the simultaneous work of both spacers and the wheel hub.
Aside from all the mentioned above, the spacers do come for a reasonable price, but that does not negatively affect the quality by no chance. The fact is that the material that the wheel spacers are made of is durable, and the design of the spacer makes it a direct fit for a chosen vehicle model.
It goes without saying that a 3-year warranty is another worthy addition to the pack. Besides, the enhanced aggressive look makes the deal complete.
Pros & Cons
Great steering stability
Attractive price for an excellent quality
User-oriented installation
Lugs require precise tightening
Expert Recommendations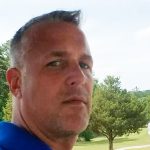 A word of caution – make sure that the lugs are tightened well since the Orion Motor usually requires a tight fit.
Comparison Table – Best Wheel Spacers for Jeep JK (Updated October, 2023)
Product
Product Information
View on Amazon

Editor's Choice

1) RockTrix

Best Features:
– Improved wheel balance
– Enhanced outlook
– Increased tire clearance
Fits:
2007-2018 Jeep Wrangler JK, JKU
1999-2010 Grand Cherokee WJ, WK
2006-2010 Jeep Commander XK
Thickness:
– 2.0″ (50mm)
– 1.5″ (38mm)
Bolt Pattern Type: 5×5″ (5×127)
Nut Size: 1/2″x20
Color: Black, Silver
Available Options:
– Jeep TJ, YJ, KJ, KK, XJ (5×4.5 – 5×114.5)

2) Supreme Suspensions

Best Features:
– Corrosion-resistant high-quality product
– A durable and long-lasting item
– Simplified and user-oriented installation
Fits: 2007-2018 Jeep Wrangler JK, JKU
Thickness:
– 2.0″ (50mm)
– 1.25″ (32mm)
Bolt Pattern Type: 5×5″ (5×127)
Centerbore: 71.5 mm
Nut Size: 1/2″x20
Color: Black, Silver

3) Orion Motor Tech

Best Features:
– Accurate and balanced steering
– Enhanced spacers' look
– Improved vehicle stability both on and off-road
Fits:
2007-2018 Jeep Wrangler JK, JKU
1999-2010 Grand Cherokee WJ, WK
2006-2010 Jeep Commander XK
Thickness: 1.5″ (38mm)
Bolt Pattern Type: 5×5″ (5×127)
Nut Size: 1/2″x20
Color: Black
Conclusion
Wheel spacers are indeed an optional accessory that many drivers leave out. The reasons behind it are many, and most on-roading is undoubtedly one of them. However, if you are willing to make the most of your potent vehicle, I would advise you to consider introducing the wheel spacers into the look. Besides, any of the mentioned above options will fit in your Jeep perfectly.