It may be hard for those who have never discovered the joy from conquering an off-road to imagine the thrill and the challenge that such rides bring into your life. However, if you are a Jeep Wrangler owner, you already know all the perks of those muddy off-roads and ragged terrains. In the majority of cases, inexperienced drivers rely on their vehicles solely. And while these giant cars are made to conquer the wild, and are literally packed with power, still, even the toughest Jeep may get occasionally stuck and needs a helping hand, or rather a helping rope.
And what all experienced drivers have in common is they know that their steel friend, no matter how powerful and tough, may get stuck. That's why off-roading fans prepare in advance for such kinds of situations. How does one prepare for that, you ask? What do experienced drivers do when their Jeep gets stuck? Should I replace the engine of my vehicle with something more powerful, or not? Well, the answer to those questions is actually very short: you just need a winch. And no, you don't have to replace the engine. All you gotta get is a quality winch, one you can rely on. One that won't let you and your Jeep Wrangler down.
A practical and durable winch for Jeep s like a first aid kit for the driver. There is a reason why the winches are many, and if you are new to the industry, it may be hard to figure out which one is that perfect one for your vehicle. Taking all that into consideration, we have compiled this useful guide that will help you choose the best winch for jeep wrangler in almost no time. Take your pick!
How To Choose The Best Winch For Jeeps
Having a powerful and reliable winch onboard when hitting the off-road is essential. Fortunately, the winch industry has a lot to offer to those who are eager to conquer the wild. But finding the best Jeep winch is not as easy as it may seem at first: there are a few things you should consider before buying a new winch. First of all, it's the price. A rule of thumb here is not to go for the most expensive ones, cause they come packed with features you will never really need. At the same time, don't go for the cheapest ones. See that you got a good winch with a high pulling capacity, so you don't have to worry about getting stuck in the middle of nowhere. Then check if the winch features synthetic rope or wire rope. The length of the line also plays a key role in the efficiency of your winch. The speed of the line matters as well. While fast line gets the job done faster it consumes more battery charge. The following list includes five market-leading winches for your vehicle that come at a reasonable price and fit a wide range of Jeep SUVs. Oh, and don't forget to check the Buyers Guide and FAQ to learn more about picking the right winch for your next off-roading trip!
1. Smittybilt 97412 XRC GEN2 – Best 12000 lb Winch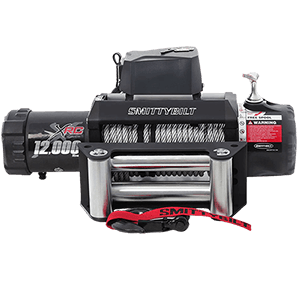 There is a reason why there are so many smittybilt winch reviews that can be found online. The fact is that the company is the one which has been on the market for almost 50 years. Such a legacy can only speak about the quality and professionalism of the items they produce.
Smittybilt 97412 XRC GEN2 is the latest innovation from the manufacturer available on the market. However, it has already gained a lot of popularity. First things first, it is a 12000-pound winch. Why should it matter? Well, this is an average winch that can suit the majority of needs and purposes. Also, it comes packed with a lifetime mechanical warranty, which is undoubtedly lovely, and a 5-year electrical one, which is not bad too.
All in all, the Smittybilt XRC winch comes in five different variations to choose from, depending on your needs and budget. And all of these five models are of the highest quality – no exceptions. The only difference is the pulling capacity. The winches feature a load capacity ranging from 9 500 to 17 500 in case you've got some big trucks. Say, if your Jeep is quite large and weighs a lot, you should go with the winch with higher pulling capacity and vice versa. Don't ever try to install a winch with lower pulling capacity on a big and heavy truck
Not only would that render the winch useless but may also damage the winch or break the rope. Depending on the model, the winch features either synthetic rope or a wire rope. In the first case, the fairlead is made of aluminum. And with a steel cable winch, there is a four-way roller fairlead.
The Smittybilt XRC Winch is IP67-rated waterproof. That means that it was specifically designed in a way to be highly protected against sand and dust. And even being underwater for thirty minutes would not cause any damage to this winch.
Needless to say, for a true off-road experience, dust, sand, and water can't be avoided. We need to dive into mud, water, dust, or even snow to get the most out of our trip into the wild. And having such a durable and protected winch on board is a good thing. It means we are free to go wherever we want, and not worry about the winch. After all, if something happens it's the winch that should take care of the Jeep, not the other way around. Another big pro of the Smittybilt winch: it's very easy to install. That is, of course, if you have done this before. If it's your first time, it's highly recommended to get a professional to do it. The wiring part is the hardest. If you mess things up, the wires will probably short, damaging the winch.
Also, installing a control box is quite hard. The thing is – it is located right above the wire rope and can be dangerous if not treated carefully. So, you need to be extra careful when setting up the winch on your own. But, rest assured that when everything is done right, this winch will not let you down. To summarize, it's a winch of high quality with minor cons such as a plastic box on the top and average line length. Smittybilt has an extended lifespan and will serve you for many years, if not decades when properly taken care of.
Pros & Cons
The item is fully waterproof
Pleasant benefit on a form of mechanical as well as electrical warranty
Recognized and reliable brand
Potent line pull
Average line length
Plastic box on the top is breakable
Best Features
Modernized wireless remote control for you increased safety
The winch is packed with a 3-stage planetary gear system
Perfectly innovative 500AMP Solenoid
Other Available Options:
In case the given characteristics do not suit your needs, there are other items from the manufacturer on offer, too, so that you can pick the winch that fits your vehicle perfectly.
Expert Recommendations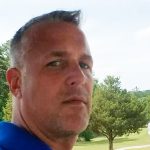 Many drivers rely on the brand rather than the given characteristics of the winch, with Smittybilt, you can be 100% sure in the quality of the suggested winch.
2. WARN 89120 ZEON 12 – Best Premium Class Winch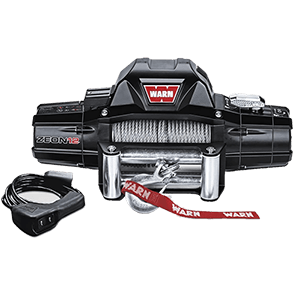 If you are looking for a winch that can withstand literary anything, then warn jeep winch should be the one on your list. The truth is that it is a premium class winch, and that means that it is going to cost a pretty penny, but in the long run, it will pay shortly off, especially if you are an adventurous off-road driver.
Today we are going to have a closer look at the popular warn 12000 lb winch and the reasons why it is so requested despite the price. To begin with, the innovative design should be mentioned. However, apart from the outside look, the insides are well-packed too. The manufacturer has put even more thought into the durability as well as the performance of the warn winch for jeep wrangler.
It is a single-line winch with a pulling capacity of 12000 pounds. The steel rope is created to assist you or your friends in the most difficult of the situations. It should be added that as compared to other models, this one comes with a convertible control pack. In case you do not know what it is supposed to do – it can be attached to the winch, or it can be mounted remotely.
This warn winch is equipped with a lightweight aluminum drum and features a zinc-coated steel cable. As for the reliability, you can rely on this winch at any time no matter the circumstances. The length of the cable is twenty-four meters. As for its pulling capacity of 12 000 lbs. (5443 kg), it is more than enough for a Jeep. The winch is designed for heavily-loaded vehicles, so it can handle an average-sized Jeep.
Such impressive pulling capacity is achieved thanks to a planetary gear train and series-wound motor. Having so much power onboard and a cable of twenty-four meters long, you'll have no trouble pulling your SUV out of swampy terrain. If you look closely, you'll notice that the winch is covered with black powder paint. Not only does it looks good, but also provides protection against corrosion. The same goes for the fasteners and the clutch lever: they're both made of stainless steel.
All this stainless steel hardware means no corrosion there either. More than that, this winch is rated IP68, which means added protection against natural elements including water/humidity, dust/sand, and low temperature. And then there is this aluminum housing that helps dissipate heat. As is everything related to this winch, it's durable and of the highest quality. You can drive your Jeep with this winch installed and not worry about water or rain (or snow, for that matter).
And this is a very important issue because when you're out there in the wild, the last thing you need to worry about is your winch getting wet or covered by dust or sand. You wanna feel the full power of your Jeep, put it to the test, and the winch must not let you down. The gear system has been improved, by the way, and now provides a high-speed cable reeling and is very quiet. If you want extended control over the winch while it's pulling out your vehicle, this ZEON 12 winch will be a great investment.
It achieves that thanks to the mechanical cone brake. As long as electric winches go, the WARN 89120 ZEON 12 is, hands down, one of the best Jeep winches you can get right now. Although the lifetime warranty is limited, the winch itself is well worth the investment. It is reliable, durable, safe, and can get you out of any trouble. Having such a winch installed on your vehicle, you can conquer the most challenging off-roading trails on the planet and come back in one piece.
Pros & Cons
Fast and reliable pulling power
Sleek powder-coated design
Sealing of the winch is improved to ensure that all the elements out
Lifetime Warranty is limited
Best Features
Comes with a larger winch drum
Rope wear is reduced to a minimum
Rope anchor ensures simple and straightforward installation
Other Available Options:
Truth be told, Warn does not specialize in premium winches only, if you are interested in a budget option, we advise you to check WARN 103254 VR EVO 12 winch out. Besides, if steel rope is not your cup of tea, a synthetic variation is also available.
Expert Recommendations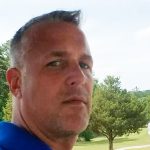 If you are willing to invest a little extra to get a super winch then, ZEON 12 is the one to consider. The quality and the potency of the winch is clearly supreme, and there is a little chance that you will ever regret the purchase.
3. Badland ZXR – Best Trusted Winch Brand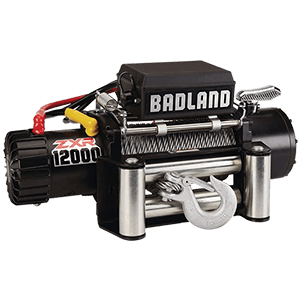 One of the many complaints that off-road drives post about their winches is that they heat up very quickly. Even though it is recommended to give your winch some rest every couple of seconds, for some, it is not enough, and that is why many winches turn to break easily. Badlands 12000 winch is designed in such a way that it takes it twice the regular time for the motor to overheat. Such a feature speeds up your vehicle's recovery faster and simpler. When we were working on this badland winch review, we came across a peculiar feature that may interest many – the winch features automatic load-holding brake so that it is safer to use.
Most Badland winches feature a 3-stage planetary gear system, with this one being no exception. Such systems provide more reliability and torque to the winch. As for the installation, one thing you can be sure of is that you'll have no trouble mounting this top-quality winch. Using it is also very easy and straightforward: you won't even need any prior experience. And should the need arise to do some mechanical operations you'll find that it doesn't require much of a physical effort.
Another thing that Badland winches boast about is the cable they use: it's an aircraft-grade steel cable. Yes, you read it right: it's an aircraft-grade cable. That's great news for any off-roading fan. Aircraft standards are very high, so, having a cable that is up to these standards is a very big pro. The cable will remain resilient after numerous uses and you won't have to pay for a new one any time soon. On top of that, it is resistant to corrosion and other natural elements.
Next, the winch features an automatic load-holding brake system. It will prevent what's known as "sudden spooling". AKA unexpected spooling, it may put your SUV in a dangerous situation and should be avoided. The good news is – the engineers at Badland took care of that. Plus, they build their witches implementing the brushless architecture. What does it mean? Long story short, it means increased efficiency and usability. This comes as no surprise as the brand's products always feature the best motors out there. That's right: in terms of durability, the ZXR winch is one of the best the market has to offer.
According to the manufacturer, the winch will last at least five years of intense use, or even more, given you picked the winch with the right pulling capacity. And this one here happens to be one of the most powerful in the Badlands line thanks to impressive 12 000 lbs. With an IP66 water-resistant rating, driving through mud, snow, dust, or other dangerous environments will cause no harm to the winch. More good news: compared to other brands' winches of similar class, this one is rather affordable.
There's one downside, though. The rope – that aircraft-grade steel cable – is kind of short, especially compared to the market average. Not that this is a very serious disadvantage, but do keep it in mind. In any case, you can always expect this winch to recover your Jeep even from the tightest (or, rather, stickiest) spots.

Pros & Cons
Supreme weather-resistance
Simple but modern designs
98% of users are highly satisfied with the quality and operation of the winch
Rope length is shorter when compared to other winches
Best Features
The motor is designed to stay cooler longer
It is equipped with aircraft-grade wire rope
Fast line speed ensured by a 3-stage planetary gear system
Expert Recommendations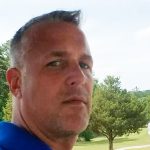 Those who askes whether we will recommend the rope, well we see not the reason why we shouldn't. It is not a budget option, but it is still affordable, and the features it is packed with will save you from any unwanted outcome.
4. RUGCEL – Best Winch for the Money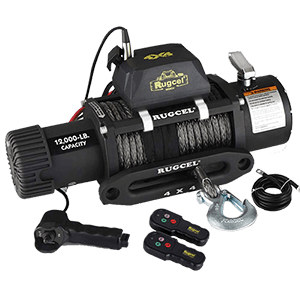 Very often, those who are looking for a new winch for jeep wrangler pay a lot of attention to the brand name. On the one hand, that is a thoughtful approach, on the other – there is plenty of fish in the sea. Rugcel is not a very famous name so far. However, the atv/utv winch that they have on offer are quality ones that come for a fair price.
To begin with, the 12 000-pound winch is the most requested one due to its practicality and price. The one that Rugcel offers is a synthetic rope winch that can get you out of any problematic situation. The winch comes packed with a mechanical brake so that increased control is grated. Besides the wireless control makes things even simpler for those who have less or no experience in handling a winch.
Yes, this electric winch by RUGCEL features a high tensile nylon synthetic rope with aluminum fairlead. Although synthetic rope is more expensive than wire rope, one can't say for sure if a synthetic rope is better than wire rope. But in terms of usability, a synthetic rope is a better choice. Say, the wire breaks down on your next trip. With a synthetic rope, you can do something about it and recover your Jeep. In contrast, with a wire rope, you don't have that option, although a wire rope has some advantages compared to a synthetic rope as well.
As for the brand, again, don't pay much attention to it. True, it's not that well-known, but the RUGGEL winches are more than decent. For example, this winch is rated IP67 – only high-quality winches get such a high rating. Again, that means the winch is resistant to Mother Nature (water, sand, dust, etc.). More than that, the RUGCEL winch boasts a longer-than-average rope. And you're gonna appreciate that extra length next time your Jeep gets stuck in the mud.
As for the pulling capacity of 12 000 lbs, it is achieved thanks to the 6.5 Hp, 12 V series wound motor, and the three-stage planetary gear system. That gear has free spooling clutches for faster rope payout. Plus, the winch features a dynamic braking system as well as a mechanical so you have more control over the winching.
All of this adds to the reliability and durability of the winch, so you can drive your trusted Jeep wherever you want to, may that be rugged terrain or muddy trails – the winch can handle it all. Another thing worth mentioning is the price. For a winch of such high quality, the price is more than fair. And as far as the remote control goes, it works just fine, but if for some reason it doesn't, hold both buttons until the light starts flashing.
Summing up, RUGGEL is completely waterproof, features a synthetic rope, provides high pulling capacity, and has a fine braking system. On top of it all, the winch features remote control and is user-friendly when comes to the price. Knowing that you have such a reliable and trustworthy winch mounted on your vehicle should give peace of mind when you're out there conquering the off-road.
Pros & Cons
Longer rope when compared to average winch models available
Sleek and innovative design
Fit for the vehicle as well as utility use
The brand name is not that well-known so far
Best Features
Durable and efficient synthetic rope winch
Improved waterproofness
Great price for supreme quality
Other Available Options
:
In case a 12000-pound synthetic rope does not fit your needs, there is a list of other options that the manufacturer has on offer too.
Expert Recommendations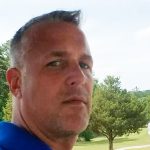 If you are looking for a quality winch and you do not want to overpay – Rugcel synthetic rope winch is the one to consider. It is completely modernized according to the recent standards and can effectively deal with any set tasks related to vehicle and utility winching.
5. X-BULL – Best Performance Winch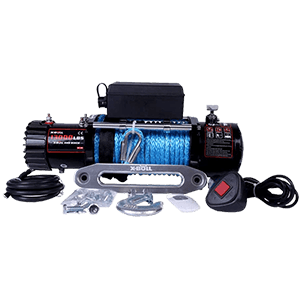 Those of you who would ask – what is the jeep top winch, the answer would be X-Bull, and there would be not a single second of hesitation. Why is that? Well, simply because it seems that the manufacturer has done its best to pack the winch with anything possible. There are so many characteristics to this winch that it is hard to figure out where to start.
First things first, professional off-road drivers would name a 13000-pound winch to be the best performance one, and 12000-pound one would be left to the second-best place. However, in the case with X-Bull synthetic rope, things change.
The given winch is provided with supreme power which results is such great performance. No matter the trouble you get yourself into – X-bull synthetic winch will help you out.
But how did they achieve so much power in the first place? Well, let's take a look at what we're dealing with here. First of all, we've got a powerful motor and a three-stage planetary gear system for faster linear speed (7 feet per minute for full load, and 25.3 feet for no load). The mighty duo of a motor and gear system also provides lower ampere traction under load. And then there are these heavy-duty sealed contractors for better performance. Finally, the advanced braking system adds to the safety and gives you more control over the process of winching. As mentioned, the X-BULL winch features a high-quality synthetic rope.
The combination of such hardware and a synthetic rope makes this winch one of the best and most reliable in the market. It's fast, powerful, and is made of premium-quality components. And, most importantly, it's safe to use. The winch also boasts a Waterproof IP67 rating. It is well-protected against all natural elements and will operate smoothly under pressure. Low/high temperature, wind, rain, and sand: none of that will cause any significant damage to the winch or make it malfunction.
That's exactly the kind of winch you'll need for the Jeep if you're planning a trip into the wild. Also, keep in mind that the winch is equipped with the latest generations of wireless remote control. The design is another thing worth mentioning. It's stylish, modern-looking, vibrant, and masculine. As for the installation process, it's not that hard if you know your way around aftermarket gear. There are two things you should consider, though. First, it's heavy. Handling the installation alone would be hard or even traumatic; so, better call a friend for help.
Second, don't count on the manual – you won't get much out of that, as it's written poorly. Therefore, if this is the first time you're mounting a winch and have no experience, you should get someone with the right set of skills to handle everything. After the winch is mounted, there's nothing to worry about for the next 4-5 years. Yes, that's how long the winch is going to last, according to X-BULL. Just keep the winch in a neat and dry place, protected from water/humidity and other elements, and you'll be golden. There's only one downside to the winch, and that's the price. However, while it is, indeed, a bit on the expensive side, the winch is well worth it, to the last penny. In many ways, the X-BULL winch is a bargain.
Pros & Cons
Sealed heavy duty contractor
Stylish design and vibrant rope color
Improved rope payout
The price is a little higher when compared to other models
Best Features
The winch is equipped with a braker so that it is safer than the others
The synthetic rope that is made of quality material
Wireless winch remote control comes with the winch
Other Available Options:
X-bull 12000-pound synthetic rope winch is not the only option that the brand has invested into if you think that you need something a little more powerful – check the other options out! 
Expert Recommendations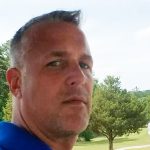 Those of you who often find yourself under unexpected off-road conditions are bound to have a reliable and powerful winch in your trunk. If you are able to spend a little extra on the item, then a synthetic rope winch from X-Bull is the one that we would advise.
Buyer's Guide – What Should I Look for When Buying a Winch?
Many drivers think that as long as they know how to how to install a winch on a jeep, there should be no issues arising when it comes to picking the item up. However, things are rarely that simple, and there are some essential tips to consider when you are to get yourself a winch. We are going to discuss the main factors for you to pay attention to and to be aware of.
How We Picked The Best Winch For Jeep
The Capacity of the Winch
The most important thing about here is the winch capacity. So we'll start with that. What does it mean anyway, what does it tell us? It indicates the max load capacity the winch can pull without breaking. The heavier the Jeep, the more pulling power you're gonna need to pull it out of the mud. The two factors to pay attention to are mechanical strength and tensile strength. The capacity of the winch is defined by the layer closer to the drum. On average, a three-layered drum is a great place to start, but if you want the best, or rather the safer deal, go for four.
The length of the winch rope
Another important aspect is the length of the line. The longer the line, the further the drum can reach. However, since we've determined that most of the pulling capacity is at the first layer, to get the full power, you will have to spool out most of the rope. That, in turn, may cause more kinking, curling, and jamming. So, on one hand, longer lines are better. But on the other hand, you will be forced to deal with more problems. So, which one to choose: a longer rope or a short one? That's up to you. A longer line may come in handy one day. Being out there in the wild, you can never know what the next moment may bring. Yet, shorter lines are easier to use.
The Speed of the line
The two factors that determine the speed of the line are the motor power and the gear ratio. The average line speed is about 2-6 feet per range. At least that's what you'll find in the description of most winches that the market has to offer. If you're going for a faster Jeep winch, keep in mind that the higher the speed, the more electric power the winch is going to require. If you're a patient driver, pick a slower winch. But if you don't want to waste precious time while the winch is pulling your four-legged monster out of the mud, a fast winch will be a more preferable pick.
Drivetrain Type
Jeep winches (or any other winches, for that matter) mostly use three drivetrain types that have proven their durability and reliability over time. The types are the following: planetary, spur, and worm gear. As the name suggests, the spur gear uses a pair of spurs gears. And while the spur gear trains are pretty fast, due to low friction they also have low amperage. A safer alternative to the spur gears would be the worm gears as they reduce the unnecessary reliance on breaks.
This type of gear is connected to the motor gears and works in unison with spur gears. Although worm gears are very slow, they are very popular among tow truck drivers. Brands like Smittybilt and Warn use the planetary gear system in their winches. Such winch systems are compact and operate on an automatic transmission. They're like the golden middle between spur and worm gear types in terms of friction and amp draw.
Motor Type
The most popular motor types out there are the permanent magnet motor and the series wound motor. Both of them have their pros and cons. Permanent magnet motors are cheaper but aren't particularly resistant to heat. As for the series-wound motors, they are expensive but best suited for heavy-duty winches. And as with the speed and the length of the line, the right choice mostly depends on your personal preferences. The budget for the winch will also play a key role, of course.
Wire rope vs synthetic ropes
Alright, now let's talk about the difference between wire ropes and synthetic ones and find out which one is better (or, rather, which one suits you better). Should you spend more money and get a synthetic rope? Is it going to be worth it? Well, wire ropes are usually made of carbon steel and are more popular with the drivers, simply because they've been around for a lot longer. Synthetic ropes are relatively new and got a few advantages over wire ropes. To start with, synthetic ropes are 50 percent stronger and are about 1/7 the weight of a steel cable.
Another pro of synthetic ropes is that if you get a breakage within your cable, it's just going to drop straight to the ground and won't fly back and accidentally hit something (or someone). This here is a very important issue, especially if you're not traveling alone. So, in terms of safety, a synthetic rope winch is a far better choice. More than that, if your synthetic rope does break, you'll be able to fix it, get it back together, and continue the recovery. With wire rope, you don't have that option. If it breaks, it breaks: you won't be able to fix it on your own and get the Jeep moving.
Yes, synthetic ropes are not only safer but more reliable as well. There's nothing worse than having to call a tow truck to get the SUV out of mud just because your rope broke. The whole idea of a winch is when the Jeep gets stuck, which happens now and then out there in the wild, you've got something to pull it out manually, without any help from fellow drivers. The downside to synthetic ropes is that they require more care. You need to wash them regularly and keep away from high temperatures. Wire ropes, in turn, are more resistant to heat. However, synthetic ropes come in different shapes, sizes, and prices. All in all, they are about 2-3 times more expensive than wire ropes but synthetics are safer, easier to use, and weigh less.
That means you'll get to save more on gas money in the long run. But be careful, there are lots of fake synthetic ropes on the market that are not as safe and durable as the real thing. Although these fake synthetic ropes come at a lower price, don't give in to the temptation. Pay a bit extra and get the quality product; otherwise, you'll eventually end up paying more. A Jeep winch with a genuine synthetic rope will serve you long enough and you can always rely on it. If you do lots of off-road driving on the weekends, you already know that the off-road trails are always unpredictable.
How to Set Up a Jeep Winch
Good news: winch installation is not as hard as it may sound. It doesn't take any special skills or knowledge to do it. With that said, some concentration, effort, and time investments are required. Find a warm, dry, and well-lit place, and get to it. First of all, and this is important, make sure the winch is mounted on the frame, not the bumper. Some bumpers are mounted right on the frame and have pre-drilled holes on them. If you're a lucky owner of such a fancy bumper, you don't need to drill any holes. And if not, go ahead and make new holes where you want to mount the winch.
The next step is to align the winch with the holes, no matter pre-drilled or drilled. Put the bolts in, make sure the winch is resting against the bumper, and tighten the bolts. Alright, you're nearly there. What you should do next is check if the bolts are tight and pull out a few inches of the wire rope to install the ferret. Once you're done with that, go ahead and install the hook. Last, but not least, handle the wiring. Pay extra attention to this part, as it is somewhat tricky because it's not always clear where the ground wire should go.
It varies depending on the manufacturer, so check with the manual/user guide to be sure. You don't want any unforeseen troubles later on when you're stuck on a muddy road. Therefore, be very patient and do everything "by the book". Now, all that is left to do is to connect the positive and negative wires to the battery. After everything is set, take a few minutes to check if everything is tight and ready for action. Don't get lazy at this stage! As they say, it's better to be safe than sorry.
FAQ
How to keep winch cable from rusting?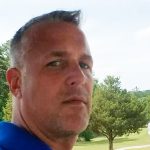 Many drivers tend not to clean their cables when they are re-spooling them since it is considered that a well-spooled cable from a trusted manufacturer is not supposed to rust. However, if you are a responsible driver and you wish to take extra care of your winch cable, we suggest that you run it through some motor oil-soaked rag while re-spooling.
How long does synthetic winch rope last?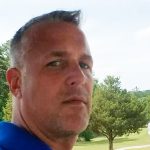 There is no one-for-all answer when it comes to rope's lifespan. There is a range of factors that affect that lifespan: frequency of use, storage, brand, type of line, and so of. The average lifespan of a winch would be up to 5 years, but at times a winch can serve you as long as 10 years.
How do you keep winch cables tight?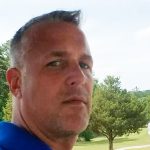 There is a lot that depends upon the winch maintenance, so that you need to ensure that you do it right. First of all, you need to watch if it is wrapped on the drum correctly. If you see that the cable is not as tight as you would like it to be, there is no harm in re-spooling it.
Can I put a winch on a stock jk bumper?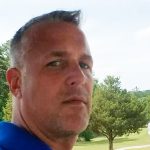 Both technically and practically, it is possible to put a winch on a stock bumper. However, you need to keep in mind that fact that in some countries, a jeep winch bumper is not street legal. That is why it is advised to mount an off-road winch between the frame rail instead. In such a way, all the force, as well as the stress, will be distributed evenly so that no damage will be caused.
Do I need a mounting plate for my winch?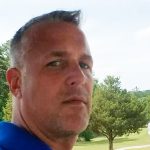 Depending upon the vehicle that you are using, you can either have a jeep winch plate built-in, or you may need to install one on your own.
How big the winch for my Jeep should be?
When it comes to choosing a winch for Jeep size doesn't matter. What really matters, what you should pay attention to are the power, durability, and load capacity. A winch of higher power and load capacity but of small size is capable of getting your Jeep out of mud, whereas a bigger winch with less power will be pretty much useless.
And what about the cost?
The market has a wide range of winches to offer with different price tags. The best budget winch for Jeep will cost you 200-400 hundred dollars. As for the higher price range, the sky is the limit. True, expensive winches have some nice extras features and are of better quality. However, units in the middle price range are quite decent as well and won't leave your wallet empty.
Wire rope or synthetic rope?
Both options have their pros and cons. Wire ropes are made of carbon steel and resistant to high temperatures. But if your wire rope breaks, you're stuck – no way you can fix it. Synthetic rope, on the contrary, can be fixed, but you should keep it away from high temperatures. Also, synthetic rope is more expensive than steel rope.
Do I need a winch anyway?
If you're planning an off-road trip, then yes, it's a must-have. Chances are, you'll get stuck during that trip and the best way to get your Jeep out of a difficult situation will be a winch. It's either a winch or calling a tow truck, your choice. Besides, you can use your winch to move an obstacle like a fallen tree away.
Do I need an extra battery for my winch?
Yes, experienced off-road drivers highly recommend having an extra battery. Getting stuck out there in the middle of nowhere and not being able to use the winch is not a situation you want to find yourself in. Even though you may never get to use it, don't be greedy and get that extra battery just in case.
How do I know the right winch capacity for my Jeep?
It's not rocket science. All you need to do is multiply the gross weight of your vehicle by 1.5. For example, if you have a full-sized SUV, the capacity of the winch should be about 13 000 – 15 000. Follow this simple rule and you'll always know the right winch capacity that is required for your Jeep.
Is it possible to modify a steel cable winch to use as a synthetic rope?
The answer is yes, you can do that. But, do keep in mind that to pull this off, you'll need the help of a professional. However, no matter how good the pro is with their hands, it would be better to get a winch that already features a synthetic rope instead of modifying the old winch.
Can I use jumper cables to start a winch?
Yes, jumper cables can be used to run a winch. Don't get used to this, though. Jumper cables are designed for short durations of usage only. So, get the proper wires as soon as possible. Otherwise, you will damage the battery, and that will cost a lot of money to fix.
How do I mount the winch to my Jeep?
It may come as a surprise to you, but installing a winch is not that hard to do. Just make sure you mount the winch on the frame and not on the bumper. Tighten the bolts, install the hook and connect the wires. Also, check with the manual now and then.
What brands are the best?
All the winches we reviewed today are manufactured by market-leading companies. These include Smittybilt, X-BULL, Warn, and others. With that said, it's not the brand's name but the quality of the winch that you should pay attention to.
Best Jeep Winch 2020 (Updated October, 2023)
Product
Product Information
View on Amazon

Editor's Choice

1) Smittybilt 97412 XRC GEN2

Best Features:
– 3-stage planetary gear system
– Great Warranty options
– Improved line pull
– Wireless controller added
Load Capacity: 12000 lb.
(5 454 kilograms)
Rope Type: Steel Cable,
0.375-inch x 80 feet (8mm x 24.4m)
Remote Type: Remote Switch,
12′ (3.7m) lead


2) WARN 89120 ZEON 12

3) Badland ZXR

Best Features:
– Sleek and innovative design
– Motor remains cooler longer
– Increased line speed
Load Capacity: 12000 lb.
(5 454 kilograms)
Rope Type: Steel Cable,
0.375-inch x 65 feet (8mm x 20m)
Remote Type:Remote Switch,
12′ (3.7m) lead

4) RUGCEL

5) X-BULL

Best Features:
– Quality-nylon rope
– Reliable brand
– Better rope payout
Load Capacity: 13,000 lbs.
(5896 kg)
Rope Type:Synthetic Rope,
0.375-inch x 85 feet
(8mm x 26m)
Remote Type:
– Wireless Remote Control (90feet)
– Remote Switch, 12′ (3.7m) lead
Color: Black / Orange
Other Available Options:
– 13000 lb. Load Capacity (Steel Cable)
– 12000 lb. Load Capacity (Steel Cable)
Conclusion
Just as fun and challenging off-roads are so dangerous and unexpected, they may turn out to. It is safe to say that Jeep drivers are the ones to be most likely suck somewhere in the middle of nowhere wheels deep in the mud. That is why such an item as a practical winch is a must-have for almost anyone. Having a powerful and reliable winch onboard when hitting the off-road is essential. Fortunately, the winch industry has a lot to offer those who are eager to conquer the wild.
Picking the right winch for your Jeep will depend largely on your vehicle's weight, where you plan on driving it, and how much pulling power you need. It does not matter whether it is a winch for jeep jk or a winch for jeep tj that you are looking for – all the best options are gathered here. Just browse the Buyer's Guide and read the reviews to find that one perfect winch that is still missing from your trunk!