Are you a big off-roading fan? Or maybe you're into competitive racing? In any case, you should never get behind the wheel unless the brakes are in perfect condition. Keeping your vehicle's braking system in top shape is crucial for ensuring safety, control, and responsiveness during your driving adventures. Now, the rotors, calipers, and brake fluid all play an important role in braking efficiency and should be inspected regularly. However, it's usually the pads that fail first. The reason – they do most of the damping/braking and wear out over time.
Once that happens, the only thing any driver can do is get a third-party replacement. Selecting the right brake pads for your Dodge RAM 1500 is essential for maintaining optimal performance, as they can greatly affect stopping distances and overall handling. So, what do the Best brake pads for Dodge RAM 1500 look like? I've got the answer right here! First, we'll check out five top-notch pads from market-leading brands. Next, we'll learn about the average lifespan, common issues, noise- and dust-free braking, and more. Let's get to it!
Best Brake Pads for Dodge Ram 1500 Review
1. Bosch – Best Brake Pads for Ram 1500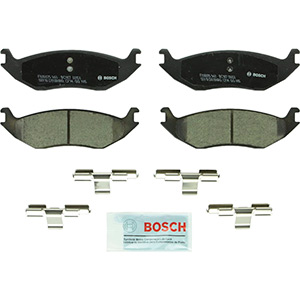 So, you just discovered that the brake pads have worn out, and it's time to buy a replacement set. But what if you're on a tight budget? Should you drive around with faulty pads until you've saved up some cash? Absolutely not – you must always put safety first! Besides, there are lots of affordable options on the market that are worth our attention. For example, the Bosch rear pad set is available for cheap.
It is incredibly quiet and boasts a multilayer shim design. And, you can choose between various colors and materials. The overall performance is decent as well. While the braking power isn't on par with the "big dogs", it will be a significant improvement over the stock gear. The package, in turn, includes all the necessary hardware. Sadly, the clips are a bit of a miss and will probably not fit unless you squeeze them hard.
Pros & Cons
Quiet operation thanks to multilayer shims
Available in different colors and materials
A great choice if you're on a tight budget
The included clips don't fit
Verdict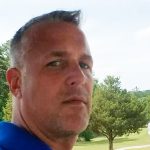 Affordability is the biggest selling point of the Bosch rear brake pads. Silent, steady performance both on and off the road is another reason to consider this set over the rivals. With lots of colors/designs/materials to choose from, Bosch will be a safe bet for most RAM 1500 owners.
2. Power Stop – Best Brakes for Dodge Ram 1500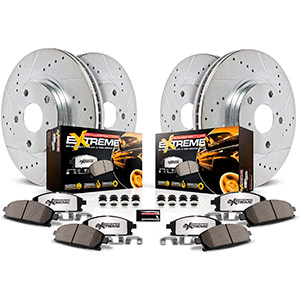 The next set of replacement brake pads will be a great choice for professional truckers. I'm talking about drivers that make a living towing and hauling cargo. These pads were specifically engineered to easily handle the extra pressure. Thanks to the superb material quality, you won't have to worry about them giving up on you in the middle of the road. Oh, and the pads feature a dust-free design.
Compared to factory gear, they produce up to 30% less dust, which is a rather impressive result – you'll instantly feel the difference. My only complaint has to do with the price: Power Stop is, indeed, an excellent product, but it's a bit expensive. On the other hand, with this package, you'll get not only a set of front and rear pads but also a rotor pack.
Pros & Cons
Premium material and engineering quality
An excellent choice for towing trucks
Ensure dust-free braking
Verdict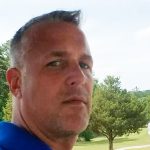 RAM 1500 owners ready to invest in premium-quality gear should put Power Stop on their lists. While the price tag is a bit steep, the superb material + engineering quality, strong performance in towing, and dust-free braking make it worth the while. These pads and rotors were made to last.
3. Callahan – Best Brake Pads for 2017 Dodge Ram 1500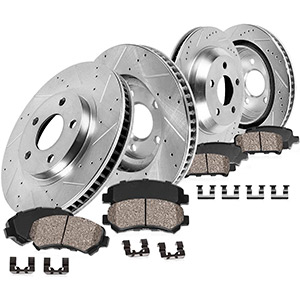 If your RAM truck's factory pads gave up on you recently and you need a replacement set ASAP, take a close look at Callahan. This company is known for its fast, 100% charge-free deliveries across the United States. Plus, they back these brake pads (and all the other parts in the kit) with a standard one-year warranty. Add enhanced compatibility with a wide range of Dodge vehicles, and you'll get an excellent deal.
Do keep in mind, though, that the Callahan pads will produce lots of dust at first. But, this can be fixed with a standard breaking-in procedure. Besides, with this brake pad set, 1500 drivers will enjoy fast, hassle-free installation, quiet performance, and decent stopping power. The price, in turn, is reasonable, which is another big pro.
Pros & Cons
Compatible with a long list of Dodge trucks
Protected by a 12-months warranty
Fast, charge-free shipping
Rather dusty before breaking in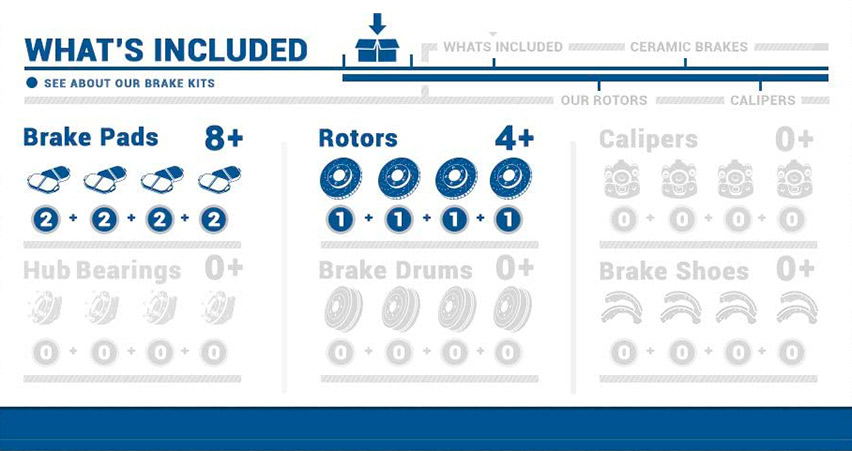 Verdict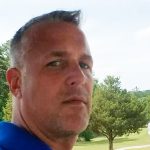 Fast deliveries (at the company's expense), a 12-months warranty, and a "universal design" are these pads' most significant selling points, along with solid, noise-free performance. You'll have to break them in, though; otherwise, the pads will get dusty in the blink of an eye.
4. Detroit Axle – Best Brake Pads for 2011 Dodge Ram 1500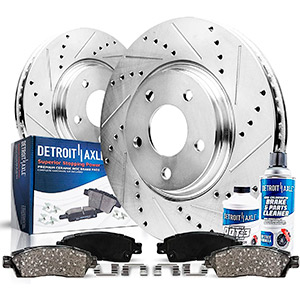 Here, we have another well-known and respected manufacturer of aftermarket truck gear. So, what can you expect from these pads? Are they superior to the competition, or not? Well, Detroit Axle's engineers did a great job with the braking power/distance – these pads will protect you from a crash and expensive repairs. On top of that, the kit includes not only a set of pads but also rotors for the front.
And that's not it yet: in the package, you'll find two bottles with brake fluid and cleaner. Last, but not least, Detroit Axle backs its product with a ten-year warranty. And what about the downsides? Are there any cons? Yes, there is one: average-at-best material quality, which equals premature tear, wear, and loss of efficiency in the long run.
Pros & Cons
Impressive braking power and distance
Come packed with brake cleaner and fluid
Covered by a generous 10-year warranty
Verdict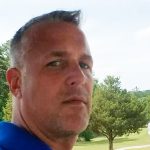 Despite the disappointing material quality, the Detroit Axle brake pads + rotors still deserve our attention, mostly because of the generous package. The brake fluid + cleaner, ten-year warranty, and solid-quality installation hardware compensate for the lack of durability.
5. Wagner – Best Brake Pads for 2008 Dodge Ram 1500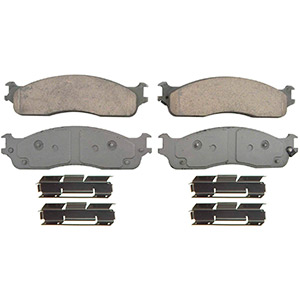 Are you a bit worried about the whole replacement/installation routine? Thinking about paying a mechanic to handle it? You won't have to do that with the Wagner brake pads! Designed for the older-generation RAM 1500 trucks (2006-2008 model years), these pads will fit your vehicle like a pair of gloves. All you'll need is a basic tool-set. Another standout feature is the application-specific design.
Thanks to the patented laser-shaped friction technology, these brake pads are incredibly efficient at heat dissipation. So, if you do lots of off-roading somewhere in the tropics, Wagner will be able to handle all the extra heat. The same goes for high-quality hardware. What I didn't like about Wagner was the slow customer support service. The agents are rather helpful; yet, they take a bit too long to get back to you.
Pros & Cons
Very easy to install with a basic set of tools
Application-specific design for extra performance
Highly efficient heat dissipation system
Verdict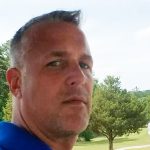 The Wagner brake pads will be a reasonable investment for 1500 drivers that put ease of use/installation first. They'll appreciate the performance-oriented design, advanced cooling system, and premium-quality (stainless steel) hardware that comes as a part of the package.
[su_spaccer]
Are Ceramic or Metallic Brake Pads Better?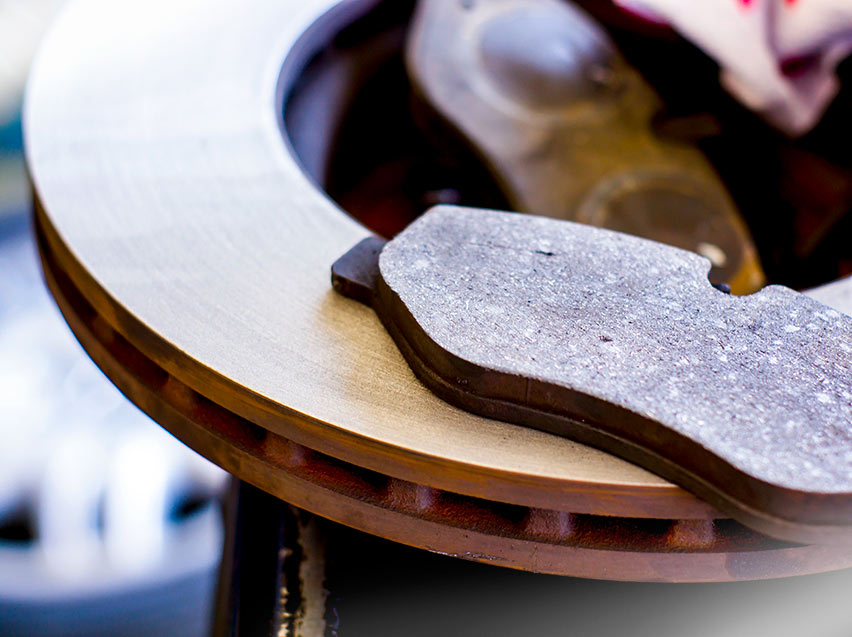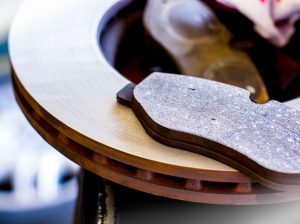 The short answer: ceramic pads are vastly superior to metallic. But why is that, exactly? They last longer and perform quieter, and those are arguably the most important factors for any part of the braking system. On top of that, ceramic pads are more resistant to wear and tear and don't lose their factory efficiency/performance over time. Ceramic also puts very little pressure on brake rotors, in contrast to metallic pads.
And the best thing about this – you won't have to pay big bucks for ceramic brake pads. Thanks to the intense competition on the market, these are available at a very affordable price. So, summing up, ceramic brake pads are a significantly better choice than their metallic counterparts. Keep this in mind when shopping for a new set.
What's The Difference Between Expensive And Cheap Brake Pads?
We just learned that ceramic pads are leading the market right now. And, while the price difference isn't dramatic, it's still there. However, material quality isn't the only thing that sets expensive units apart from cheaper ones. Performance, brake dust, and noise also play a huge role in shaping the price (and the quality) of the brake pads.
Speaking of performance, I mean the braking power, of course. Average-at-best pads struggle at bringing the vehicle to a full stop, especially if it's a big, heavy truck like RAM 1500. Again, ceramic brakes excel at this and will be a reasonable pick for anyone doing off-roading, competitive racing, or towing. Even if you're just using the RAM for regular commutes (like to the office and back), braking efficiency should still be the #1 concern.
Next, we've got what the experts are calling the "dusting issue". Now, some folks believe that it's the dust from the road that accumulates on the brakes, it's actually not. What we're talking about here are the tiny carbon fiber particles and metal shavings that are produced during braking. This is a normal process, and modern-day engineers have found ways to keep the dust to a minimum for a safer and more comfortable ride.
You'll have to pay extra for that, of course, but it will be well worth it. Last, but not least, braking noise is another issue that can be avoided if you invest in decent-quality pads. Ceramic pads are almost 100% silent, while metallic pads are pretty noisy. Organic pads (crafted from fiberglass or Kevlar), in turn, are literally noise-free; however, they're not at all reliable.
So, that pretty much sums it up. If you're looking for noise- and dust-free performance, along with solid stopping power, you'll only get that with the more expensive gear.
When should I Replace Brake Pads?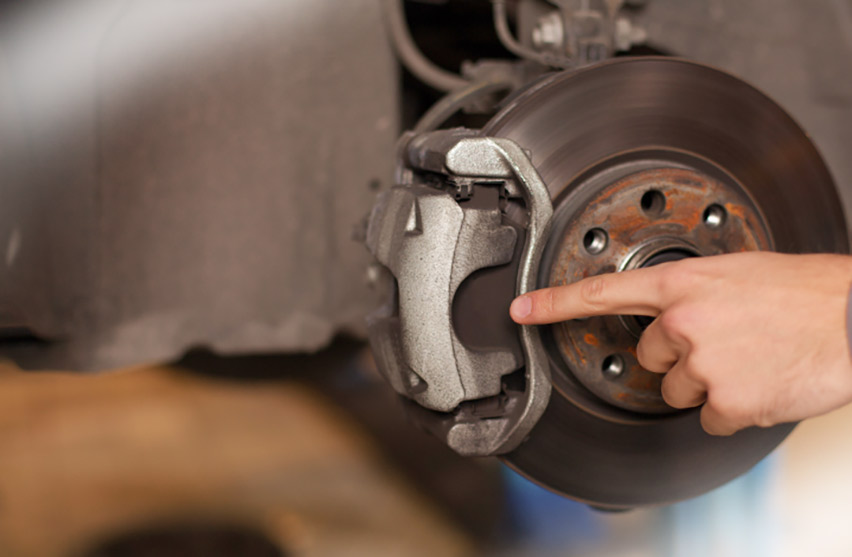 No matter how expensive the pads are, over time, they wear out, which leads to a significant drop in braking efficiency. So, here's a quick look at the signs and symptoms of failing pads. They signal that a replacement is in order, and the sooner you recognize these side effects, the less time, effort, and money you'll have to spend on fixing the damage. Take a look:
Squeaking noises. Like with most gear, it's important to listen to the sounds the pads make. Say, if you hear a squeaking slash squealing noise that means the pads are done. When they are extremely worn out, the pads can also cause damage to the rotors. That's why you need to replace them as soon as you hear the noise. Otherwise, the rotors will have to be replaced as well.

Strong vibrations when braking. Normally, there should be no vibration when you hit the brakes. That makes this a very easy sign to recognize. In most cases, the shaking is caused by uneven pad wear. While one of the pads does its job correctly, the other fails at bringing the truck to a stop, which causes vibrations.

Longer stopping distance. A loss in braking power is another clear side effect of malfunctioning brake pads. Now, sometimes, the stopping distance can increase when you, say, start carrying heavy loads or drive on challenging terrain. However, if you're sticking to the same routes and ride with an empty bed, and there are no issues with the brake fluid, lackluster braking only means the pads need to be replaced.

The brake system warning light pops up. If you own one of the latest editions of the 1500 truck, it will have lots of warning lights on the dashboard, including the brake indicator. Usually, it comes on when the parking brake is engaged. But if it's not, and the light is still appearing on the screen, stop the vehicle and inspect the brakes. Chances are, the pads are to blame.
What's the Average Lifespan of New Brake Pads?
Pads last for a long time, actually, especially if you take proper care of them. For a mid-size truck like RAM 1500, 40-50K miles is the average lifespan. That means they will serve you for up to five years. Of course, it all depends on the driving conditions, how much pressure you put on the brakes, the road, the cargo, and more. On a highway, the pads will last up to 70K miles, or more.
In contrast, heavy-duty driving will probably ruin them a lot sooner (like in two-three years). The most important thing here is to watch out for potential signs of wear like we just discussed. As long as you're on top of things in that regard, you'll only have to pay for a new set of pads, nothing more. As we'll learn soon from the Buyer's Guide, a decent-quality pack won't cost a fortune.
The installation process takes less than an hour, but only if you have experience with trucks, different tools, and know your way around brakes. If not, prepare for three- to four-hour-long labor. Mechanics tend to charge +/- $100 for replacing the factory brake pads with an aftermarket set. So, it might be a better idea to pay them instead of spending half the day trying to do it yourself (and potentially ruining something along the way).
Tips for Making Brake Pads Last Longer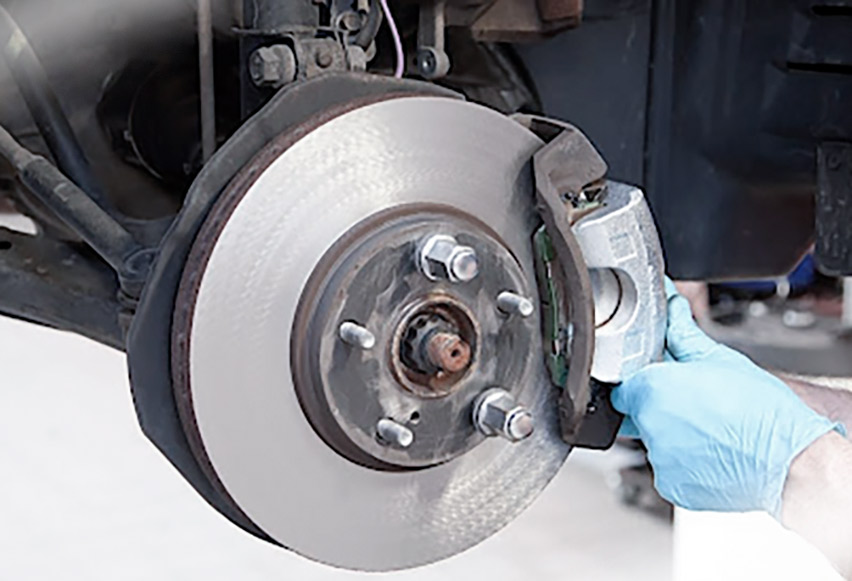 So, finishing up with the FAQ section, it's time to focus on how we can increase the life cycle of an aftermarket set of brake pads. If you do this right, the results will be pretty impressive. Here are the most effective, tried-and-true ways of ensuring a longer lifespan for the pads:
Don't speed up unless necessary. The first tip is really simple: the higher the truck's speed, the more effort the pads will have to put in to bring the vehicle to a stop. That means more wasted energy and more worn pads. So, be conscious about how much you actually speed up and stick to an average, comfortable speed to spare the pads.

Stop two-footing the pedals. This term describes a situation when you're hitting the brake pedal while still keeping the other foot on the gas pedal. That's bad news for the entire braking system, especially the pads. If you've been doing this for a while, it won't be easy to change your driving habits.

Practice engine braking. That's right: instead of hitting the brakes, try shifting down the gears. This mostly refers to manual transmissions but works on automatic units as well. Shifting to a lower gear will automatically drop the speed of the RAM, which is exactly what we're going for.

Master the art of coasting. Do you know what "coasting" means? It's when you lift your foot from the gas pedal instead of using the brakes. That way, the truck will slowly lose its speed and come to a full stop eventually. While coasting isn't very useful in heavy traffic, it can work in other situations.

Keep your distance. Last, but not least, widen the gap between your truck and other vehicles on the road. You never know when the driver in front of you is going to slow down, and when that happens, all you can do is hit the brakes harshly, causing pad wear. However, when there's enough distance, that gives you the time to slow down more consciously.
Buyer's Guide
That is almost everything there is to know about aftermarket brake pads! We just learned how to make them last longer, the most common side effects, the average lifespan, and more. Now let's talk about pricing, installation, direct fit, warranties, the packaging, and more. By keeping these factors in mind, it will be much easier to find the right set of pads for your RAM 1500 truck.
Direct Fit = Easy Installation
Remember: there are no universally compatible brake pads. Each set fits a limited list of brakes and vehicles. This is done to ensure an easy fit and avoid trouble with the mounting process. So, yes, a direct fit and bolt-on, hassle-free installation will only be possible if the pads were engineered with your truck in mind. That's why the first thing to check should be the compatibility chart.
There, you'll find all the information regarding compatibility (including info on the materials, design, extras, and more). If you see the exact make, model, and year of the 1500 truck on the list, and it says "direct fit", that's great news. These pads will be very easy to install and they'll perform at the top of their game.
Pricing and Warranty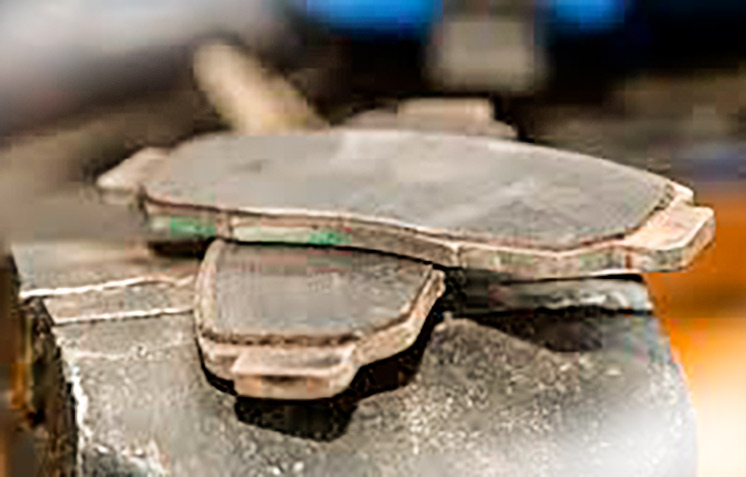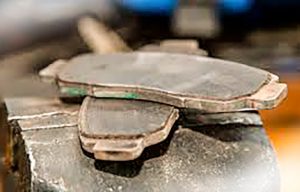 The next step after finding a 100% compatible set of pads is to check the price. Right now, the average price on a solid-quality set of brake pads is $100-150. Rotors, in turn, cost twice as much, while calipers are available for 100 bucks, or even cheaper. As already mentioned, mechanics charge +/- $100 for the labor, and that's a fair price. A full set (rotors + pads) will cost north of 600 dollars, but it can be a great deal.
However, before you order anything, learn about the warranty. Are the pads covered by a standard 12-months warranty, or not? Is there a refund or replacement guarantee? Do keep in mind, though, that it's not always easy to find a cheap set that's efficient, easy to install, and includes a warranty. It's still worth checking, of course.
The Package
Some kits only include a set of brake pads – nothing more. Others also come with all the necessary installation hardware. A more expensive package will feature a pack of rotors as well, and with it, you'll be able to update most of the braking system and ensure steady performance. Certain brands take generosity to the next level and include brake fluid and cleaner formulas into the mix.
Specification/Specialization
One last thing to consider is the specification of the brake pads. And by that, I mean what they were designed for. True, a solid set of pads should deliver a strong performance no matter the terrain or the load, but that's not always the case. So, if you're mostly hauling behind the wheel of the RAM truck, look for pads that excel at towing and won't wear off because of the heavy cargo.
In contrast, the fans of off-roading might want to look for braking pads with impressive stopping power and steady performance on challenging terrain.
Conclusion
Brakes might not be the most intriguing gear/equipment, but they are a critical part of any modern-day vehicle. As for the pads, no braking system will work without a proper set. So, be very thorough when buying a brand-new pack, because decent-quality pads will protect you from accidents out there on the road. If you're in a hurry, just pick one of the packages from today's list.
These units are equally reliable and worth the investment. Or, to learn more about the mechanism and to familiarize yourself with the ins/outs of pads, check out my FAQ section and Buyer's Guide. There, we'll talk about the average lifespan, most common issues, ways to fix them, and key factors that can make it or break it for pads. Drive safely, and stay tuned for more!