As the name suggests, F250 is a heavy-duty full-size truck that mostly handles industrial work. That's right: it's been the go-to "workhorse" for countless construction sites, thanks to its durability, reliability, and ability to carry big weights. Regular drivers find it to be a worthy investment too, of course. The powerful V8 engine, mighty six-/ten-speed transmission, and premium suspension make it a sure pick.
The braking system is pretty impressive as well. However, over time, the pads, calipers, and rotors wear out and lose their initial grip. In this post, I'll introduce you to the best brake rotors for F250 Super Duty. They fit this pickup truck perfectly and will serve you for many years. I picked three rotor sets that have proven to be trustworthy. Go ahead and take a closer look!
1. Power Stop – Best Brake Rotors for F250 Super Duty Towing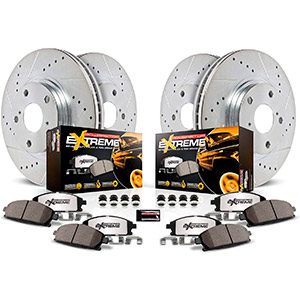 For hauling weights and towing boats and trailers, the Power Stop rotors may very well be the best option for you. This is achieved thanks to outstanding stopping power: the rotors kick in immediately and bring the truck to a full stop. And you won't have to worry about dust getting in the way, as this set generates 30% less dust than the factory F250 braking system. Recent on-vehicle tests by independent companies proved that.
Noise-free braking is also a part of the deal. The K1906-36 rotors include dual-layer, high-temp rubberized shims. They do an excellent job of keeping the noise level to a minimum and ensuring silent braking on all kinds of terrain. Some buyers report quality control issues, though. We're talking about wrong/missing order, lack of installation hardware/instructions, and late delivery – that kind of stuff.
Pros & Cons
Generates 30% less dust compared to OE brakes
Superior stopping power: good for towing and hauling
Noise-free braking thanks to high-temp rubberized shims
Minor quality control issues
Expert Recommendations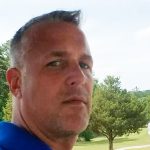 Silent, low-dust braking and superb stopping power are this rotor set's biggest selling points. For off-roading, up-hill performance, and towing, Power Stop's kit will be a good investment. It fits the F250 Super Duty truck perfectly and won't cause any problems during the installation.
2. Detroit Axle – Best Brake Rotors for Ford F250 Super Duty Diesel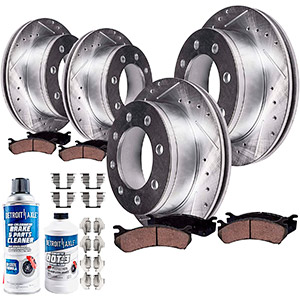 To win over potential customers and leave the competition behind, Detroit Axle decided to keep the price on these rotors to a minimum. As a result, we get one of the most affordable options on the market of third-party gear. On top of that, they are backed by a ten-year warranty, which is also good news. Add bottles of brake cleaner and brake liquid, and you'll see why this kit is so popular among truck drivers.
It will be a particularly smart investment for the F250 Super Duty diesel. On the downside, the engineering and material quality are rather average; so is the anti-rust protection. It's decent, of course, but the company had to make some sacrifices to produce a low-budget rotor kit. One more thing: the package doesn't include a user manual. Fortunately, the installation process isn't at all complicated.
Pros & Cons
Includes bottles of brake cleaner and liquid
Covered by a generous ten-year warranty
A low-budget purchase
Average build/material quality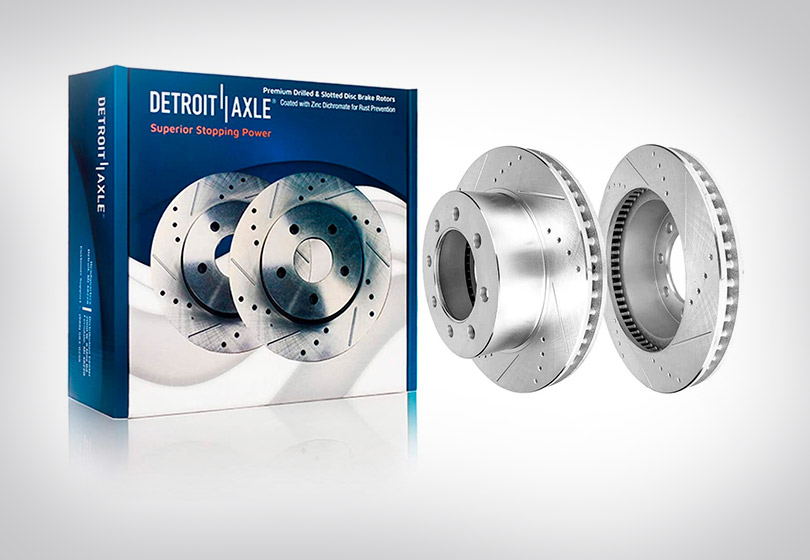 Expert Recommendations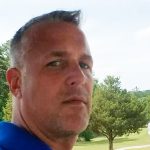 As an affordable set of aftermarket brake rotors, Detroit Axle is a safe bet. It's covered by a generous warranty, includes a nice bonus (brake cleaner + liquid), and has decent stopping power. The build/material quality isn't premium, though, but that's only a minor con, given the cheap price.
3. Callahan Brake Parts – Best Brake Rotors and Pads for F250 Super Duty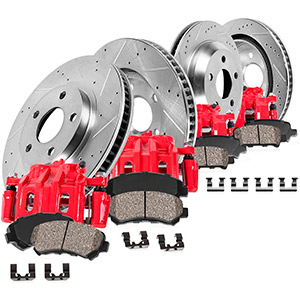 Here, we have one of those "all-in-one" types of products. With it, you'll get not only a set of aftermarket rotors but also a pair of pads and calipers. Yes, this is a complete braking package. The entire kit is fully assembled and ready for bolting: no cleaning, testing, or cutting/bending is required. The stopping power is quite impressive as well (both on even and bumpy terrain).
Another standout feature: Callahan takes very little time to deliver these brakes. You'll enjoy one-/two-day shipping in most states. All this comes at a steep price, however. But, given the overall value and the quality of all the individual parts (including the premium installation hardware), it will be a reasonable purchase.
Pros & Cons
Pressure tested against leaks and ready for bolting
Comes packed with pads and calipers
One-two day shipping to most American states
Rather expensive (but worth it)
Expert Recommendations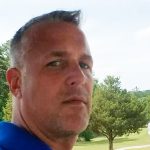 F250 Super Duty owners looking to change every single component in their braking system might like the Callahan kit. It includes rotors, pads, and calipers, and boasts lightning-fast shipping across the United States. Easy installation is more reason for you to consider it.
Comparison Table – Best Brake Rotors for F250 Super Duty (Updated October, 2023)
Buyer's Guide
Unless you want to just pick one of the products from my list and order it, this guide will be of great use. It will help you to understand what to look for in an aftermarket set and not to go blindly. There are different types of rotors on the market, crafted from different materials. Some of them are really loud, while others are noise-free. And then there's protection against rust, corrosion, and dust. Join me, and let's talk about it all in more detail.
Rotor Type
First things first, you should decide which rotor type you want for your F250. Yes, there are several kinds of rotors available on the market, and they all have their pros and cons. Take a look: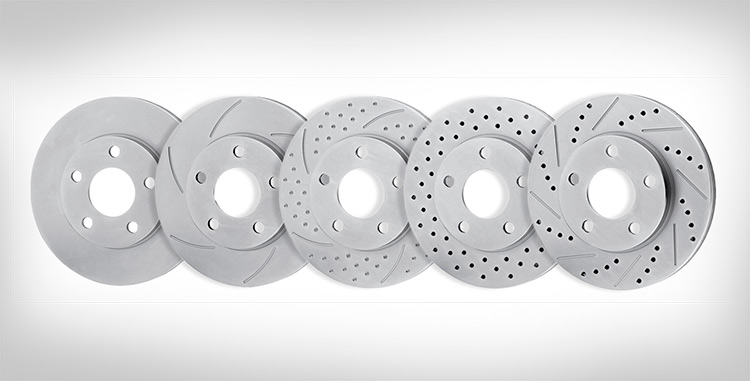 Slotted. Just like the name suggests, "slotted" rotors come with tiny lines or slots. This allows the brakes to get rid of heat more efficiently. On top of that, it keeps water, snow, slush, and debris at bay. Folks that live in muddy or slushy areas will appreciate the extra layer of protection.

Cross-Drilled. Similar to the previous rotors, these ones have drills that help in dissipating heat and keeping the brakes from overheating. The brake bite will also be increased, which equals more reliability, durability, and raw performance. Most all-weather rotors are cross-drilled.

Drilled + Slotted. Here, we have a "best of the two worlds" type of product. Drilled and slotted rotors have the longest lifespan and handle even the most challenging terrain.

Smooth. These are the most generic type of rotors. They aren't very good at heat dissipation but can boast top-of-the-line braking power on any surface.
Materials
Next, consider the material: one of the most important specs to check before getting a set of rotors. Right now, there are four types of materials that are widely used in the manufacturing of brake rotors. Here they are:
Ceramic. This is the most popular material for rotors. The reason: it's highly resilient and handles extremely high temperatures. Sadly, ceramic rotors aren't particularly cheap and will cost you a lot.

Carbon. While not as impressive as ceramic, carbon is still a highly reliable material. It cools down pretty fast – which is very important – but isn't very durable.

Carbon-Ceramic. Many experts believe this combination to be the best option for a set of rotors, as it combines the advantages of both carbon and ceramic.

Steel. Stainless steel is one of the sturdiest materials on the planet. However, it's not very heat-resistant, and that can be a problem.
Anti-Rust Protection
The fans of off-roading know very well that after a good run, you end up with dirty wheels and brakes. Mud, slush, rain, and other weather elements can quickly lead to rust. That's why you need anti-corrosion coating so that your brake rotors don't give up on you in a couple of months. Zinc plating is known as the best protection for brakes.
Low-Dust and Low-Noise
If you live in a dry, desert-like area, there will be a lot of dust to deal with. Most factory brake sets don't have any dust-reducing features; so, look for an aftermarket set that does. Noise reduction is another highly important "extra". While you might like squeaking and growling rotors at first, you'll get tired of them pretty soon. Therefore, check for "noise-free", or "low-noise" in the specs before committing.
Conclusion
If you feel like your brakes are not as strong and fast-to-react as they used to be, that's a clear sign it's time for an upgrade. And while statistically, the pads lose their effectiveness sooner than any other part of the braking mechanism, the rotors are also known to give up. Driving with worn-out rotors can be very dangerous, especially if you're a fan of conquering rough, uneven terrain.
Detroit Axe offers one of the cheapest and most reliable sets on the market right now. Power Stop, in turn, will be an excellent purchase for towing/hauling. Last, but not least, drivers that are planning on changing the entire braking system, not just the rotors, will probably like what Callahan has in stores. So, which brand are you going to choose? Share in the comments!