A brand-new exhaust system can be one of the most cost-effective performance upgrades for any truck. It will handle the fumes a lot more efficiently than the factory gear and protect your vehicle from overheating and clogging. In this post, our focus will be on the best sounding exhaust for F150 Ecoboost. That's right: a well-built aftermarket exhaust makes one hell of a roaring sound, especially upon acceleration.
For today's list, I hand-picked five systems that come from internationally recognized brands. They've been through numerous tests and have proven over time to be reliable and effective. Now, this gear fits different engines, model years, and has different pros and cons. So, pay extra attention to every single review and let me know about your favorite picks in the comments. And now let's get to the list!
1. Flowmaster – Best Exhaust Systems for Ford F150 for the Money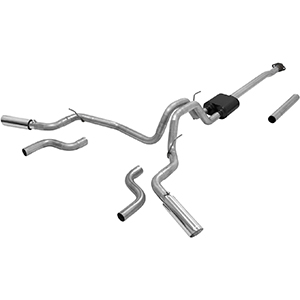 Is this your first "big-time" upgrade for the F150? If the answer is yes, then you might want to start with an affordable exhaust. Flowmaster is one of the obvious leaders in the field, and you'll be in good hands with its gear. So, what does this system has to offer? Along with being a low-budget product, it's also quite durable, reliable, and efficient. The engineers implemented the company's trademark Delta flow technology.
It gives you that satisfying aggressive tone that most truck owners tend to like. On the downside, it gets really noisy when you reach higher RPMs, especially on busy city streets or highways. For some drivers, that's not a big con, but for folks who can't stand interior noise and/or have kids in the car, this can be a problem. Still, as a third-party exhaust system for the F150 Ecoboost, Flowmaster's offer is one to consider.
Pros & Cons
Delta flow tech for an aggressive tone
Above-average durability and efficiency
Decent value for this price range
A bit too noisy at highway speeds
Expert Recommendations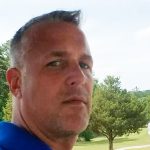 F150 drivers on a budget looking to get a replacement for the stock exhaust system might want to go with Flowmaster's gear. Thanks to the Delta flow tech, a durable construction, and a strong emphasis on performance, it's one of the best options the market has to offer right now.
2. BORLA – Best Sounding Exhaust for F150 3.5 Ecoboost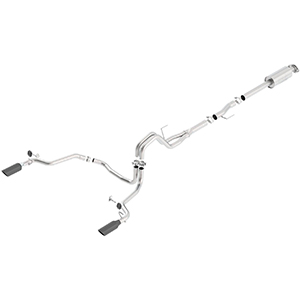 Do you put ease of installation above everything else, or does a roaring sound come first for you? Well, you won't have to make a hard choice with the BORLA exhaust, as it's got both. CNC manufacturing is at the very heart of this system, and that means you won't have any problems with the installation process. Everything is straightforward and can be done on your own. As for the sound, it's taken care of by the multi-core tech.
It pushes the exhaust to the limit (in a good way), resulting in a nice growling tone. And let's not forget that the whole package is covered by a million-mile warranty. So, rest assured that your F150 Ecoboost will greatly benefit from BORLA's aftermarket system. The price-tag isn't cheap, though: you'll have to pay a top dollar for this gear.
Pros & Cons
Excellent sound control via multi-core technology
Very easy to install thanks to CNC manufacturing
The package includes a million-mile warranty
Expensive, compared to the market average
Expert Recommendations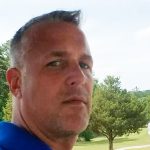 Backed by a generous warranty, easy to install, and sounding like a million bucks – that's this exhaust system in short for you. And while it's available at a slightly steep price, it will be a very good investment, especially for drivers that are bored and tired by the factory system's generic sounds.
3. MBRP – Best Exhaust for Fuel Economy for Ford F150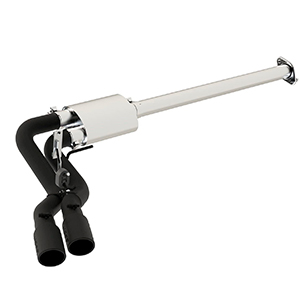 This next aftermarket exhaust is all about MPG. MBRP wanted to have an advantage over the competition, and it decided to achieve that through a boost in fuel efficiency. Now, don't expect it to decrease F150's "hunger" by 50%; but you will, indeed, see a positive change in that direction. To top that off, this system went through dozens of dyno tests ran both by the MBRP engineers and third-party organizations.
Therefore, you can rely on it to bring its a-game even in the toughest situations. Add premium black coating against overheating and other "outside threats", and you'll see why I put S5260BLK on the list. I have to say, however, that on a cold start, this exhaust might get loud. Not disturbingly loud like some really old cars, but still, rather noticeable.
Pros & Cons
Easily passed numerous dyno tests
Black coating: protects against overheating
Boosts the MPG ratio
Tends to get loud on a cold start
Expert Recommendations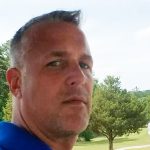 With a premium coating to protect from heat, excellent performance in numerous tough tests, and a good boost in MPG, MBRP's exhaust is a keeper. It sounds good, too, but upon cold starts, this system will probably surprise you with a loud noise. That's not a big con, though, as mostly, the tone is quite rewarding.
4. Roush – Best Exhaust System for F150 5.0 2015-2020 Flex Fuel
And what do we have with the Roush gear? What does this company have to offer to win over the competition? It's not particularly cheap and doesn't have that great of an effect on fuel efficiency. So, what's its biggest selling point? Easy installation is the first thing that deserves your attention. While Roush didn't use any advanced techniques like Borla with CNC, with this company, you get superb engineering.
A regular tool kit and a lift are the only things that you'll need to handle it. This is a no-hassle bolt-on system that mostly follows the OE installation routine. And if you're still not sure that you'll be able to do it on your own, the detailed, step-by-step guide will be of great help. The exhaust comes with a three-year warranty, which is even more reason to get it. A quick note: the supplied band clamps aren't at all reliable. I recommend buying a set of standard clamps.
Pros & Cons
No-hassle installation with regular tools
Backed by Roush's three-year warranty
User-friendly instructions included
Average-quality band clamps
Expert Recommendations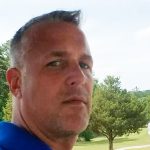 Straightforward, easy installation, a very helpful guide with pictures, and a three-year warranty turn the Roush exhaust system into a sure pick. It may be a bit "wobbly", though, because of the cheap band clamps. Switch them for standard ones, and you'll be golden.
5. MagnaFlow – Best Exhaust for F150 5.0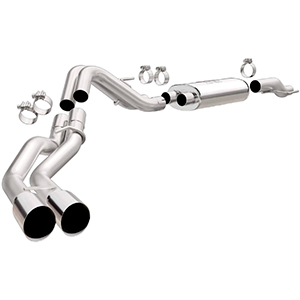 If you're the proud owner of an F150 with the 5.0-lit V8, MagnaFlow's exhaust will, most likely, be the right choice for you. The best thing about – this system sounds equally good on low and high RPMs. You won't hear any "squeaking" upon acceleration or disturbingly loud growls at highway speeds. It was specifically designed for the F150 and will be a direct fit. Plus, the engineers optimized it for this truck for maximum performance.
In addition, MagnaFlow is known for its fast deliveries. They ship this exhaust system to every one of the 50 American states and the packages take little time to arrive. There's one downside, though, and it has to do with the installation. No, it won't be a challenge, but the whole thing will take a lot of time.
Pros & Cons
Sounds just right both on high and low RPMs
Designed with the F150 in mind
Fast delivery to all 50 US states
Not the fastest exhaust to install
Expert Recommendations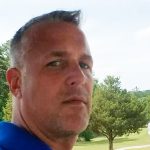 Despite the somewhat slow installation process, MagnaFlow's exhaust system is a bargain Fast delivery, decent performance, and a perfect fit for the F150 are all good reasons to invest in it. But its biggest advantage is the steadily flawless sound on low, mid, and high RPMs.
Buyer's Guide
It's not that easy to make the right choice when there are so many offers available online/locally. That's why I decided to make this short, yet helpful guide. Join me, and let's discuss the most important aspects of a modern-day exhaust. The sound, build quality, ease of installation – it all plays a major role in defining how good or bad the system is.
The Sound
Some exhausts can be quite noisy, but that's not what we're here for. What we need is a system that makes the truck sound like a four-wheeled beast, not a mid-size family hauler. At the same time, you should look for gear that's nice and loud on acceleration, but fades out a bit once you reach higher RPMs. Trust me: you don't want your Ecoboost F150 to be roaring when driving through a busy highway.
The perfect aftermarket exhaust system is aggressive and roaring upon startup but then switches to a satisfying growl on average speeds. Please remember: product descriptions online is one thing – real-world experience can be significantly different. Besides, it's not like you can go to a physical store and test-run a bunch of gear. Therefore, it might be a good idea to check how they sound online. Or, just go with one of the products from my comparison table.
Build and Material Quality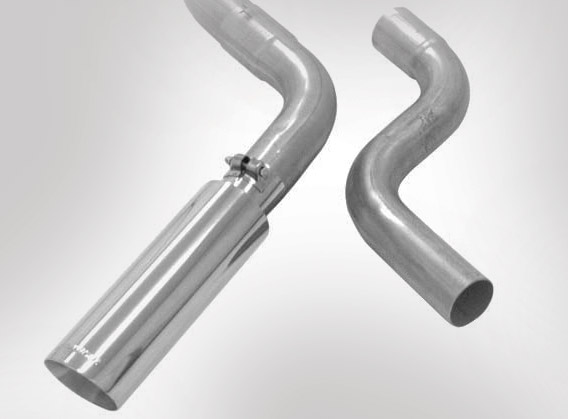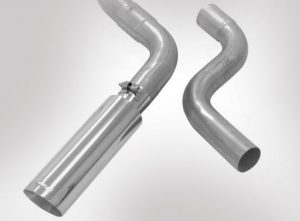 This one applies to all third-party gear for your truck. While our focus today is on the best-sounding systems, it's always important to check the construction and material quality before making a purchase. Speaking of materials, steel is the #1 choice for the vast majority of brands. Of course, stainless steel will be more reliable and long-lasting, as it's naturally resistant to rust and corrosion.
Some manufacturers go with aluminized steel tubing. This combination is also quite effective and will serve you for many years. The build quality matters as well. Average-at-best construction isn't at all reliable or durable. Premium engineering, on the other hand, will ensure high resistance to temperature extremes, more efficient fume elimination, and a safer engine.
Ease of Installation/Fitment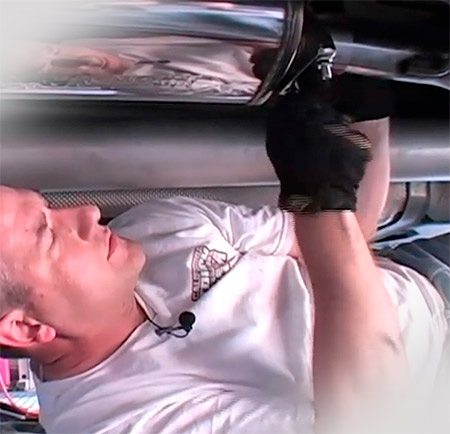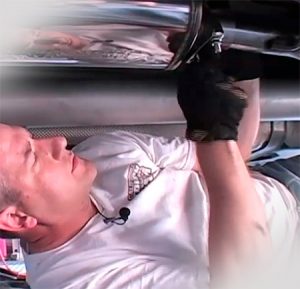 To make sure you won't have any problems with the installation, always check the specs for fitment. The vast majority of brands specify which vehicles, model years, and engines are supported. If you don't see your truck or engine on the list, there isn't much reason to buy it. All the exhaust systems I've got in the comparison table are 100% compatible with the F150 Ecoboost.
However, that doesn't mean every single one of them is very easy to install. So, how do you figure this one out? Check whether it's an OE fitment first. That way, no extra drilling, cutting, bending, or buying additional aftermarket parts will be necessary. Mechanics charge a lot for installing a new exhaust system, by the way.
Performance Perks
Yes, a state-of-the-art exhaust can give your truck's performance a nice boost. While you won't get extra HP, torque, or anything else, it will increase the MPG (miles per gallon) ratio. You can expect fuel efficiency to be improved by up to 10%, depending on your vehicle model and engine. Acceleration will be perfected as well, especially if the stock system is kinda old and clogged.
The Exhaust Type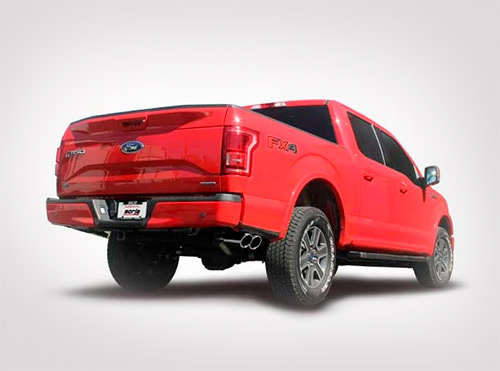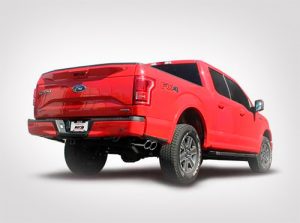 There are two types of exhaust systems: cat-back, and axle-back. With a cat-back, you'll get a more substantial performance increase. Axle-back exhausts, in turn, aren't as impressive but will be a lot easier to install on your own. For the F150, I'd go with a cat-back, as in the long run, that will be a better investment.
Comparison Table – Best Sounding Exhaust for F150 Ecoboost (Updated October, 2023)
Product
Product Information
View on Amazon

Editor's Choice

1) Flowmaster 817725 Thunder Kit

Best Features:
– Delta flow technology ensures optimal performance
– Incredibly durable and reliable on the road
– Offers excellent value for the price
Type: Side/Rear Exit
Fits Models: Ford F-150 (2015-2020)
Engine: 2.7L/3.5L EcoBoost 3.5L TiVCT or 5.0L
Available Options:
Black

2) BORLA 140616BC Exhaust System

Best Features:
– Borla's unique multi-core technology
– CNC Manufacturing for an easy fit
– Covered by a million-mile warranty
Type: Rear Exit
Fits Models: Ford F-150 (2015-2020)
Engine: 2.7/3.5L EcoBoost/5.0L V8

3) MBRP S5260BLK 3″ Cat Back

Best Features:
– Dyno-tested to maximize performance
– Black coating for extra protection
– Improves fuel efficiency on any terrain
Type: Middle Side Exit
Fits Models: Ford F-150 (2015-2020)
Engine: 2.7L/3.5L/5.0L
Available Options:
Ford F-150 (2015-2020) 2.7L

4) Roush 421985 Cat Back Exhaust

Best Features:
– Easy installation with a regular tool kit
– Covered by a three-year warranty
– Comes packed with detailed instructions
Type: Side/Rear Exit
Fits Models: Ford F-150 (2015-2020)
Engine: 2.7L Ecoboost/3.5L V6 Ecoboost/3.5L V6 Ti-VCT/5.0L V8

5) MagnaFlow Exhaust 19080

Best Features:
– Perfectly balanced tone with no drone
– Specifically designed to be an easy fit
– Shipment (delivery) takes little time
Type: Rear Exit
Fits Models: Ford F-150 (2015-2020)
Engine: 5.0L V8 EcoBoost
Conclusion
F150 Ecoboost is a very fuel-efficient truck, indeed a standout in that regard. But when it comes to sound, it falls a bit flat. It lacks that fierce growl that might have compact cars giving way in the rear-view mirror, instead it sounds akin to the myriad other vehicles on the road. A simple solution to this auditory shortcoming is to swap the stock exhaust system with a fresh one. Today, we've run through five superior exhausts which can elevate the F150 Ecoboost's sound to impressive new levels.
But it doesn't end with just the sound. These exhausts also boost performance by evacuating the exhaust fumes at a faster rate, ensuring a cleaner and more efficient engine run. This is a key factor if you're aiming to safeguard the engine and extend the lifespan of your F150. If you're in the market for such a valuable upgrade, any of the exhausts from my list would make a wise choice. They are all priced within a reasonable range and promise a straightforward installation process. Moreover, my Buyer's Guide is here to assist you in narrowing down your options to find the perfect match for your truck's needs.