RAM 1500 is one of those can't-go-wrong-with trucks and is perfect for the challenging American roads. Plus, it is great at towing/hauling cargo. You can fit quite a lot of stuff in the bed, and the engine will handle all that extra weight easily. But how do you protect the goods? Folks that live in a windy/rainy/dusty area know very well how much trouble bad weather can bring.
And then you've got thieves that steal anything that's not nailed down. Well, there is a perfect solution to both problems: a bed cover! These come in all shapes and sizes and will not only secure your cargo but also "beef up" the truck. What does the best hard roll up tonneau cover for Dodge Ram 1500 look like, though? Read on to find out!
1. BAK Revolver X4 Hard Rolling Truck Bed Tonneau Cover – Best Hard Tonneau Cover for Dodge Ram 1500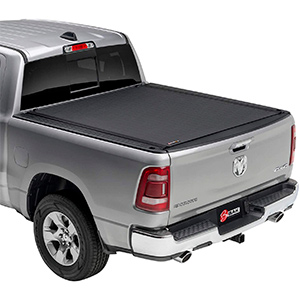 If you're looking for a premium-quality hard rolling cover for the RAM 1500 truck, you might've just found it! BAK did an incredible job with Revolver X4, perfecting the X2 formula and taking it to the next level. This is a US-made product that can easily handle whatever the American climate has in stores. Thanks to the top-quality matte-black finish, it looks great and adds an "expensive" touch to the Dodge truck.
Another standout feature is the design of the cover. First of all, it provides full access to the bed; secondly, it can be operated with one single hand, which is very important. Add an integrated tailgate lock for extra security, and you'll see why BAK is #1 on today's list. I do have to warn you, however, that it might not be a bolt-on installation on some older trucks. The top is a bit narrow; but, that's nothing a pack of strut washers can't fix.
Pros & Cons
Very easy to operate with one hand
Premium matte-black finish
Designed and manufactured in the States
Expert Recommendations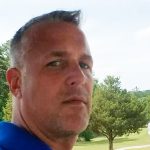 Reliable, secure, and user-friendly, the Revolver X4 cover is a bargain. You might have minor difficulties with the installation, but that's well compensated by the perfect finish, top-notch locking mechanism, and rough-tough attitude. Manufactured in the US, it will be a perfect cover for the RAM 1500.
2. TruXedo Sentry Hard Rolling Truck Bed Tonneau Cover for Classic Ram 1500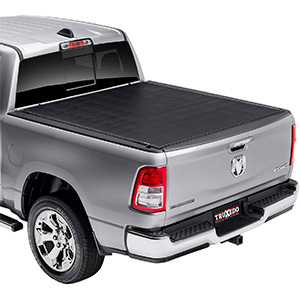 Here, we have another well-respected brand with a long list of best-selling products. What sets Sentry apart from similar products is the aerodynamic design. It was specifically built to achieve what's called a low profile. As a result, with this tonneau cover, you'll get a slight boost in HP/torque and mileage. On top of that, TruXedo is very easy to install. The whole process takes 30-40 minutes with a basic toolset.
No drilling or trimming will be necessary. All you'll have to do is clamp the rails onto the tonneau, then attach the cover, and that's it! Last, but not least, with Sentry, you'll get a three-year no-hassle warranty. So, if something goes wrong with the cover, or you need replacement parts, don't hesitate to reach out to customer support. Sadly, some drivers report minor quality control issues. Mostly, this has to do with missing hardware and wrong bed sizes.
Pros & Cons
Takes less than 30 minutes to install
Provides a slight performance boost
Backed by a three-year guarantee
Minor quality control issues
Expert Recommendations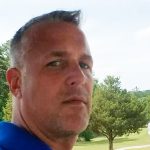 TruXedo's cover is one of the finest options for any truck, especially the RAM. You can install it in less than an hour and enjoy a powertrain boost. I do have to also mention the issues with quality control and assurance, but the three-year guarantee should give you peace of mind.
3. Bak-39207Rb Revolver X2 Hard Roll Up Tonneau Cover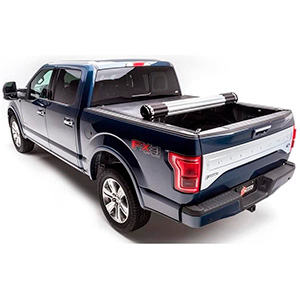 Wait, another cover by BAK? Yes, but this time around, it's the X2 Revolver. Now, before you say that an older edition can't be better than the new revision, listen closely. First of all, X2 is crafted from a top-quality mix of aluminum and vinyl. It's incredibly durable and protects both from the weather and the "bad guys". Plus, it provides easy access to stake pockets (which isn't the case with many covers).
The locking rails mechanism, in turn, is also a big pro. True, the same system is integrated into X4, but it's not as user-friendly. As for the biggest advantage, Revolver X2 is cheaper than the "big brother". So, if you're on a somewhat tight budget, it will be a reasonable investment. On the downside, since this isn't a brand-new product, the shipment/delivery times aren't always very fast.
Pros & Cons
Super-quality locking rails mechanism
Crafted from aluminum + vinyl
An affordable purchase with great value
Takes a long time to arrive
Expert Recommendations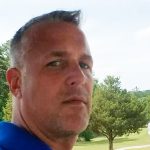 RAM 1500 drivers with a limited budget will be happy to learn that BAK Revolver X2 is available at a below-average price. And, it boasts impeccable material quality, along with an advanced locking mechanism for added safety.
Buyer's Guide
How do you choose the right tonneau cover for your RAM truck? How do you make sure it's gonna be a perfect fit with the bed? Should you worry about safety with roll-up tonneau covers, or not? What's the average price on a decent-quality cover? Is vinyl the best material or maybe you should look for something else? These are the most popular questions online, and you'll find all the answers in my guide!
The Importance of Compatibility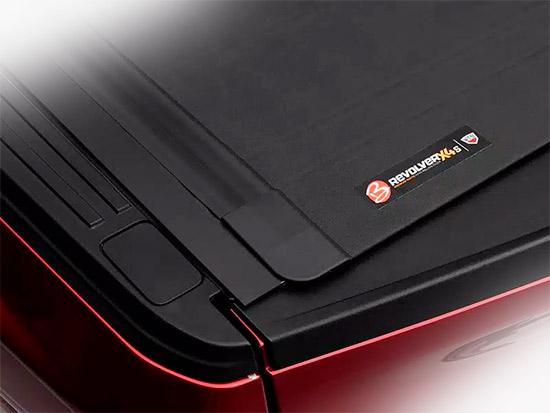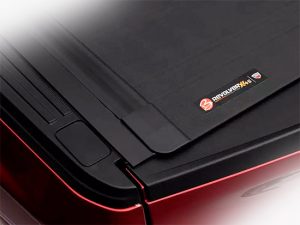 Trust me: you don't want to order a hard cover for your RAM's bed that's not a direct fit. Even if you've got tons of experience with aftermarket gear/accessories, unless the cover is 100% compatible with your vehicle, you'll have to do lots of DIY adjustments to make it work. I'm talking about drilling new holes into the bed and the tailgate, trimming the tonneau cover and bending it. And there are no guarantees that you'll be able to see this through.
That's why it's so important to check the specs before you buy anything from third parties. If you're shopping online, it won't be hard to find information on compatibility. The manufacturer will clearly state which vehicles (and model years) the cover fits. And if you see "bolt-on installation", that means it will be pretty easy to handle the installation without a mechanic's help or any extra tools.
What About the Material Quality?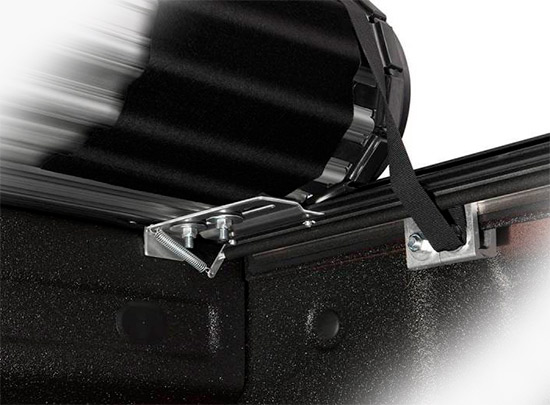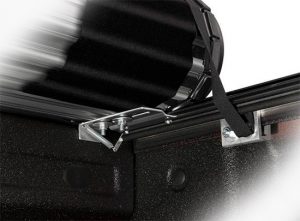 This is the second most important factor to keep in mind, because the higher the material quality, the better the cover will be. For hard roll-up covers, a combination of aluminum and vinyl is the best thing the market has to offer. This way, the cover is easy to operate. Plus, it is incredibly sturdy and won't be easy to penetrate by thieves. Besides, a matte vinyl finish always looks great on tough trucks like the RAM. Leather-grain fabric is fantastic as well.
Aluminum slats do most of the work, of course, while the vinyl is more of a "bonus". That's pretty much it for the materials. Build quality is another key aspect. I'm talking about smooth edges, perfectly laid slats, lots of glue on the rubber parts, and durable rails that serve for many years. Last, but not least, I would recommend buying a cover that features a low-profile design. It looks sleek and provides aerodynamic benefits (like a boost in the MPG ratio).
Hard Roll-Up Covers: Are They Safe?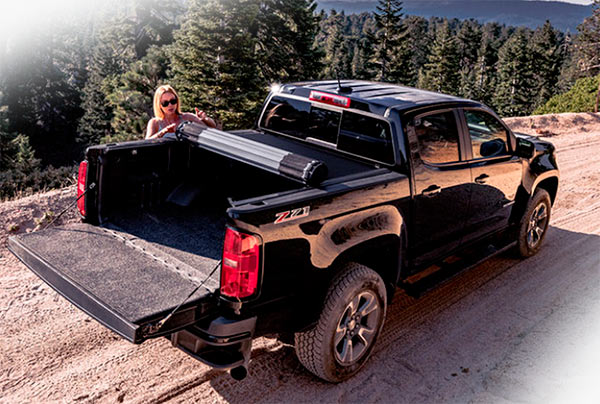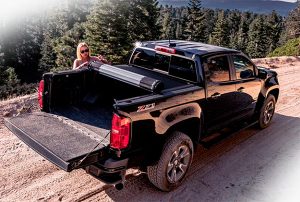 Next, let's talk about the locking mechanism. If you live in a perfectly safe area, there'll be little reason in securing the cargo. But, you never know what to expect when going on a camping or off-roading adventure. Now, while folding covers are the safest option, hard roll-up tonneau covers are also pretty reliable. Over the years, rotational locking rails have proven to be highly dependable against hijackers.
And if the cover comes with an integrated tailgate lock, it will be pretty hard to break into the tonneau. And what about protection against the weather, you might ask? Well, I just mentioned that aluminum + vinyl/leather is the finest combo. It easily withstands debris, mud, dust, dirt, and moisture. As long as the cover is weather-resistant and seals tightly, the truck's bed will be in good hands. Oh, and make sure the cover provides full bed access!
How Much Is It Gonna Cost You?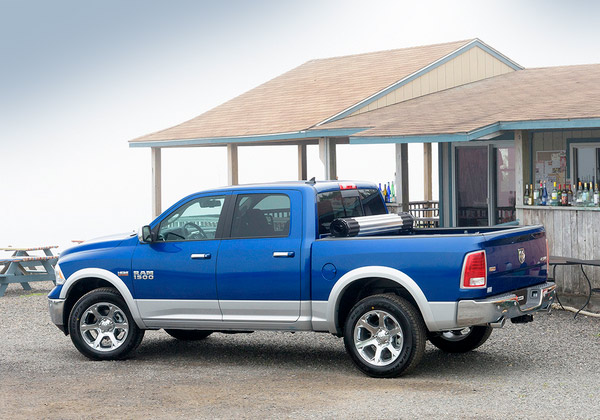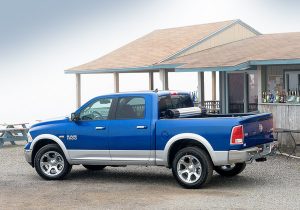 After compatibility, material/build quality, and security, we've got the price to discuss. The good thing about tonneau covers from market-leading brands – they are (mostly) worth the investment. It all comes down to whether you're ready to pay a bit extra for slightly more durable construction, an advanced security system, and more polished looks. The warranty deal also plays a role in shaping the price, of course.
With this product, a three-year manufacturer's guarantee is a solid place to start. A five-year warranty with quick and helpful customer service will be an even bigger reason to choose that cover over the competition. A decent-quality hard rolling cover will cost you $500-600. And if you want premium quality, go for the $900-1100 range. With some brands, the size of the bed is the most defining factor; or, it could be the model year.
Conclusion
There you have it – my top-3 hard roll-up bed covers for the RAM 1500. BAK and TruXedo are the obvious leaders on the market right now. These covers will be a great investment if you carry cargo in your truck at least once or twice a month and want to keep it safe and sound. With a tonneau cover, you won't have to worry about the weather messing up your stuff or ruining the bed.
Plus, it will keep thieves at bay, which is very important in the not-particularly-safe neighborhoods. Hard roll-up covers are like the golden middle between soft roll up and hard folding covers. They are equally sturdy, reliable, and user-friendly. So, go over my list once again if you haven't made a decision yet and see which brand suits you best!