Off-roading can indeed be a thrilling experience, but it requires the right preparation to fully enjoy. While the Renegade is fairly robust and ready for action, it may find certain challenging trails a bit too demanding. A common solution for this is to equip your Jeep with larger tires. However, such a modification can compromise the initial control and ride quality, making the vehicle feel unwieldy. This is where the best Jeep Renegade lift kit comes to the rescue.
A typical lift kit is essentially a combination of coil springs, spacers, sway bar links, and the necessary installation hardware, although the contents may vary based on the specific manufacturer. In this comprehensive review, I aim to acquaint you with three exceptional lift kits designed explicitly for the Renegade. These kits are straightforward to install and deliver tangible benefits such as increased ground clearance, enhanced handling, and safer off-road excursions. With these lift kits, you can confidently tackle those tricky trails and enjoy a more exhilarating off-road experience.
1. TeraFlex – Best Lift Suspension Lift Kit for Jeep Renegade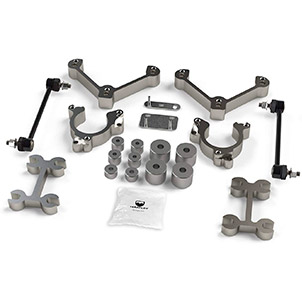 The fans of backcountry exploration will, most likely, find TeraFlex to be a worthy investment. As they won't even have to compromise Renegade's ride quality on highways or city streets. That's because of the modest lift height (0 to 1.5 inches). And, thanks to clever engineering, the factory wheel offset (suspension alignment) will be maintained. The front and rear strut spacers take care of that.
This is a US-made product, by the way: it was designed, manufactured, and heavily tested by Teraflex in the States. Another thing that makes this kit stand out is the quality of the installation hardware. The bolts, nuts, and all the other tiny parts are crafted from stainless steel. My only complaint has to do with the installation. While it's pretty straightforward, the process can take a lot of time (up to eight hours, or more).
Pros & Cons
Doesn't ruin the factory suspension alignment
A 100% US-made product (designed and crafted)
Comes packed with high-end hardware for installation
Expert Recommendations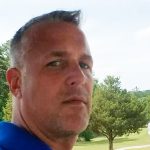 Despite the somewhat long installation, the TeraFlex suspension kit is worth every single penny. First of all, it was developed in the US and meets the highest standards of quality. Secondly, you won't have to do any additional suspension alignment – the kit will do that for you.
2. Rough Country – Best Jeep Renegade Lift Kit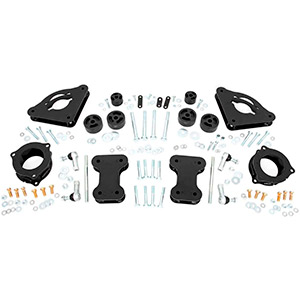 Here, we have a well-designed kit that comes at a very affordable price. So, if you're on a limited budget, Rough Country might be a good place to start. The company backs it up with a lifetime replacement warranty, and that's even more reason to consider it over the competition. The installation won't take long, either: it's a bolt-on type, meaning you can handle everything on your own with a couple of jack stands.
It's heavier than the other two kits on the list; but that's only a minor con since you install it and forget about it. The quality control issues are a bigger downside. A small number of drivers report missing installation parts (only minor stuff, of course). On the bright side, the Renegade will receive a beefier, more aggressive look, and be able to work with really big tires.
Pros & Cons
No-hassle bolt-on installation (doesn't take long)
Includes a (lifetime) replacement warranty
A low-budget purchase compared to the rivals
Minor quality control issues
Expert Recommendations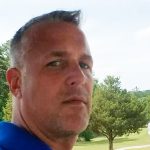 For smooth, factory-level ride quality, Rough Country's lift kit is a God-sent. Easy, no-hassle installation, a low-budget price, and a generous warranty make it an attractive purchase for most Renegade drivers. The package might miss a bolt or two, however – keep that in mind.
3. Southwest Speed – Best Lift Kit for Jeep Renegade Trailhawk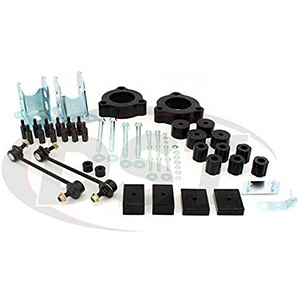 This next kit's biggest selling points are the front and rear coil spring spacers: they're crafted from high-end polyurethane. That means protection against rust, corrosion, and metal-to-metal contact (that is known to wear out even the most durable parts). And you won't have any issues with the installation, as the included instructions are very detailed and straightforward.
Add friendly, helpful customer support, and you'll get yourself a bargain. This is a rather expensive kit, though. Furthermore, the strut spacers and the relocation bracket for the control arm are a bit too tight. Still, overall, Southwest Speed will be a good purchase for Renegade drivers that put premium parts first and put quality over price.
Pros & Cons
Helpful, quick-to-respond customer service
Durable, reliable polyurethane coil spacers
Packs a detailed user manual
Packs a detailed user manual
Expert Recommendations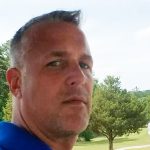 If you're ready to invest big bucks in an aftermarket lift kit, make sure to give the Daystar set a good look. It's easy to install, features top-notch coil spacers, and is backed by excellent customer support.
Buyer's Guide
With my list of the best lift kits for Jeep Renegade out of the way, let us talk a bit about how to pick the right lift for your vehicle. There are several key aspects that you need to always keep in mind before committing to any kits. Construction quality, ease of installation, and the size-lift proportion are just some of the critical factors. Join me, and I'll tell you everything there is to know!
Ease of Installation and Guarantees
Do you have the right tools and the expertise to pull this off – that's the number one question that you gotta ask yourself. Some kits are very "user-friendly", while others require pro-grade tools and years of experience to install properly. In most cases, cheaper lift kits are much harder to put in place, while a more expensive set is going to be an easy fit. I recommend buying kits that were specifically manufactured for different brands/models.
For example, every single product on today's list was crafted with the Renegade's frame and design in mind. In addition, always check the specs to see whether the gear is backed by a warranty deal or not. If you end up breaking something, or certain parts give up on you, a replacement guarantee will cover all the expenses (sometimes, including the shipment cost as well).
Build/Material Quality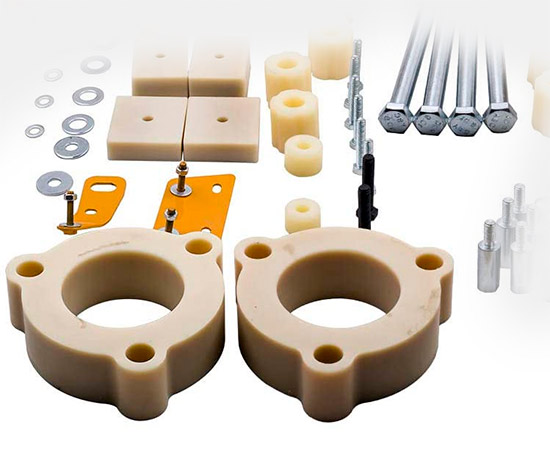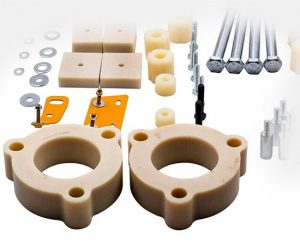 The construction quality and the materials used for crafting all the individual parts inside of a kit are the next key factor. As I already mentioned, the Southwest Speed lift kit boasts premium-quality polyurethane parts. They're rust-resistant and aren't "afraid" of corrosion, which equals extra reliability and durability. And what about the installation hardware, you might ask? Look for stainless steel for the bolts, nuts, and all the other hardware.
Different Types of Lifts
It's important to understand the difference between various lift types so that you can make the right choice. A quick note: the Renegade features a uni-body (the frame and the body are attached to each other). That means for this particular Jeep, suspension kits are the only available option. But I still wanted to tell you about all three types to help make sense of it all: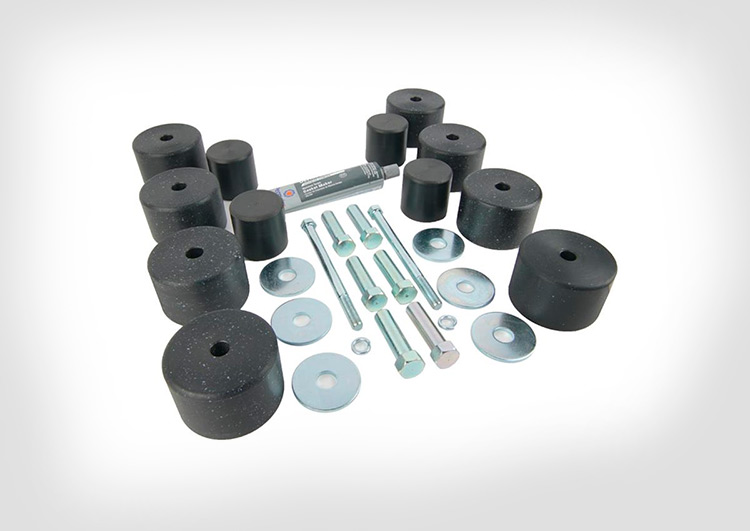 Body lifts. This is the cheapest, and (in most cases) the easiest lift type available on the market. It involves buying separate parts and putting them between the frame and the cab. As a result, you get increased ground clearance (or, rather, tire clearance) and a beefier look. That allows you to switch the stock tires with a larger set. The suspension won't be affected in any negative way – that is a big pro.

Leveling kits. Did you know that SUVs and trucks sit lower in the front, compared to the back? That's right, and leveling kits aim at fixing that. With the factory setup, you can install bigger wheels in the back, but not in the front. So, a leveling kit leaves the rear end alone and only "boosts" the front.

Suspension kits. And here we have the most expensive lift type. With a suspension kit, you'll get a long list of gear, including shocks, coils, spacers, sway bars, and more. If you're serious about off-roading and taking your Jeep's performance to the next level, this will be your best bet.
The Size and the Lift
A Jeep driver needs to always be conscious about the lift that he/she wants, and the tires that they are planning on installing. For example, a 2-inch lift will be able to accommodate up to 33-inch tires, which is pretty good. However, many folks dream of putting a set of 35-inch tires on their Jeeps. For that, a 2.5-3-inch lift kit will be necessary.
Best Jeep Renegade Lift Kit
Product
Product Information
View on Amazon

Editor's Choice

1) TeraFlex 1351200 Renegade 1.5″ Lift Kit

Best Features:
– Maintains the stock wheel offset
– Designed and crafted in the US
– Impressive installation hardware quality
Fits:
Jeep Compass (MP) 2017-2021
Jeep Renegade (BU) 2015-2020
Max Tire Size: 29
Weight: 18lb
Lift Height Range: 0 – 2.5 inch

2) Rough Country 2″ Lift Kit (62100)

Best Features:
– Easy, bolt-on installation with basic tools
– Backed by a lifetime replacement guarantee
– Comes at a (relatively) affordable price
Fits: Jeep Renegade (BU) 2015-2020
Max Tire Size: 29
Weight: 34lb
Lift Height Range: 0 – 2.5 inch

3) Southwest Speed DSP-KJ09168BK

Best Features:
– Fast, helpful customer support
– Premium polyurethane spring spacers
– Packed with detailed instructions
Fits: Jeep Renegade (BU) 2015-2020
Max Tire Size: 30
Weight: 21lb
Lift Height Range: 0 – 2.5 inch
Conclusion
And that's about it for today, dear friends! Now, if you're mostly driving your Renegade to the office and back and maybe take your kids to the school, a lift kit might not be in order. On the other hand, for the most challenging off-the-road terrain, you'll most certainly benefit from a decent kit. That's especially true when there's a brand-new set of bigger tires installed, and the Jeep doesn't feel as responsive as before.
I'm more than confident that you'll find your perfect pick on my comparison table. If not, the Buyer's Guide will tell you about the most important factors to consider when shopping for a Renegade lift kit. Still got some questions? Don't hesitate to ask me in the comments! I'll make sure to get back to you as soon as possible. Drive safely!