Ford's F150 doesn't need an introduction: it's one of the finest full-size trucks out there. A best-selling vehicle with a strong fan-base in the US, it's got an impressive powertrain, suspension system, and boasts a safe, reliable, and durable construction. But, there's more to the F150 than just its raw power and performance. It's also a versatile workhorse that can be customized to suit the needs of different drivers. One of the most important aspects of any vehicle, particularly a truck like the F150, is its lighting system. This is where aftermarket LED headlights come into play. There's always room for improvement, though, and while, say, the factory headlights are decent, they're still not that great.
So, today, our focus will be on finding the finest aftermarket LEDs for Ford's large pickup. We'll start with the Best LED headlights for F150 (1997-2008) and check out what the market has to offer. Then, I'll introduce you to the top-five LEDs for the 2009-2020 editions. Last, but not least, the Buyer's Guide will tell you everything there is to know about third-party lights and how to pick them. Alright, let's get right to it!

COMPARISON TABLE – CLICK HERE
1. AmeriLite – Best LED Headlights for F150 2003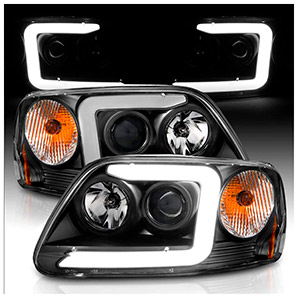 Headlights come in all shapes and sizes. Some look decent, while others have a questionable design. With AmeriLite, you'll get one of the best-looking LEDs for the F150. They have a bold, catchy design that will make your off-roading buddies jealous. On top of that, you won't have any trouble with the installation. Thanks to the plug-and-play and direct bolt-on construction, the whole thing will take 30-40 minutes – tops.
Another standout point is the combination of two warranties. AmeriLite backs its product with a 30-day money-back guarantee. Just like the name suggests, this allows you to get a complete refund within those 30 days. The second warranty is a standard 90-day limited deal – also pretty important. On the downside, the headlight lenses are pretty fragile and get scratched easily.
Product Rating
Quality of Materials
5 / 5
Pros & Cons
Look pretty good on the F150
Easy, OEM replacement/installation
30-day MBG/90-day limited warranties
The lenses are easily damaged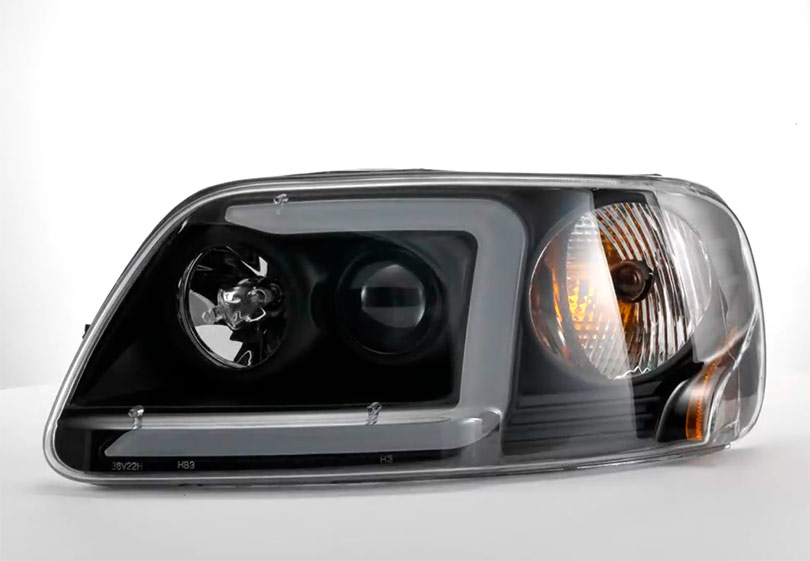 Expert Recommendations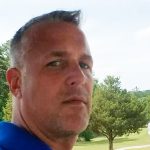 These aftermarket headlights look great, take very little time and effort to install (OEM, bolt-on installation), and are covered by a generous warranty. Too bad the lenses are overly sensitive and don't have any type of protection. They will get damaged over time unless you're really careful.
2. AKKON – Best Replacement Dual LED Headlights for 2007 F150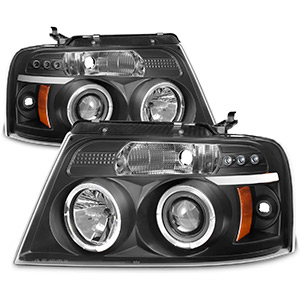 Durability is probably the biggest selling point of the AKKON lights. They are incredibly reliable and dependable and serve for many years, if not decades. The lenses are also of the highest quality: they ensure maximum visibility and coverage, which is vital when driving into a dark forest behind the wheel of your F150. This is achieved via precise illumination with ultra-bright chips.
More good news: although this is a rather advanced set of LEDs, you won't have to empty your wallet to get it. AKKON made these headlights available to a wide range of drivers. The price-tag is, indeed, very affordable. I do have one complaint, though: the metallic clips are of poor quality, and you'll be better off using the stock set or buying a new one. This is a rather minor con, though, especially given the pros and the attractive price.
Product Rating
Quality of Materials
5 / 5
Pros & Cons
Premium-quality lenses for maximum visibility
Durable, dependable, and reliable
One of the least expensive headlight sets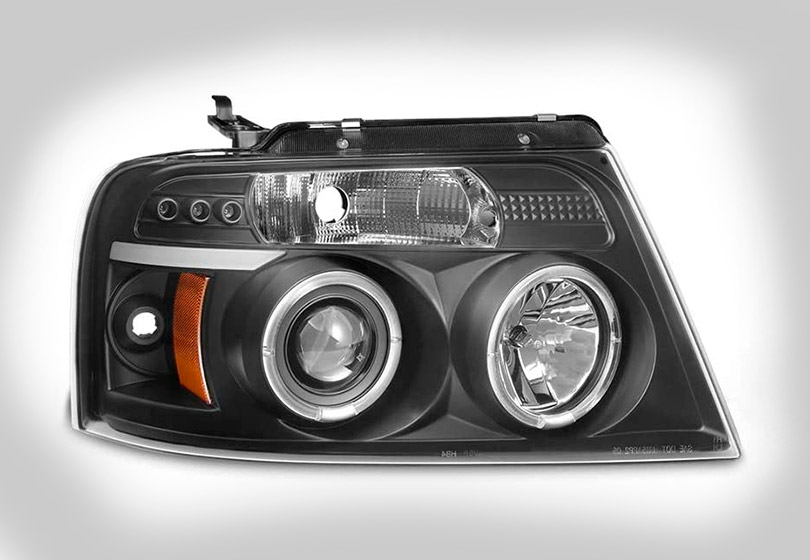 Expert Recommendations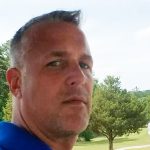 Dependable, long-lasting, and affordable, the AKKON LED headlights are a bargain for any F150 owner. They fit the truck perfectly and will be a worthy investment, especially if you've got a modest budget. Just remember not to use the included clips, as they're not that great.
3. Spyder Auto – Best LED Lights for Ford F150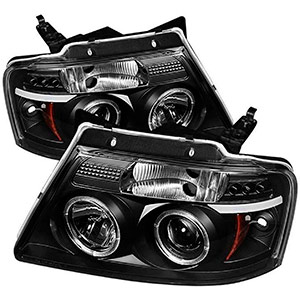 Moving on with the list, let's take a closer look at what Spyder Auto has to offer. This company has a long history of supplying Ford owners with premium-quality aftermarket parts. And these LEDs aren't an exception to that rule. First of all, they are ISO-certified and OE-approved. What does that mean, actually? The headlights meet (and even exceed) all American OE standards – that's what these certifications indicate.
Fast delivery and shipment is another big pro. You won't have to pay a single penny for that, and Spyder Auto does, indeed, excel at this. Last, but not least, these bulbs are very bright and make the night feel like the day. You'll instantly see the difference compared to the stock lights once you're through with the installation. There is one big downside, however: this product isn't street-legal, meaning you can only use it off the road.
Product Rating
Quality of Materials
4.9 / 5
Pros & Cons
OE-approved and ISO-certified
Fast delivery/shipment (at no extra cost)
Pretty bright, compared to the market average
Expert Recommendations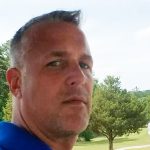 Approved, certified, bright, and fast to arrive – that's the best way to describe the Spyder Auto LEDs. They carry an excellent value, but only if you're planning to use the F150 for off-roading. Right now, these headlights aren't road-legal, which can be a big problem for certain drivers.
4. VIPMOTOZ – Best LED Black Housing Projector Headlights for F150 1998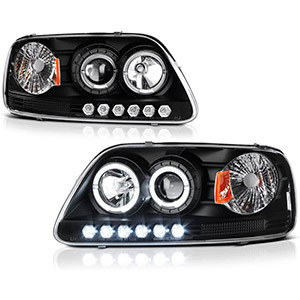 If you live in a sunny, rainy, or rocky area, the headlights need to have protection against all these elements. You'll get exactly that with VIPMOTOZ: these lights are safeguarded from UV lights, water, and debris. So, you won't have to worry about any of that, no matter how challenging the road is going to be. The crystal sapphire halo rings, in turn, make the bulbs look really expensive.
Add a 30-day refund guarantee (called the Love it or return it policy), and you'll see why this product is on today's list. But, I have to warn you: while the installation process won't cause a big headache, you will have to do some fine-tuning to make the headlights fit. This mostly has to do with the factory housing.
Product Rating
Quality of Materials
4.8 / 5
Pros & Cons
Superb black housing + coating
UV-, weather-, debris-resistant
Include a 30-day refund guarantee
Might require some DIY action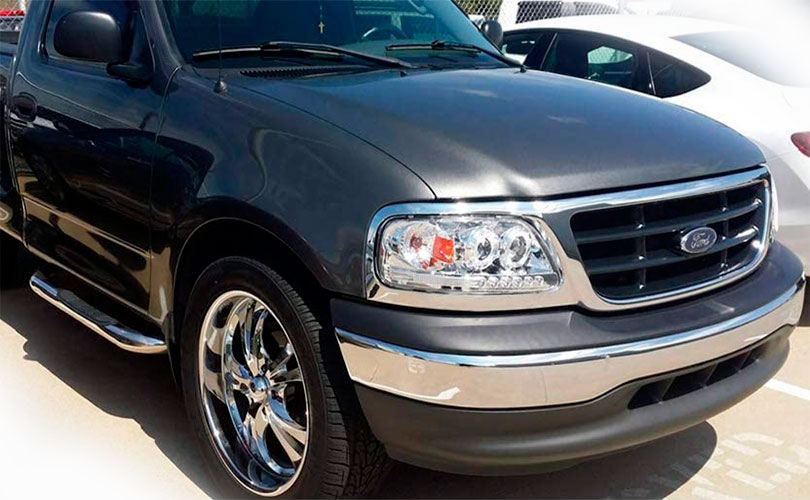 Expert Recommendations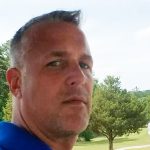 What sets these lights apart from the competition is the high-grade black housing and coating. Therefore, if you've been looking for 360-degree protection against the sun, the rain, and tiny rocks on the road, VIPMOTOZ might have a perfect offer for you. But, some tweaking will be involved.
5. OEDRO – Best LED Headlights for 2005 Ford F150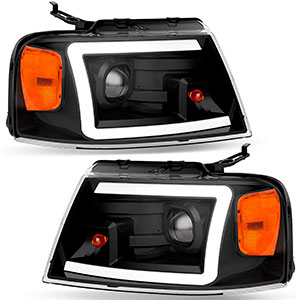 These aren't the brightest aftermarket lights on the market – let's get that out of the way right now. They're decent and much better than the stock bulbs, of course. Still, compared to the other headlights on the list, they're lagging. But, that's well-compensated by the pros. Most importantly, the light emitted by OEDRO is rather wide; plus, it reaches pretty far, which, in my opinion, is more important than the actual brightness.
In addition, the casings and the bulbs are impact-resistant and protected against extreme temperatures. Next, the tight sealing keeps the whole thing safe from dust and water – the #1 enemies of any aftermarket accessory. So, at the end of the day, the OEDRO LEDs are pretty great, although they're not the brightest set on the market.
Product Rating
Quality of Materials
4.7 / 5
Pros & Cons
Cast a really wide and far-fetching light
Protected against temperature extremes and impacts
Water- and dust-proof; tight sealing
Could've been a bit brighter
Expert Recommendations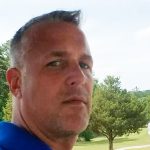 If you're looking for a well-protected pair of replacement headlights for the F150, this might be a worthy investment for you. While the lights aren't particularly bright, they do cover a lot of ground, allowing you to see more of the road than you would with most aftermarket lights.
Best LED Headlights for F150 (1997-2008)
Product
Product Information
View on Amazon

Editor's Choice

Best Features:
– Catchy, eye-grabbing design
– Direct OEM replacement – bolt-on design
– Covered by a 30-day MBG and 90-day limited warranties
Bulb Type: LED, Halogen
Style: LED Tube Black Projector Headlights Set
Fits Models: Ford F150 1997-2003,
Ford F150 Heritage 2004

Best Features:
– Premium-quality German lens
– Impressive engineering: built to last
– Available at a very budget-friendly price
Bulb Type: Low Beam: 9006,High Beam: H1
Style: Black Bezel Dual Halo LED G2 Projector Headlights Front Lamps Replacement
Fits Models: Ford F150 2004-2008

Best Features:
– Meet and exceed all QA standards
– Fast delivery at no extra charge
– Significantly brighter than most rivals
Bulb Type: High H1 (Included) – Low 9006 (Included)
Style: Spyder Auto Tail Light Kit
Fits Models: Ford F150 2004-2008

Best Features:
– Premium-quality black housing
– Protected against UV rays, debris, and weather
– Backed by a 30-day refund policy
Bulb Type: Halogen
Style: LED Halo Ring Black Housing Projector Headlights
Fits Models: Ford F150 1997-2003

Best Features:
– Shine wider and farther than most lights
– Resistant to impact and high temperatures
– Strong sealing: dust- and water-proof
Bulb Type: High / Low Beam: H7 Projector
Style: Headlamps Black Housing LED Tube DRL Amber Reflector
Fits Models: Ford F150 2004-2008
Best LED Headlights for F150 (2009-2020)
Alright, now that we've checked out my list of the best LEDs for the earlier editions of the F150, let's take a look at the Best LED headlights for F150 (2009-2020). The 12th and 13th generations are vastly superior to the older gens and, depending on the trim/configuration, you might get a pretty solid set of lights. Still, if you're looking for a replacement, these will be a perfect fit.
Go ahead and take a closer look at what each brand – five in total – has to offer. Pay extra attention to the best features, specifications, and, of course, the "Fits Models" section. Some of these LEDs are only compatible with a rather narrow range of F150s – keep that in mind.
1. AnzoUSA – Best LED Headlights for Ford F150 2017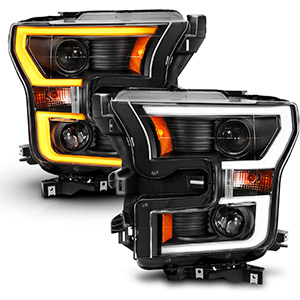 Statistically, one of the biggest turn-offs for most regular drivers is a tricky installation. They might like a certain set of headlights, but the idea of having to deal with a complicated replacement process stops them from making a purchase. Well, that won't be an issue with AnzoUSA, because this company ensures a simple, straightforward, and quick installation. No modifications are required – just follow the instructions closely.
The LEDs look pretty great, by the way, especially if you're driving one of the latest editions of the F150. These lights were designed, manufactured, and tested in the States, by the way, which can be even more reason to put them on your list of must-haves. Sadly, some buyers report a lack of quality control. Faulty DRL lights, malfunctioning turn lights, and missing bolts/clips – that's what we're talking about here.
Product Rating
Quality of Materials
5 / 5
Pros & Cons
Straightforward installation process
Look pretty cool on the F150 truck
A 100% US-made set of headlights
Minor quality control issues
Expert Recommendations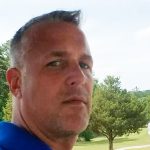 Despite the minor issues with quality control, these headlights are a safe bet. They are very easy to install, boast a trendy look, and were made and evaluated right here in the US.
2. AmeriLite – Best LED Headlights Conversion for 2009 F150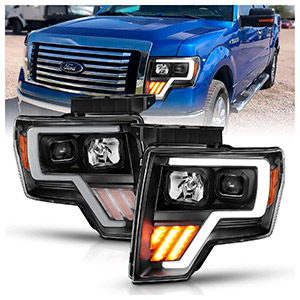 People that put the color of their lights first will like what AmeriLite has in stores for them. The company offers six different colors to pick from, and they're all pretty great and add a new touch to the F150 grille's overall look. As for the LEDs, they have impressive coverage and brightness. I'm talking about improved visibility – arguably the most important thing to look for in an aftermarket set of headlights.
And let's not forget about the 30-day money-back guarantee and 90-day limited warranty. If there's something wrong with the bulbs, the wiring, or the casing, don't hesitate to reach out to AmeriLite's support agents and request a refund. Now, this is going to be an OEM replacement, and that's the good news. The bad news is – the package doesn't include any instructions.
Product Rating
Quality of Materials
4.9 / 5
Pros & Cons
Decent visibility, brightness, and coverage
You can choose between six different colors
30-day MBG + 90-day limited warranty
Expert Recommendations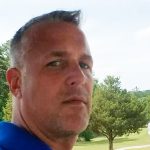 Are you tired of the boring, dull, and short-range factory Ford headlights? Then maybe it's time to upgrade to something better? With the AmeriLite LEDs, you'll get enhanced visibility, six different color choices, and a 30-day MPG. Unfortunately, the company doesn't include a user manual.
3. AKKON – Best Dual LED Projector Headlights for Ford F150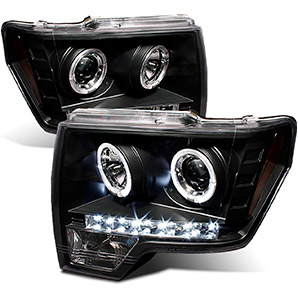 And what does AKKON have to offer? What does this brand have to "beat" the competition and win over potential clients? Here are the facts: these premium-quality dual-halo LEDs are really bright and wide. You'll be amazed by how big of a difference they make compared to the stock bulbs. And you won't have to ravage your own bank account to buy them: the price is very fair.
Besides, the pair of headlights arrives in a protective package that eliminates wobbling, dents, or anything like that. Sadly, extended compatibility isn't one of their strongest sides. For example, the AKKON lights don't fit the Limited and Platinum editions of the F150. That's why I always recommend checking the specs for fitment before paying a single penny. This isn't a very big issue, of course, but should still be considered.
Product Rating
Quality of Materials
5 / 5
Pros & Cons
Premium LED halos: bright and wide
Arrive in a protective package
Available at a very fair price
Only compatible with a limited number of F150s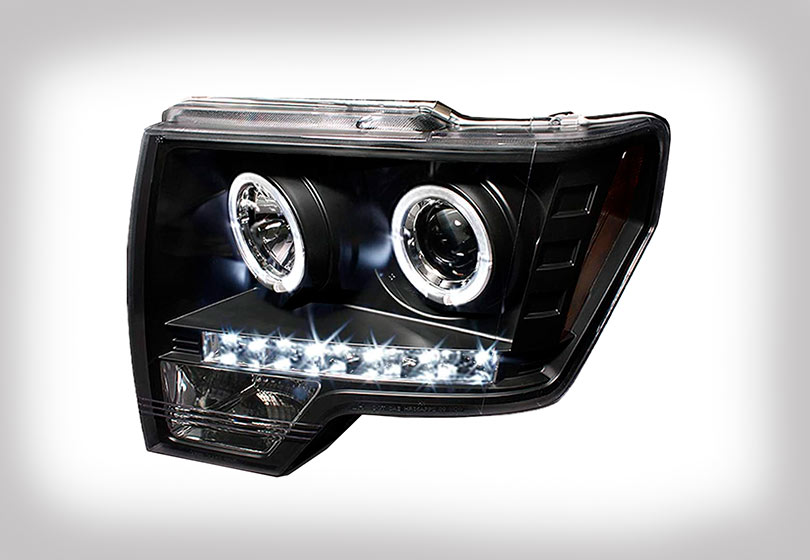 Expert Recommendations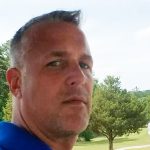 Although the AKKON headlights are not compatible with a long list of F150 editions/configurations, if they fit your truck, it will be a match made in heaven. The affordable price-tag, highly protective packaging, and bright LEDs turn this set into one of the best options on the market right now.
4. AlphaRex – Best LED Headlights Kit for Ford F150 2020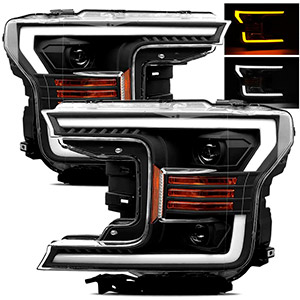 Most replacement headlights come in one size and configuration, but not the AlphaRex LEDs. They are available in six different shapes and packages – choose the configuration that suits you best. No matter which one you end up with, it will meet and exceed all the American regulations. These include SAE, DOT, and ISO (9000, 9001, and 9002). The team checks every single bulb before shipping the lights to offline and online stores.
Speaking of the team, I was impressed by the AlphaRex customer support. This company's agents are very quick to respond and come up with really helpful tips and tricks. Too bad the headlights are more expensive than the market average. You will get your money's worth, of course, but for drivers on a budget, it won't be a good deal.
Product Rating
Quality of Materials
4.8 / 5
Pros & Cons
SAE-, DOT-, and ISO-compliant
Six different sizes at your disposal
Excellent customer support
A bit on the expensive side
Expert Recommendations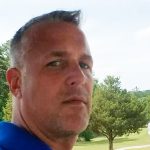 These headlights aren't particularly cheap, and that's their biggest con. On the bright side – they meet all the QA requirements, can be bought in six different configurations, and are backed by highly effective customer support. So, do the pros outweigh that one con? Only you can decide!
5. Morimoto – Best LED Headlights Upgrade for F150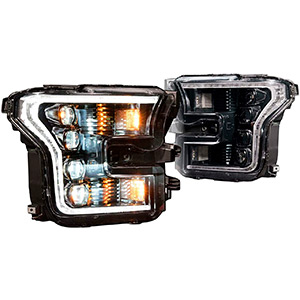 Before we say goodbye, there's another set of third-party LEDs that we need to check out. This one comes from Morimoto and claims to be a perfect fit for the F150. What I like about these headlights is the top-notch engineering and construction. The material quality is pretty decent as well. That ensures a long and prosperous service even in the harshest conditions. The lenses are resistant to the sun (UV rays) and scratches, by the way.
Plus, Morimoto includes a generous five-year warranty into the package to sweeten the deal. The one thing that could really be improved is the delivery time. It tends to take rather long, depending on the state/area that you live in. Other than that, these plug-and-play headlights for Ford's legendary truck deserve the finest spot on our list.
Product Rating
Quality of Materials
4.9 / 5
Pros & Cons
Scratch- and UV-resistant lenses
Superb construction + material quality
Backed by a five-year warranty
Delivery might take a while
Expert Recommendations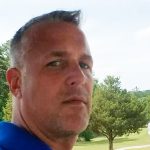 Slow shipment and delivery are the only significant disadvantages. As for the advantages, Morimoto offers a five-year warranty, superb build-material quality, and highly durable, resistance lenses.
Best LED Headlights for F150 – COMPARISON TABLE
Product
Product Information
View on Amazon

Editor's Choice

Best Features:
– Very easy to install with simple tools
– Give the F150 a masculine, bold look
– Designed, built, and QA'd in the States
Bulb Type: Halogen
Style: Set, Headlights Assembly
Fits Models: Ford F150 2015-2017 (Does not fit 2017 Raptor)

Best Features:
– Improve visibility and coverage
– Six different colors to choose from
– Include a 30-day MBG + a standard 90-day warranty
Bulb Type: LED, Halogen
Style: Black Projector Headlights LED Bar and Turn Signal Set
Fits Models: Ford F150 2009-2014

Best Features:
– High-quality LED halos with precise illumination
– The headlights arrive in a tightly-packed box
– An excellent choice if you're on a tight budget
Bulb Type: Low Beam: H1, High Beam: H1
Style: Black Bezel Dual Halo LED Projector Headlights
Fits Models: Ford F150 2009-2014 (Not Compatible on 13-14 F-150 Limited, Platinum, or Tremor Models)

Best Features:
– Compliant to a long list of regulations
– Available in six different sizes
– Fast, free, and helpful customer support
Bulb Type: LED
Style: Base Model Black Halogen Type Black Switchback DRL/Signal LED Tube Dual Projector Headlights
Fits Models: Ford F150 2018-2020

Best Features:
– High-impact polycarbonate lenses
– Impressive build and material quality
– Protected by a generous five-year warranty
Bulb Type: LED, Halogen
Style: Headlight Assemblies
Fits Models: Ford F150 2015-2017, Ford F-150 Raptor 2017-2019
Buyer's Guide
For this guide, I've made a short, yet important list of the things to look for in a new set of LEDs for the F150. What's the deal with street regulations; what's the best warranty for aftermarket headlights? And what about the installation process – how do you make sure the lights will be compatible with your truck? Join me and let's find the answers to all those questions right now!
Fitment
As mentioned in the beginning, I divided my top LED headlights into two different comparison tables. I did that because there are no universal lights that fit every single edition of the F150. Most of them only cover two or three generations, which is why drivers should never buy any aftermarket parts unless they're certain compatibility won't be an issue. It's not rare for folks to order fancy-looking LEDs only to find out they're not a direct fit with their trucks.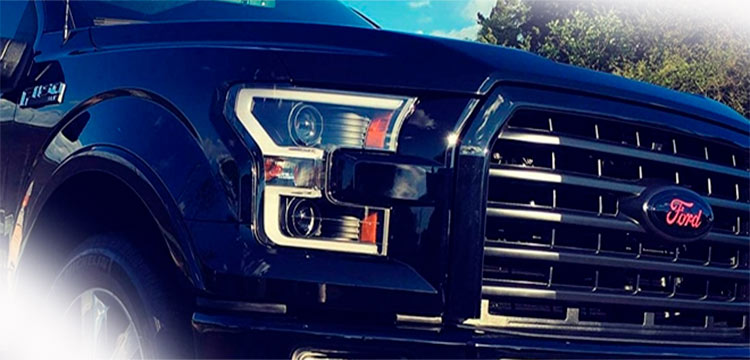 What you should go for are an OEM fitment and a bolt-on design. That way, the installation will run (relatively) smoothly and you'll be done in no time. Keep in mind, however, that most manufacturers are against manual installation and recommend hiring a professional for that. Ultimately, it's up to you, but if you don't know the first thing about using screwdrivers, pliers, and connecting different wires to each other, maybe you shouldn't do this by yourself.
The Package
One of the most important things to understand about headlights for the F150 is that they're not always LEDs. In many sets, you'll see a combination of Light Emitting Diodes with good-old halogens. Another thing: while most brands include all the necessary lights, some manufacturers force you to use the factory halogen bulbs. Keep that in mind and always check the package before paying for it.
Speaking of the package, look for one that comes with a detailed and helpful user's guide. If it's written in plain and simple English and has pictures, it will be much easier to handle the installation on your own. If not, you might have to hire a mechanic to do the job, and they usually charge a lot, depending on the area that you live in.
US/Canadian Regulations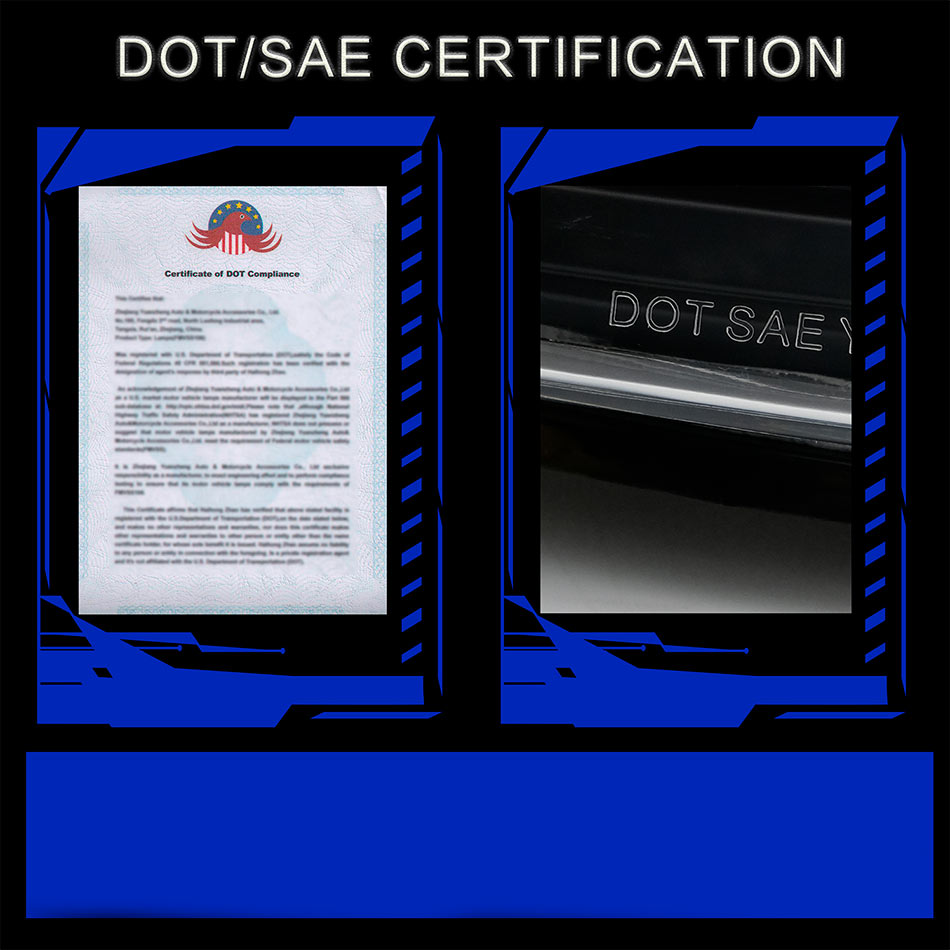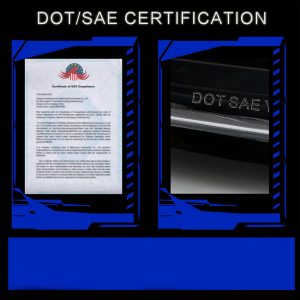 If you don't want to have trouble with the law, make sure your new headlights are DOT- and SAE-certified. DOT stands for the Department of Transportation. SAE, in turn, is the Society of Automotive Engineers. Otherwise, you'll be driving around with illegal parts and police officers will have the right to stop you and write a ticket (the fees can be pretty steep).
So, again: it's vital for the LEDs to meet (and, preferably, exceed) all the required regulations in the States. Good news: the law in Canada is pretty much identical to the US. That means you'll be able to freely cross the border and never worry about violating the local legislation. A quick note: some experts claim that if you only use the F150 to enjoy the off-road trails, these regulations won't even matter, but that's not really true.
Even if you live in a rural area surrounded by the wilderness, it's always better to make sure your headlights are street-legal.
QA + Warranty Deals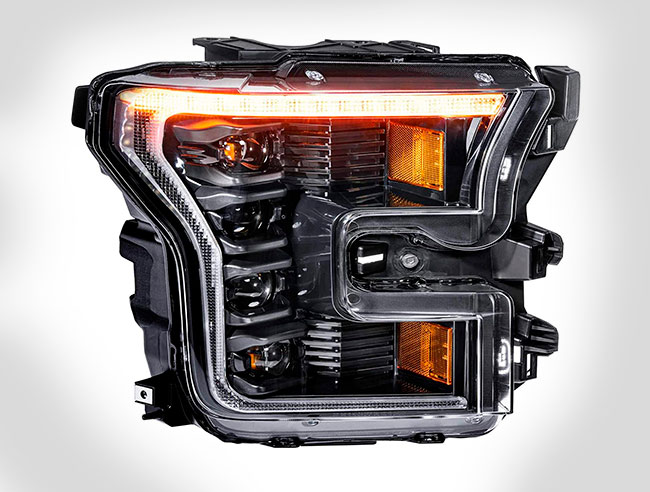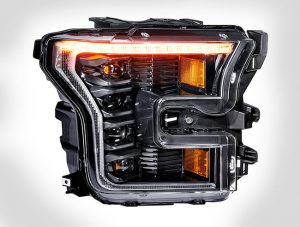 Is the manufacturer ISO-certified and OE-approved? Does it put quality assurance first? If the answer is yes to both of these questions, you can rest assured that the lights will serve you for a long time and prove to be worthy of your investments. And what about the warranty – what should you look for? In my experience, a 30-day refund policy slash MBG (money-back guarantee) is the best deal.
The reason: most aftermarket gear, equipment, and accessories (including LED headlights, of course) reveal their manufacturing/QA defects in the first couple of weeks. So, this warranty allows the buyers to get their money back hassle-free. A replacement guarantee is also pretty great. You won't get a refund with it, but the company will send you a new set of lights.
Conclusion
Alright, that's all I have to share with you today! The F150 has been around for a long time (more than seven decades) and is an absolute champ on the rough American off-road trails. But even champions can benefit from an upgrade, and that's where aftermarket LED headlights come into the picture. These high-quality lighting solutions not only improve visibility and safety during nighttime drives but also give your F150 a sleek, modern look. However, if you prefer to hit the road when it's dark outside, the factory headlights might not be up to the task. That's when aftermarket LED lights swoop in to save the day.
Investing in a set of top-notch LED headlights is a smart move, as they offer increased longevity and energy efficiency compared to their halogen counterparts. While they might be a bit expensive, they do carry excellent value and last for many years. I'm more than confident that you'll find your ideal set of headlights on my lists. Just make sure to check for compatibility first and familiarize yourself with the pros and cons. The Buyer's Guide will be instrumental in helping you make the right choice. Good luck, be safe, and keep the light on!