Did you know that trucks are only capable of generating DC (direct current)? That's true! At the same time, most consumer devices run on AC (alternating current). So, how do you "feed" your TV, DVD player, toaster, or any other equipment? Well, that's where the best power inverter for truck batteries comes in. It's a (relatively) cheap device that can easily turn DC into AC and solve this problem for you.
After dedicating an entire month to searching for the perfect inverter that will be worth the investment, I can confidently say I've found some excellent choices. To make things easier for you, I've divided this post into two separate lists. First, we'll take a look at the finest inverters for standard trucks. Then, we'll move on to my top-5 picks specifically designed for semi-trucks. With these recommendations in hand, you'll be able to power your devices seamlessly while on the road. So, let's dive right in and explore these power inverter options!
1. Energizer ENK – Best Power Inverter for Truck Drivers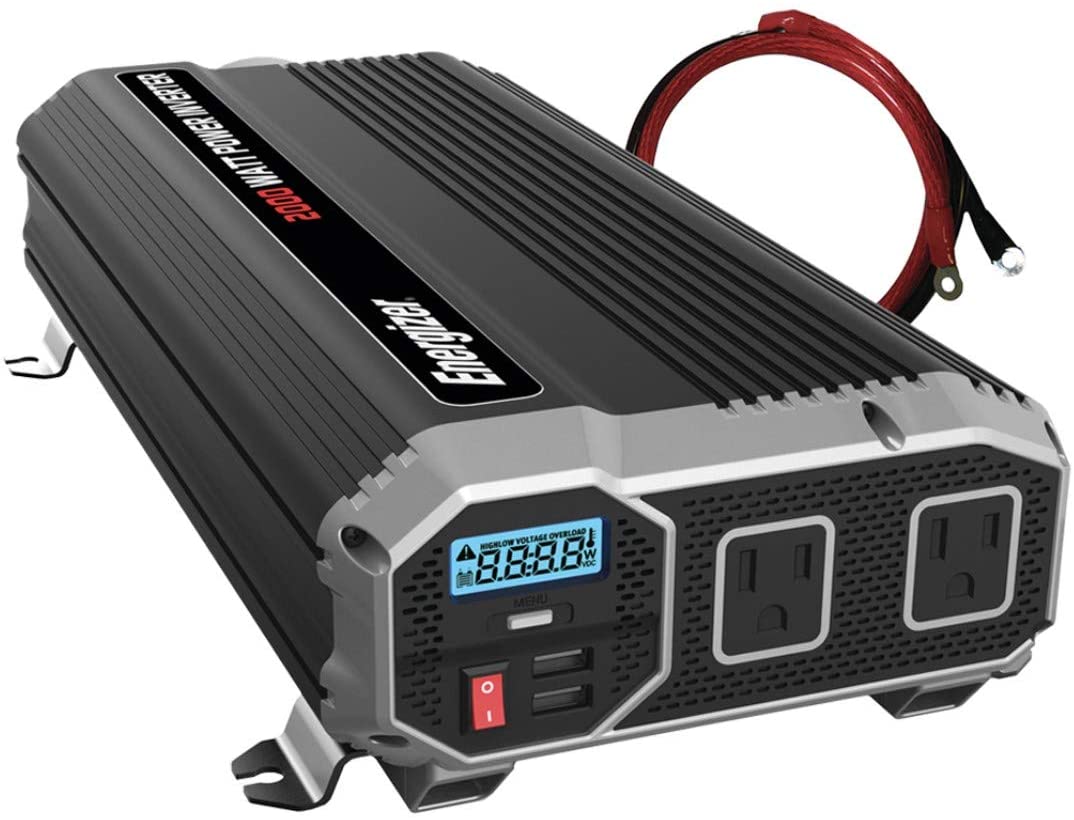 The #1 problem with most power inverters is their inability to withstand spikes in temperature and voltage. But you won't have to worry about that with this device, as it's well-protected against all of that, along with short circuit and overload. This is a 100% US-made product, by the way. It was designed and produced in the States and offers US-based customer support. The team proved to be very fast to respond and helpful during my review.
Another standout point is how calm and quiet the Energizer inverter is. Even when pushed to the limit, it doesn't wake the whole neighborhood or scare away the dogs and the cats. As for the downsides, I was a bit puzzled by its size. When checking it out online, ENK looks really compact. However, in the real-life, it's a lot bigger and requires more space in the car, which can be a (minor) problem.
Pros & Cons
Well-protected against overloads and temperature spikes
Designed and crafted in the US; excellent customer service
Noise-free operation even under heavy loads
Not as compact as you might think
Expert Recommendations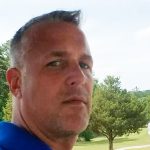 With this inverter, you'll get safety, durability, and noise-free operation at a reasonable price. Market-leading customer support will also be a part of the picture. Just make sure you check the dimensions first before ordering it, as you might be surprised by how big it actually is.
2. WEN – Best Power Inverter for Car or Truck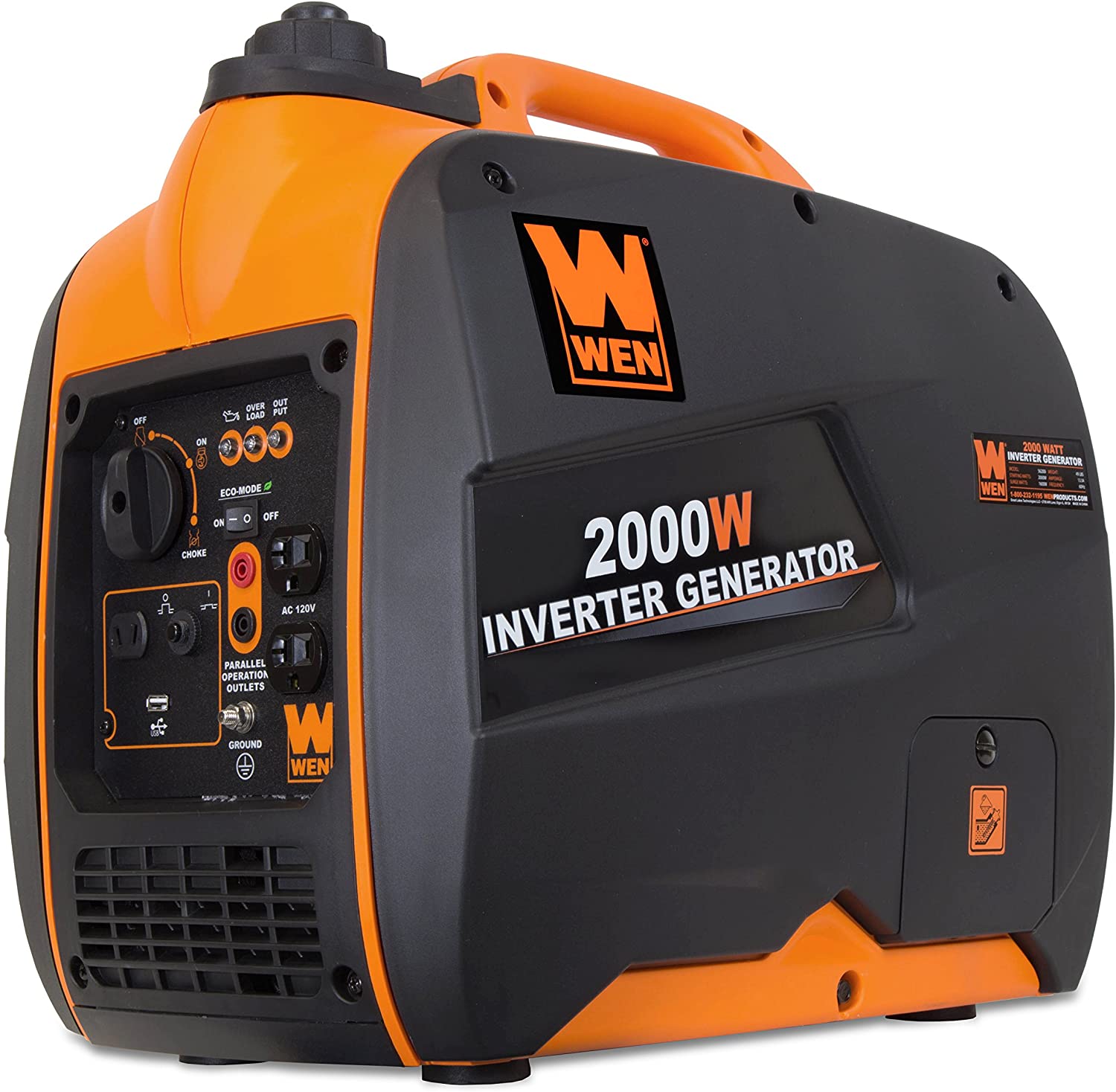 In contrast to most equipment on today's list, WEN is a generator, not a regular transformer. That means it can power up whatever you throw its way without the need to connect to your battery. It comes with a one-gallon fuel tank, which is more than enough for most tasks. Plus, the company offers different configurations/packages to choose from. For an extra price, you'll get a parallel connection kit, synthetic oil, and an oil dipstick.
No matter which product you end up choosing, it will be 100% legal in all 50 American states and take very little time to arrive at your doorstep. The generator is quite heavy, however, compared to the lightweight converters that are dominating the market right now. But that's an average weight for a generator, so, this is not even a big con if you're planning on getting a "genny".
Pros & Cons
Not just an inverter, but also a full-fledged generator
CARB and EPA III compliant: legal in all 50 states
Available in many different versions
Not particularly lightweight
Expert Recommendations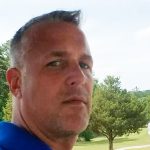 As an all-in-one kind of device, WEN is a safe bet. That's especially true if you purchase it as a universal "charger", not just a battery inverter. And despite the heavy weight, it's rather light for a generator. Besides, it's available in several variations and is CARB/EPA II-compliant.
3. KRIËGER – Best Dual Power Inverter for Car or Truck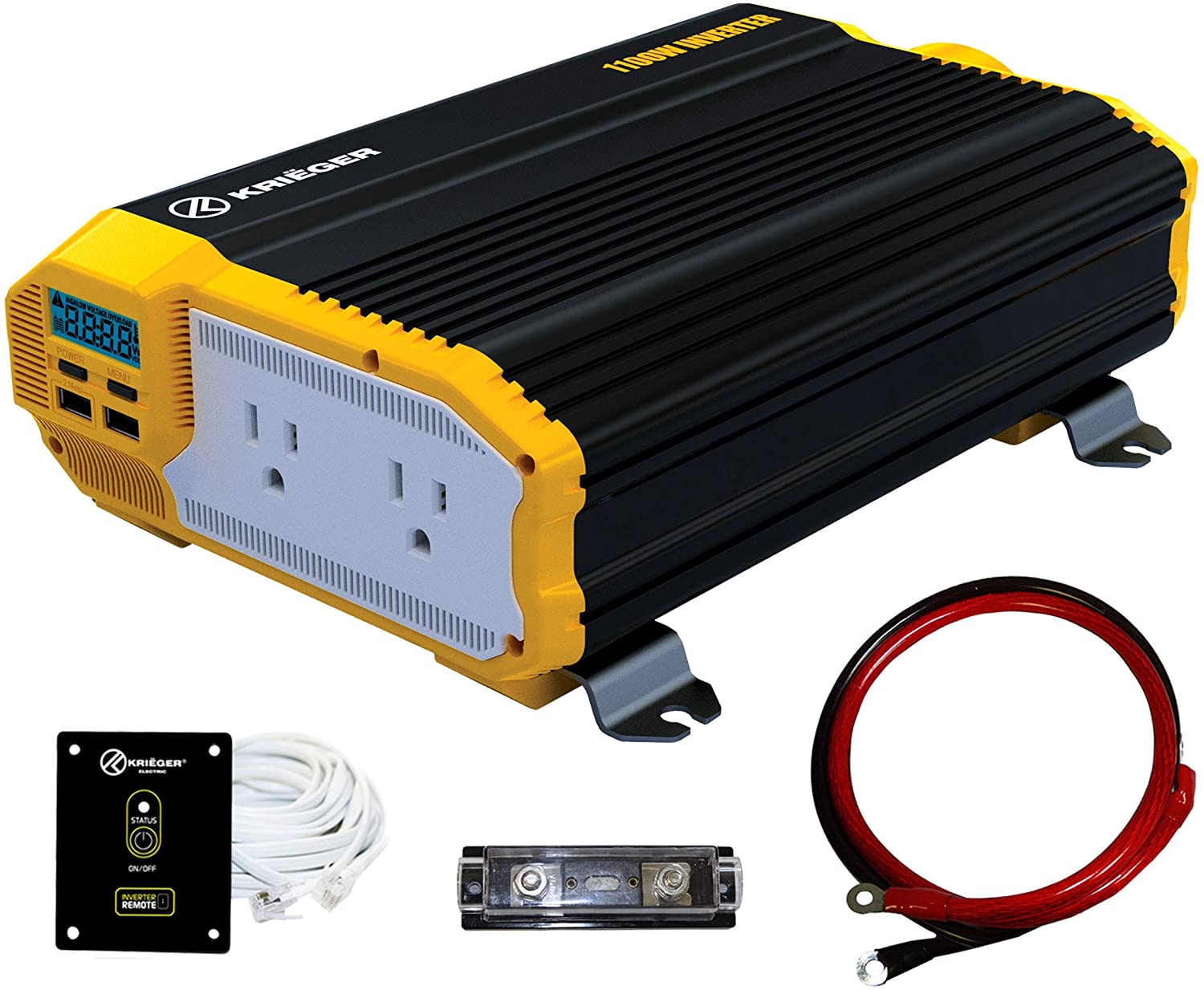 If safety and durability are the #1 priority for you, Krieger might have a good offer on the table. Its inverter was tested and approved by METLAB, one of the most respected third-party testers. Thus, it won't disappoint you with the performance or the longevity. The package, in turn, is quite generous and includes not only the power inverter, but also three cables for the battery, and a decent fuse kit, along with a handy remote control.
Add a three-year guarantee (covers labor and parts), and you'll get one of the best options on the market right now. For the average truck driver looking to power up his "retro" equipment through the battery, it will be money well-spent. I have to mention, however, that it's got a plastic case instead of a metallic cover. It's not very effective at getting rid of the generated heat, and for some outside work in a hot state, that can be an issue.
Pros & Cons
Passed METLAB tests with flying colors
Includes a fuse kit and three cables
Three-year parts-and-labor guarantee
Plastic case: doesn't dissipate heat efficiently
Expert Recommendations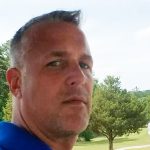 Krieger did an excellent job with this power transformer. It's incredibly safe, reliable, and durable. Besides, it comes with a long list of extras and is protected by a three-year guarantee. And while the heat dissipation system isn't state-of-the-art, for indoor use, it's a worthy investment.
4. VOLTWORKS – Best Power Inverter for Car RV Truck Boat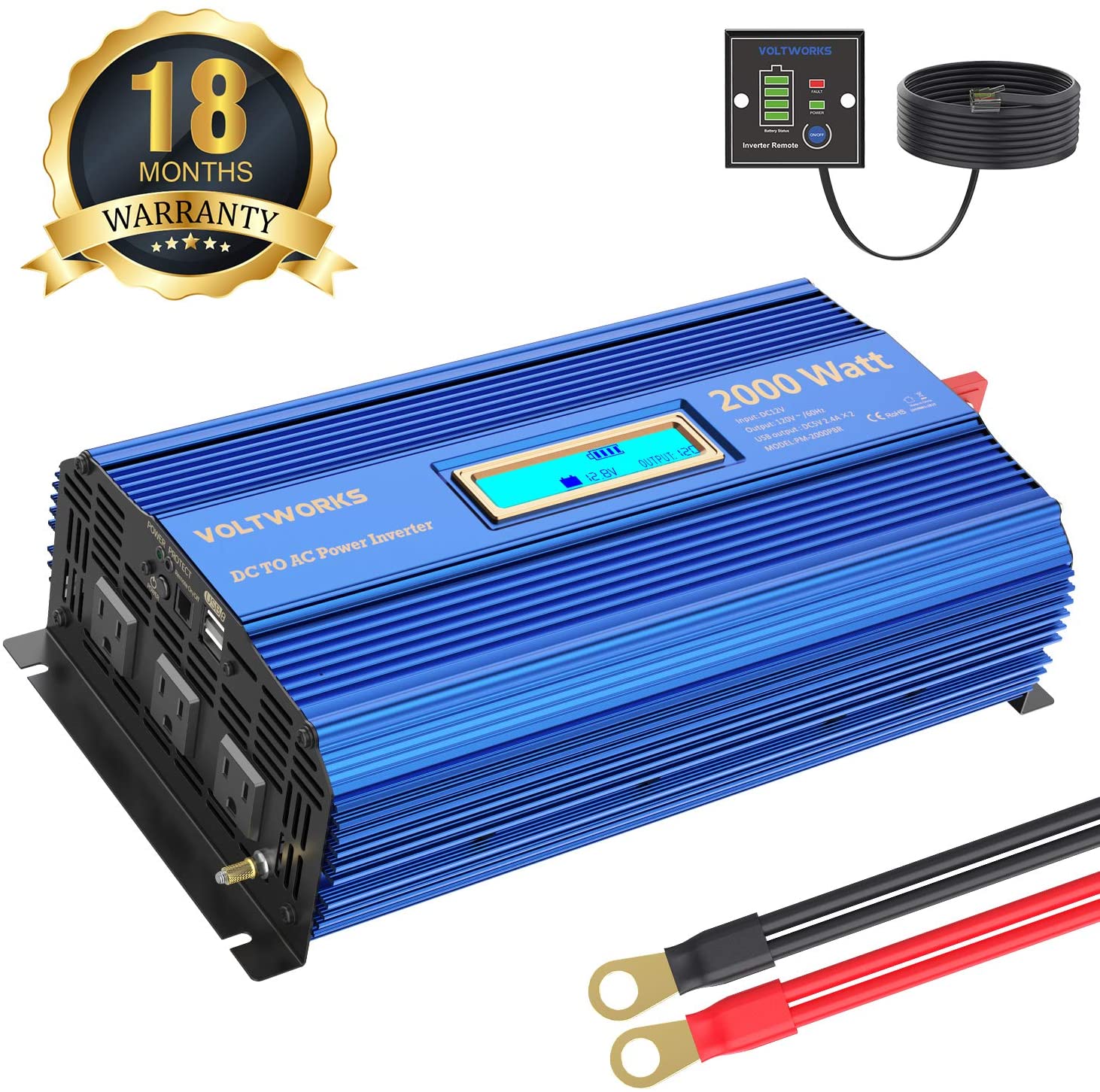 From the outside, this inverter looks pretty much like all the other devices. And the question is – why would you pick it over the competition? What's its biggest selling point? After testing it thoroughly, I can say that Voltworks can be trusted with transforming your car's battery's DC into AC for some common appliances. It comes with three AC outlets: that allows powering up more than one piece of equipment at once.
In addition, this inverter features a smart cooling fan. It automatically switches into the power-consuming mode when not in need. Last, but not least, thanks to clever engineering you can use Voltworks as a power source for many different power tools, home appliances, and, of course, regular gadgets. Some users report minor quality control issues, though. I'm talking about missing parts, bad packaging, and late delivery – stuff like that.
You can also look at the another version of the product on walmart
Pros & Cons
Three AC outlets for hassle-free operation
Intelligent, power-consuming fan
Compatible with a long list of equipment/devices
Minor quality control issues
Expert Recommendations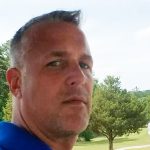 Despite the minor problems with quality control at Voltworks, I bet you'll get your money's worth with this power inverter. It's got three AC outlets, can be used to "feed" a wide range of electronic stuff and has an intelligent fan. And yes, 2000 watts will take care of all your powering needs.
5. Energizer – Best 500 Watt Power Inverter for Truck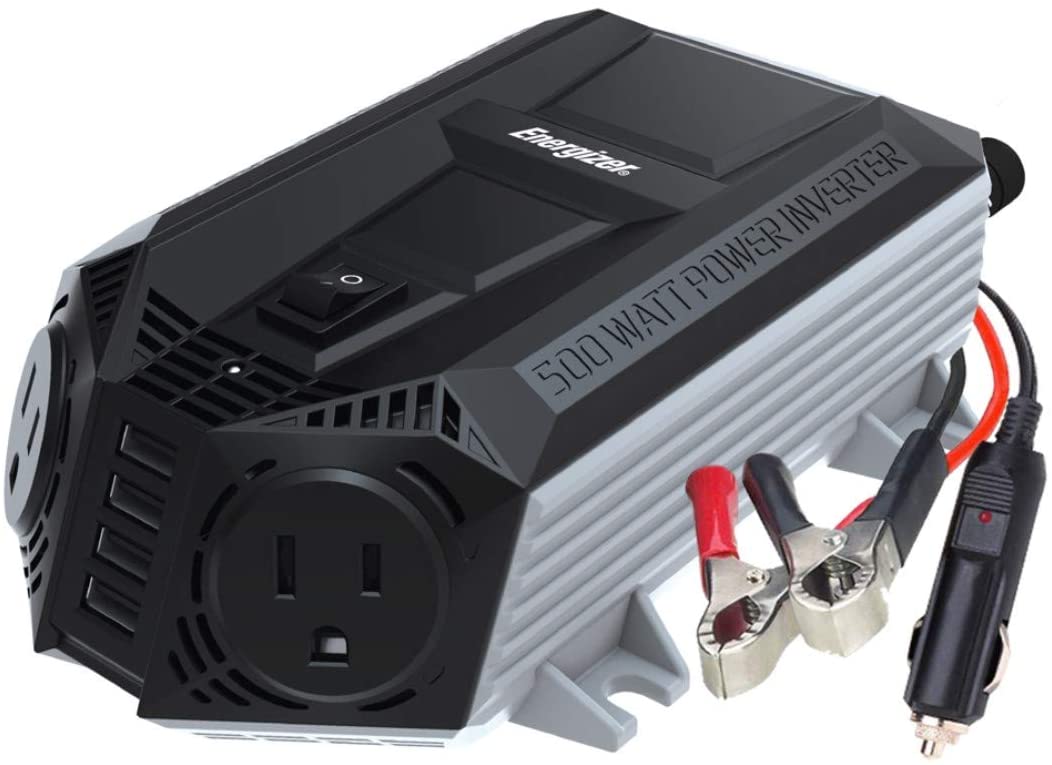 Here, we have another excellent inverter by Energizer. Just like the previous one, it's got market-leading protection against overload, voltage spikes, and more. Helpful customer service will be in the picture as well. Also, you'll get a cigarette lighter cord, which is always a big pro. Speaking of the connections/inputs, this inverter comes with four USB ports – should be enough to power up all the gadgets you've got in the car.
What's more important, Energizer's price for this device is really low. So, if you're a bit limited in funds, but really need a new converter for your long-hour adventures on a truck, this 500-watt device may be a good pick. You'll have to accept the average build quality, though. It's not horrible or anything, but not as impressive as in the more expensive rivals.
Pros & Cons
Cigarette lighter cord for ease of use
Features four USB inputs: impressive for the price
A low-budget purchase
Build quality is average at best
Expert Recommendations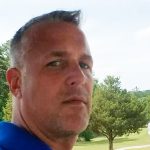 Affordable, and with many USB inputs – that's the best way to describe this device. It isn't the most reliable or well-built inverter on the market, that's true. On the bright side, it's available at a very attractive price and includes all the necessary features for comfortable, safe use.
Best Power Inverter for Truck
Product
Product Information
View on Amazon

Editor's Choice

1) Energizer ENK Power Inverter

Best Features:
– Advanced safety measures/Smart chip protection
– An American product with US-based support
– Incredibly quiet operation: doesn't make any noise
Power: 2000 Watts
USB Ports: ✔️
Weight: 7 pounds

2) WEN 56200i Portable Inverter Generator

Best Features:
– A generator and an inverter in one box
– CARB and EPA III compliant: available in California
– Different configurations/editions to choose from
Power: 1600 Watts
USB Ports: ✔️
Weight: 48 pounds

3) KRIËGER Dual Power Inverter

Best Features:
– Tested and approved by METLAB
– A generous package with lots of extras
– Backed by a three-year parts-and-labor guarantee
Power: 1100 Watts
USB Ports: ✔️
Weight: 3.87 pounds

4) VOLTWORKS VK-2000PBR Power Inverter

Best Features:
– Three AC outlets instead of two
– Intelligent cooling fan: only kicks in when needed
– Multipurpose: can power up lots of different devices
Power: 2000 Watts
USB Ports: ✔️
Weight: 9 pounds

5) Energizer EN548 Power Inverter

Best Features:
– Includes a direct cigarette lighter cord
– Four USB ports for multi-charging
– An affordable inverter with decent value
Power: 500 Watts
USB Ports: ✔️
Weight: 2 pounds
1. GIANDEL – Best Power Inverter for Semi Truck with Remote Control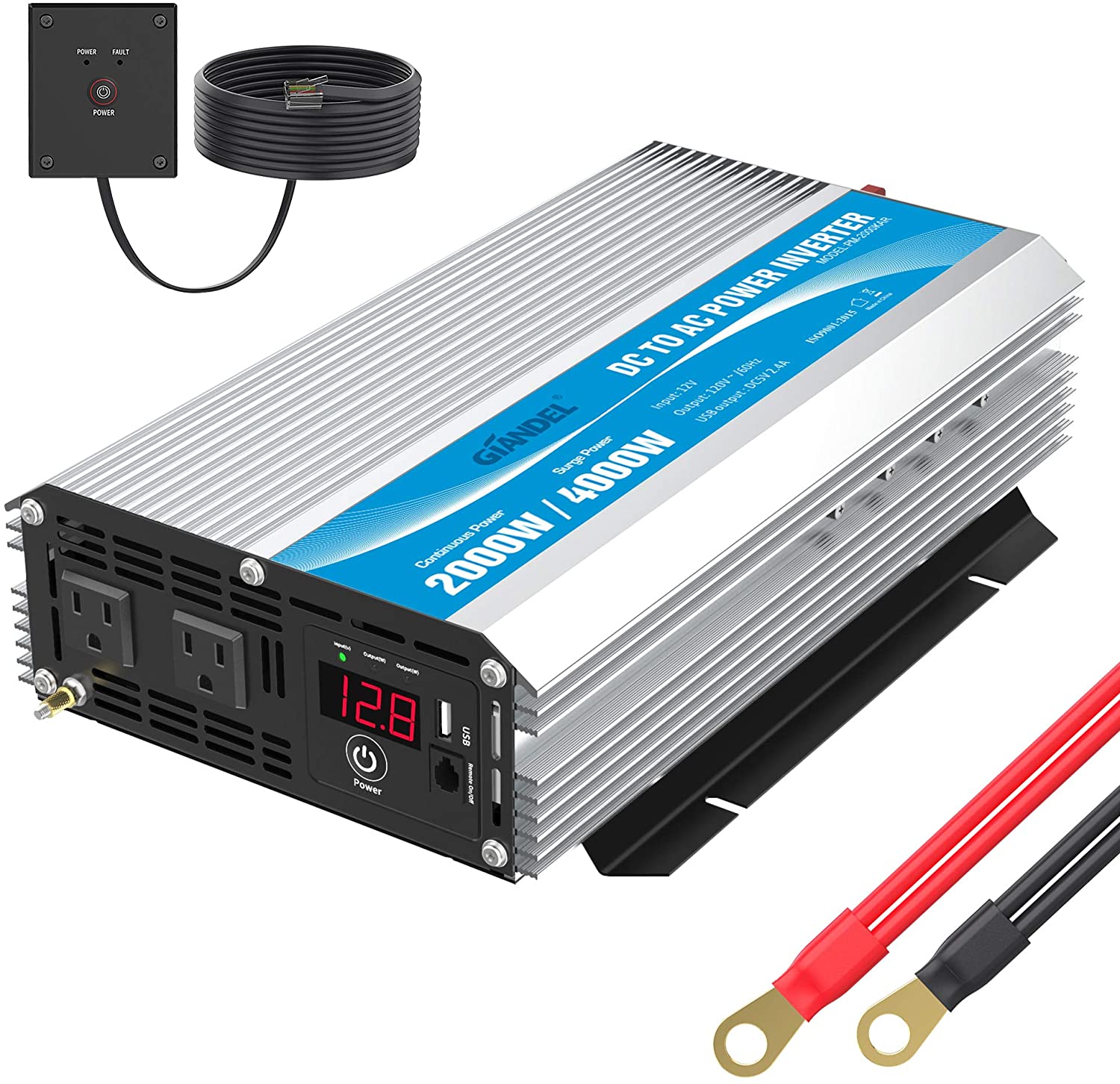 As a can't-go-wrong-with type of investment, Giandel's inverter will be exactly what the doc ordered. Like all the other inverters on the list, it's protected against a long list of hazards. And, thanks to the Soft Start technology, it won't go "boom" even during the toughest loads. The housing deserves our attention as well: it's made of aluminum and is very good at safeguarding all the electronic components.
You can use this device to charge up gadgets, home appliances, equipment, and even power tools. It doesn't have any significant downsides except for the AC outlets. They're fine, but the overall quality leaves a lot to be desired. Make sure not to tighten them too much, as that can break the cheap plastic and leave you with a bigger problem.
Pros & Cons
Soft Start protects against shorts and overheating
Packed in aluminum housing: very durable
Can power up tools, equipment, and electronics
The AC outlets are of low quality
Expert Recommendations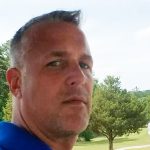 Giandel aims at the common American 18-wheeler driver and offers a long list of pros. It's compatible not only with car-related electronics but also with a wide range of things that need AC power. Packed in sturdy housing, it can take a beating, and won't overload. The AC outlets are kinda crappy, though.
2. Westinghouse – Best Portable Inverter Generator for Semi Truck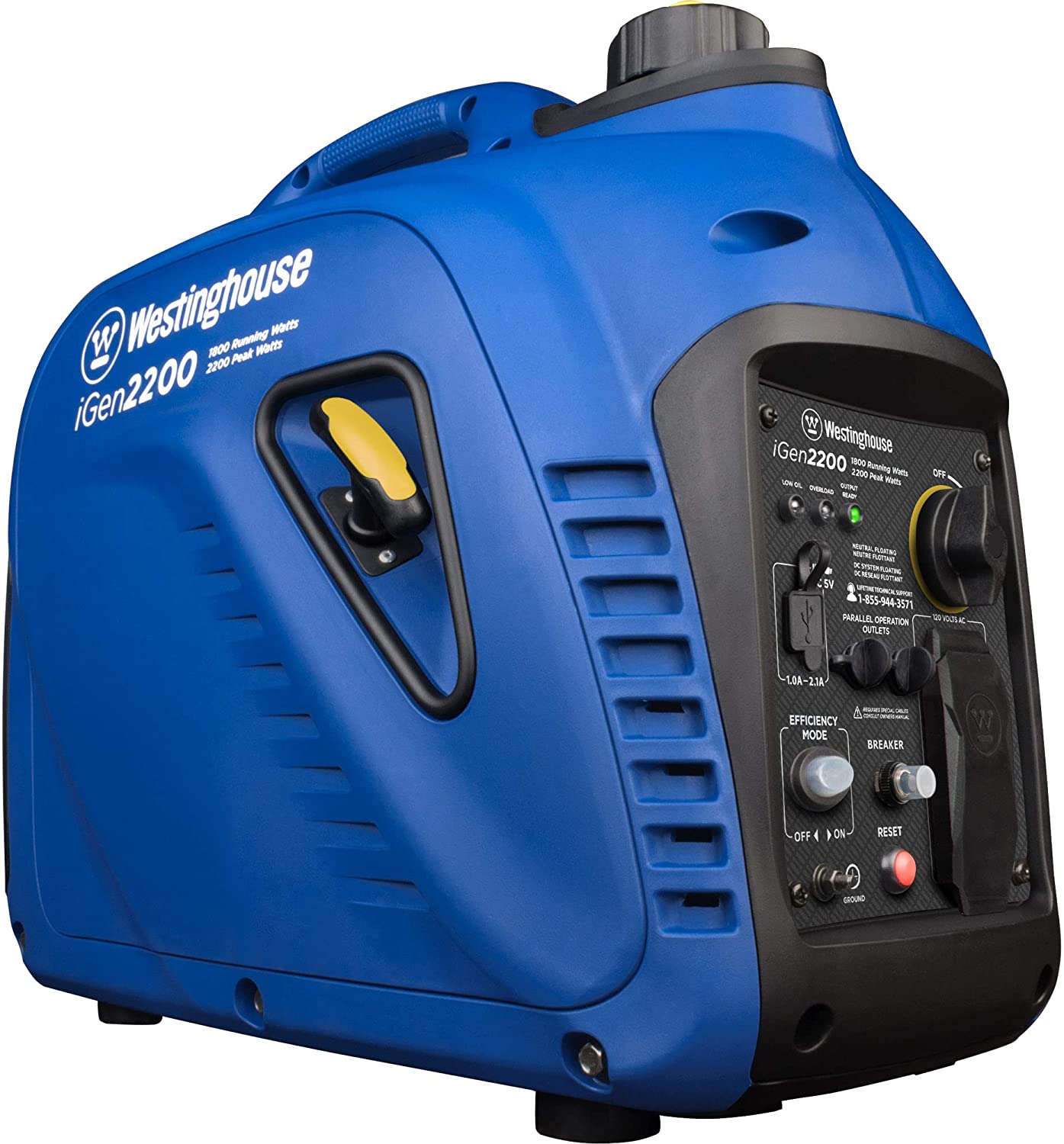 Just like in the case with the WEN device on the comparison table for trucks, we're dealing with a portable generator here. Westinghouse invested a lot of time and resources into making it stand out among the competition. And it does have a couple of advantages up its sleeve. What caught my attention was the ability to power up not only "tough" appliances, but also sensitive electronics.
It has an extended oil capacity, too (1.2 gallons), and lasts longer than most generators in this price range. What's more, you can rely on a generous three-year warranty. It covers service, labor, and parts, which is more reason to put this generator slash inverter on your list of must-haves. Just get ready for some really loud sounds. Yes, when pushed a bit too hard, it gets kinda noisy.
Pros & Cons
Easily handles delicate electronic devices
Above-average oil capacity (1.2 gallons)
Generous 3-year limited warranty (parts/labor/service)
Tends to get really loud at serious loads
Expert Recommendations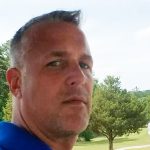 While this isn't the quietest generator-inverter device, it will be an excellent investment as a universal device. It's equally compatible with delicate gadgets and bigger, more demanding equipment. Plus, Westinghouse packs it with a big oil can and a three-year warranty deal.
3. Samlex America – Best Heavy Duty Inverter for Semi Truck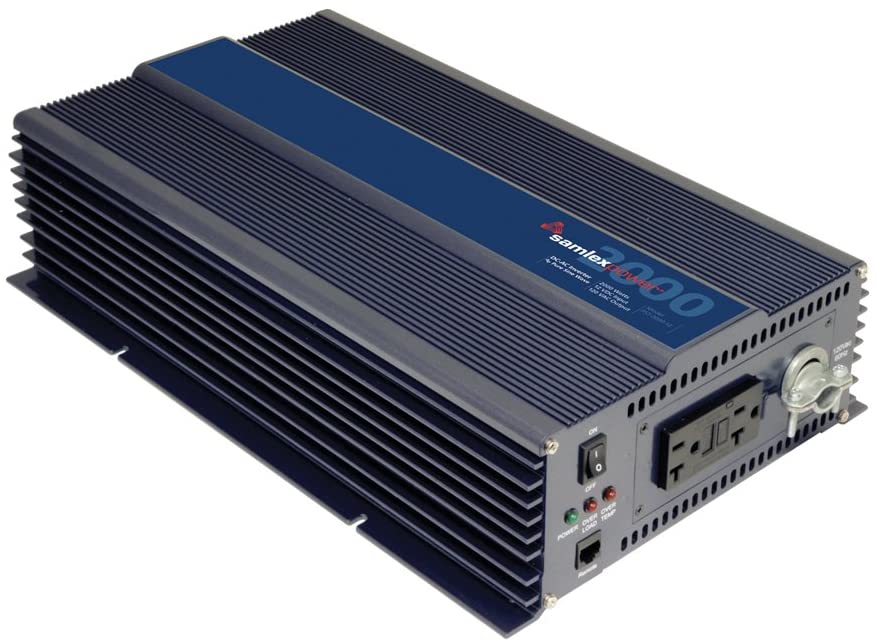 Let me say right from the start that this is a rather expensive power inverter. Instead of aiming at the average big rig owner/driver, Sampled decided to appeal to the fans of premium-quality devices. Now, why would you consider it over the competition? First of all, this is a pure sine wave converter, not a modified one. So, it can power up sensitive gadgets (like top-notch audio equipment, and such).
Secondly, it was built to last. Thanks to the industrial-grade construction quality, it can work for long hours and handle heavy loads without breaking down or losing effectiveness. Add an enhanced DC input range compatibility, and you'll see why I decided to include the Samlex America inverter in the list. This device can also be used for emergency back-up, by the way.
Pros & Cons
Extended DC input range – can handle many tasks
Suitable for tough loads and long operation hours
A high-efficiency pure sine wave inverter
Will cost you a pretty penny
Expert Recommendations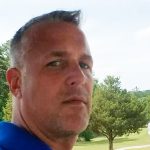 If you're looking for a heavy-duty, no-BS type of a pure sine wave inverter, Samlex has got you covered. It looks goods, works even better, and has a wide operating DC range. This won't be a cheap investment, however, so, make sure you do, indeed, need a pro-grade inverter before committing.
4. Ampeakk – Multi Functioning 2000 Watt Inverter for Semi Truc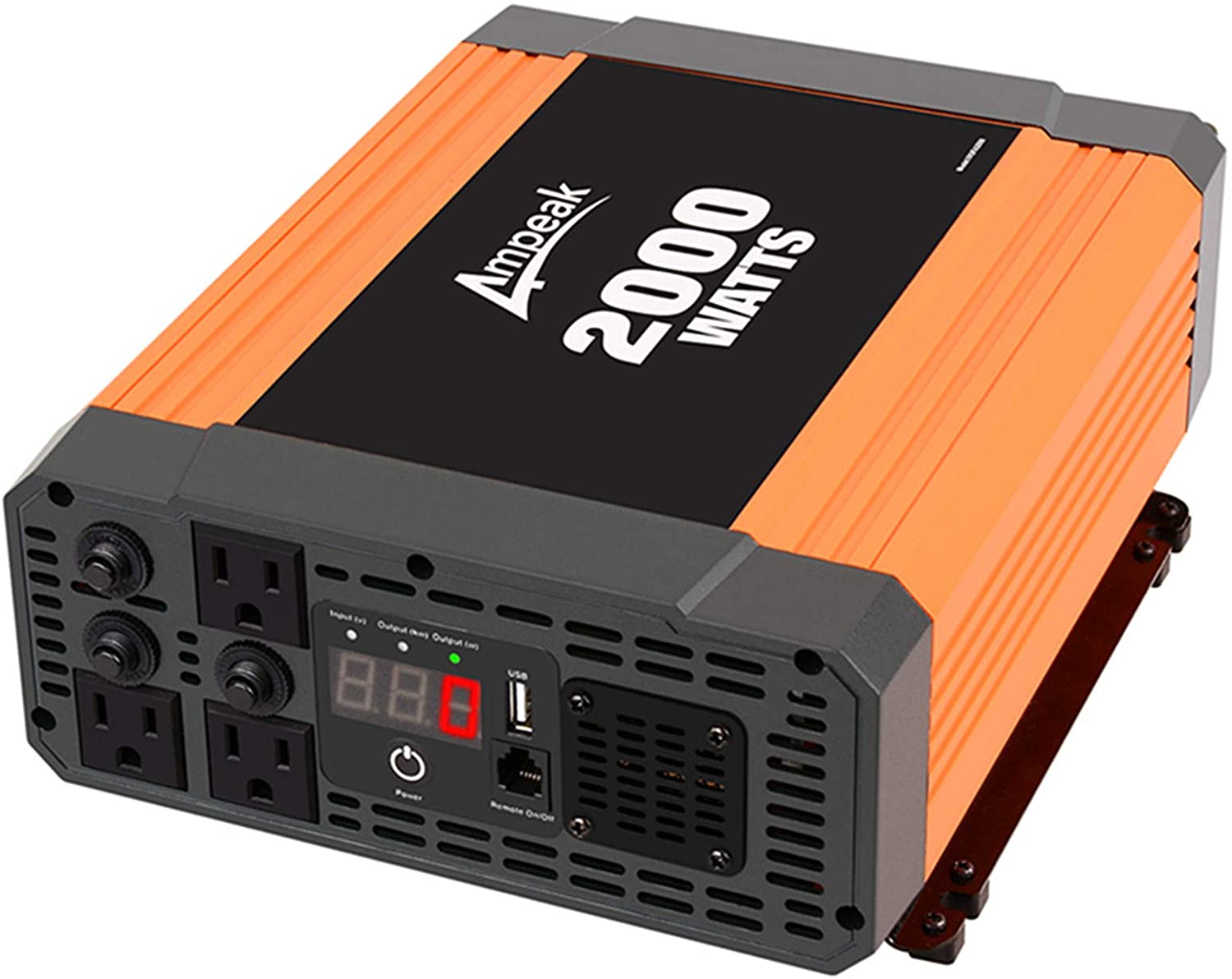 If you're a bit worried you won't be able to make sense of this device, I've got good news for you. Ampeak packs a user manual, along with a quick-start guide. They include pictures and will be of great help. Next, this inverter is ETL-certified: it's safer and more durable than most similar products. I also want to mention the automatic shutdown protection function.
It goes hand-in-hand with an audible alarm that always warns when something's wrong. It does get pretty annoying sometimes, though, because of the "whining" nature of the sound. The biggest downside has to do with the sockets: they don't provide a tight fit, and that can lead to unwanted consequences like a bad connection, or worse. Other than that, Ampeak has a winner on its hands with this one.
Pros & Cons
Includes friendly and helpful instructions
ETL-certificated: meets the highest safety standards
Audible alarm + low/over voltage shutdown protection
The sockets are a bit loose
Expert Recommendations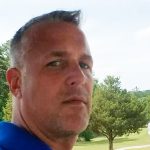 Ready to invest in an easy-to-use, friendly, and safe power inverter for your semi truck? Well, you might've just found it! This one is user-oriented, straightforward, and protected against all kinds of extreme situations. Add a loud alarm and shutdown protection, and you'll see its appeal. The sockets aren't a tight fit, however.
5. BESTEK – Best Inverter for Charging in Semi Truck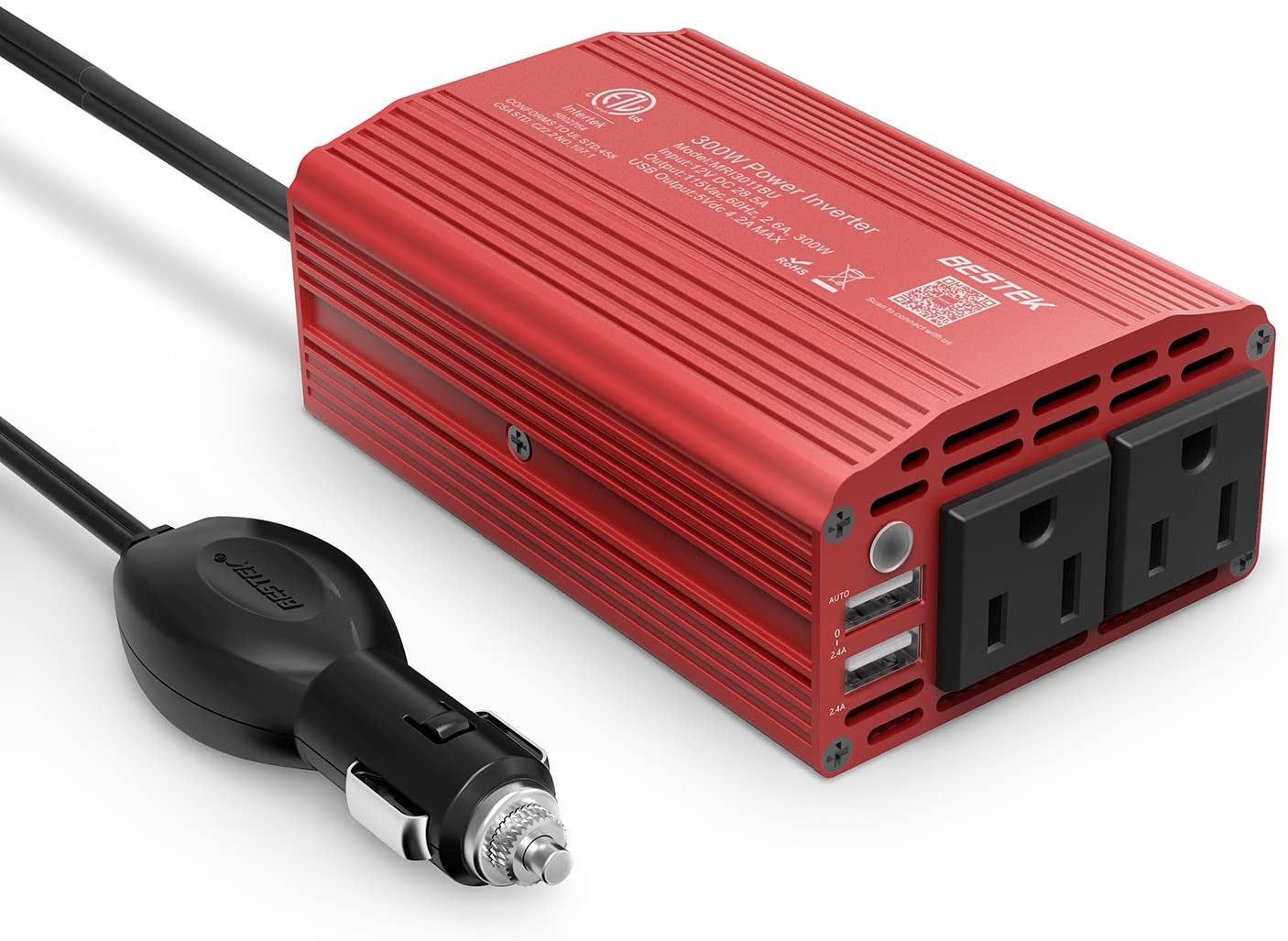 What's the first thing that caught my eyes when I was reviewing this inverter? The price, obviously! This is arguably the most affordable power inverter for semi truck use the market has to offer right now. Now, it's not particularly strong – only 300 watts – but that will be enough to power a long list of devices.
The engineers secured it in a reliable metal housing that will safeguard against bumps and drops. And one more thing: this inverter weighs only 0.63 pounds! It's compact, too, and looks a lot like a Smartphone. You can literally put it in a pocket and head out on a camping trip – Bestek will be quick to transform your battery's DC into AC.
Pros & Cons
Brick-strong metal housing
Super-lightweight design
One of the least expensive power inverters
A rather modest power output
Expert Recommendations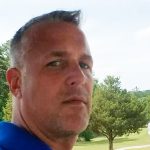 Folks on a really tight budget should pay extra attention to Bestek's inverter. It's extremely lightweight, compacts, and can take a fall. And while the power output isn't at all impressive, you'll still find a use for it on your next road trip.
Best Power Inverter for Semi Truck
Product
Product Information
View on Amazon

Editor's Choice

1) GIANDEL Power Inverter with Remote Control

Best Features:
– Protected by the Soft Start technology
– Comes in an aluminum housing for durability
– Can be used for a wide range of applications
Power: 2000 Watts
USB Ports: ✔️
Weight: 9.33 pounds

2) Westinghouse iGen2200 Portable Inverter Generator

Best Features:
– 100% safe for sensitive electronic devices
– Extended oil gallon capacity
– Three-year (limited) parts, labor, and service coverage
Power: 2200 Watts
USB Ports: ✔️
Weight: 46 pounds

3) Samlex America PST-2000-12

Best Features:
– Compatible with a wide DC input range
– Construction-grade design for longevity
– Pure sine wave inverter
Power: 2000 Watts
USB Ports: ✘
Weight: 17.2 pounds

4) Ampeak Power Inverter

Best Features:
– Helpful user and quick-start manuals
– ETL certification: tested for safety and reliability
– Loud alarm + auto-shutdown protection
Power: 2000 Watts
USB Ports: ✔️
Weight: 6.83 pounds

5) BESTEK 300W Power Inverter

Best Features:
– Protected by a sturdy metal "shell"
– Extremely lightweight construction
– Arguably, the cheapest option on the market
Power: 300 Watts
USB Ports: ✔️
Weight: 0.63 pounds
Buyer's Guide
As we already learned in the intro, you can't hook any gadget you own into a truck's battery and expect it to work. That can actually lead to malfunctions and even short circuits! This is why it's recommended to save some bucks for a power inverter. But that's not the only thing to remember. The following manual will introduce you to the "ins and outs" of finding the perfect inverter. There's nothing hard about this: follow my guidelines, and you'll be golden!
Power Output
An inverter is only good for one thing: converting direct current (DC) into alternating current (AC). Therefore, it's very important to check its power rating before you even consider purchasing it. For example, a 100-watt inverter will only be able to feed an average number of devices. A 2000-watt transformer, in turn, can power up a microwave, fridge, or something bigger and more demanding. A quick note: it's actually the truck's battery that's providing the current.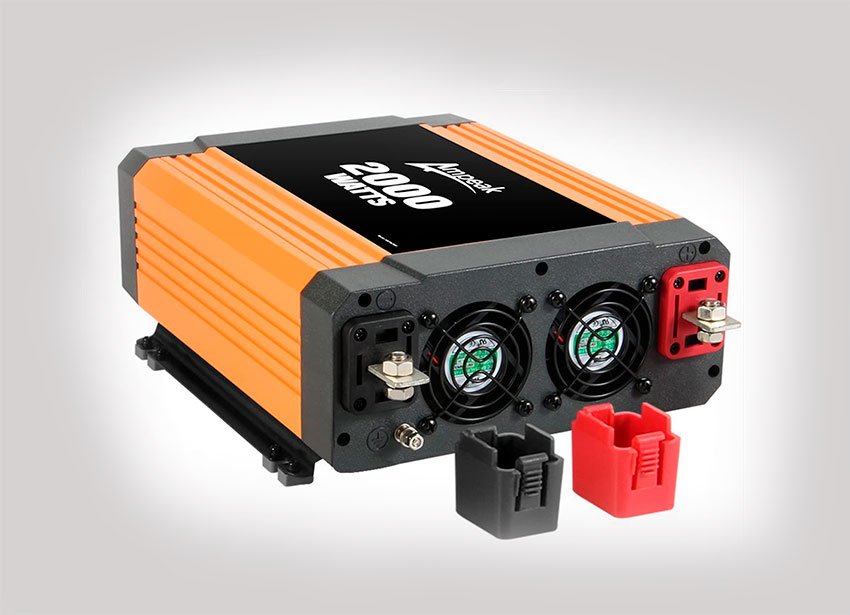 However, the inverter has to be powerful enough to "handle" it. Now, you must understand the difference between peak power (can only be supported for a short time) and RMS power (can be handled by the inverter indefinitely). For marketing purposes, manufacturers always promote the peak power, but what you should look for is the RMS power.
The Sine Wave
Without getting into complex technical details, let me just say that for most appliances, a modified sine wave will do. I'm talking about stuff that we use in the day-to-day life when spending a lot of time in our trucks. However, for something more delicate, like medical equipment, you'll need a pure sine wave. Otherwise, that expensive device/equipment will probably stop working.
Pure wave power inverters are significantly pricier than their modified sine wave counterparts – keep that in mind when browsing through the available options online or at a local store. And that's not only because they can handle sensitive electronics, but also because they don't overheat that often, don't make any buzzing noises, and last a lot longer.
Connectivity
This term is used to describe how many outlets and ports the power inverter has. In my experience, dual AC outlets and a pair of USB ports (for charging) are more than enough. High-powered inverters can have a lot more outlets, but they're mostly intended for industrial use, not the average truck/18-wheeler driver.
Safety Measures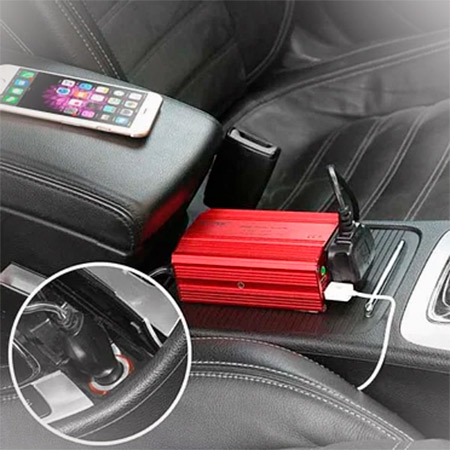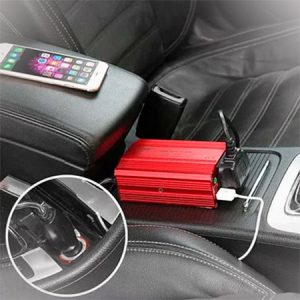 Inverters work with current, which is why it's absolutely crucial to think about the security of the devices that you connect them to. Your own safety is even more important, of course. Most market-leading inverters are well-protected against overloads, under-/over-voltage, short circuit, and temperature extremes. Overheating is the #1 issue with modern-day converters. So, check the security measures first before anything else.
As for all your accessories, voltage spikes are their biggest nightmare. The most advanced power inverters have protection against that as well. They provide consistent voltage, which eliminates the chance of peaks messing up an otherwise perfectly-working device.
Weight and Mobility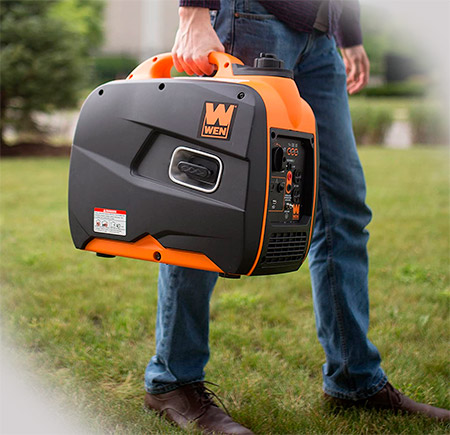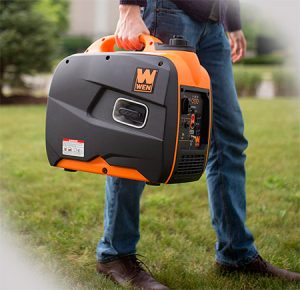 Last, but not least, consider the weight of the power inverter. The good news is – the market is full of lightweight devices that are equally strong, reliable, and, above all, mobile. On the downside, they're not always very durable and might break if you drop them. For durability, I recommend the converters with a more "retro" design, like the one by Westinghouse from my list.
The weight range is pretty wide: inverters can be as light as one pound and go over 40 pounds. I always go for the golden middle: a ten-/twenty-pound inverter will be relatively easy to carry around and you won't have to be super-careful around it. Some people believe that the bigger and heavier the device, the more powerful it will be, but that's a misconception.
Conclusion
For the average truck driver, a power inverter might not be the most reasonable investment. That's because modern electronic gadgets – phones, GPS navigators, and head units – come with built-in converters that do all the inverting on their own. However, the same can't be said about a wide range of consumer electronics. Yes, I'm talking about older TVs, CD/DVD players, and stuff like ovens, toasters, and hair-dryers.
And when driving for many hours, or days, you start to appreciate these devices/appliances. Therefore, a decent power inverter is a must. Now, you can just go ahead and pick any of the ten inverters that I reviewed today and it will be a good purchase. I tested every single one in "field conditions" and am confident in their worth. Happy driving, and enjoy your truck!