First introduced to the world back in 1958, the Big Block Chevy engine had a pretty successful run for five decades. Discontinued in 2009, it is still found in many rough-tough trucks and SUVs on the American roads. That's right: initially, it was developed specifically for medium- and heavy-duty vehicles. It's a V8 and boasts quite a decent power output. On the downside – as a slightly outdated motor, it tends to overheat rather quickly.
To avoid that, you gotta invest in a premium-quality aftermarket radiator: the factory unit delivers average-at-best performance. With the Best Radiator for Big Block Chevy, we can greatly improve the engine's lifespan and avoid costly repairs. For this guide, I've selected four crowd-favored rads. They're all equally worth our attention and investment. Ready to learn more? Let's get to it!
How do I Cool my Big Block Chevy?
There's nothing hard about this, nor will you have to invest in expensive, pro-grade equipment. Just like any other engine, a Big Block can be properly cooled by a combination of three main components. I'm talking about a fan, water pump, and, of course, a radiator. Oh, and don't forget to use premium-quality coolant; otherwise, the motor will overheat and cause all kinds of trouble. Big Blocks can get pretty hot.
For these units, 210-230 antifreeze temperature is normal – keep that in mind. A quick note: while some experts claim brass is a better heat conductor, tests have proven that aluminum is the more preferable choice for radiators designed for Chevy's mighty engines. To learn more about the ins and outs of keeping a Big Block Chevy cool, refer to the FAQ section right after the reviews and the Buyer's Guide.
Best Radiator for Big Block Chevy Review
1. Primecooling 4 Row- Best Radiator for 454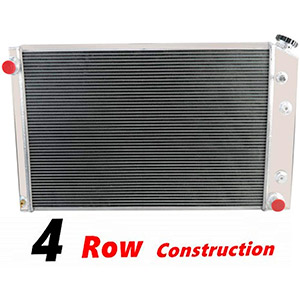 Four rows of cooling tubes, T6061-aluminum construction, and 100% TIG-welding – that's what PrimeCooling is all about. The pro-grade engineering and material quality ensure top-notch cooling efficiency and durability. This radiator was built to last and will serve you for up to a decade. Speaking of cooling, this unit is almost 50% more effective compared to standard Big Block gear.
On average, you can expect a 35-45% boost. Another big pro is fast, 100% charge-free shipment. PrimeCooling does a great job of delivering its products to all 50 US states and doesn't keep the clients waiting. So, is this an ideal aftermarket radiator? Well, not quite: depending on your vehicle's configuration, body size, and engine, the installation process could take a while. And, you might be forced to do some DIY work to make it fit.
Pros & Cons
Exceptional engineering and welding quality
Improves antifreeze cooling by up to 45%
Fast, charge-free shipment/delivery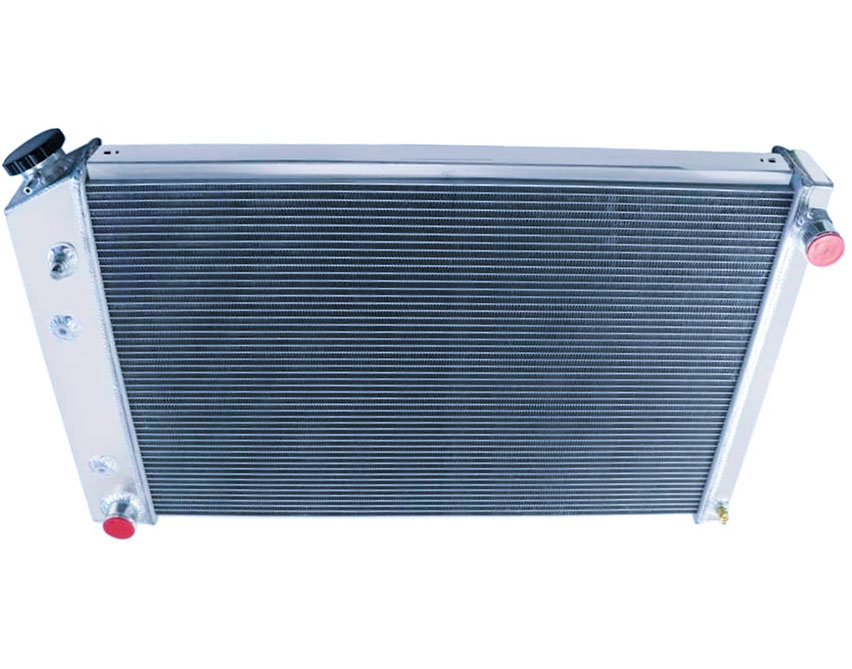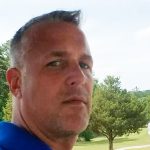 Despite the minor inconveniences with the replacement/mounting process, PrimeCooling is an excellent third-party radiator for the Big Block Chevy (especially the 454 cu/7.4-lit edition). Superb cooling, market-leading build quality, and quick deliveries turn it into a bargain for most drivers.
2. Speedway- Best Radiator for Big Block Chevy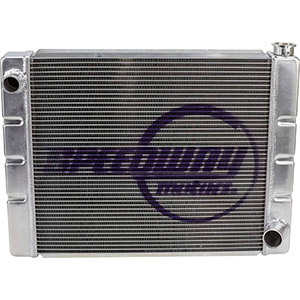 Moving up with the list, we've got a premium radiator by Speedway. Its biggest advantage over the competition is the affordable price tag. While it's not twice as cheap, the price difference is still pretty significant. What will you get with this cheap radiator, though? Is it on par with the more expensive rivals? Well, it is great at cooling the antifreeze, that's for sure. Thanks to the furnace-brazed design (no gaskets/epoxy), it delivers impressive results.
The fins, in turn, are thicker/denser than the industry standard, and that ensures better airflow (and, again, superb cooling). One thing to keep in mind: don't throw away the factory rad cap, because you won't find one in the package. Other than that, Speedway includes all the necessary hardware for hassle-free installation.
Pros & Cons
Furnace-brazed design (no gaskets)
Dense fins for better airflow/cooling
Available at a very affordable price
Doesn't include a radiator cap
Verdict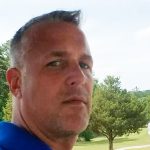 Big Block Chevy truck/SUV drivers looking for a low-priced radiator should put this unit on their lists. Furnace-brazed, and with a set of dense fins, it's one of the most reliable and efficient options on the market right now. It doesn't come with a cap, though, but that's a minor con.
3. Champion CC370 – Best Radiator for Big Block Chevy Camaro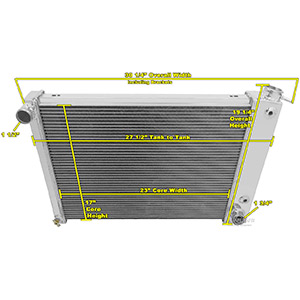 And what does Champion Cooling have to offer? What are this brand's biggest pros compared to the competition? This is an officially ISO-certified company – every single radiator manufactured by Champion goes through a number of rigorous tests. That makes the CC370 radiator "battle-ready" and fine-tuned for the Big Block engine, factory cooling systems, and the challenging American roads. All-aluminum, brick-strong construction is another pro.
That's right: the main core, brackets, tanks, and fittings are all crafted from high-grade aluminum. Last, but not least, the manufacturer protects its product with a generous 60-day MBG (money-back guarantee). So, if you detect any manufacturing defects or just decide to go for another radiator, the brand will send you a refund. As for the cons, the included drain cock is somewhat defective. My advice – get a replacement cock. It will only cost $2-3.
Pros & Cons
All-aluminum construction for extra durability
ISO-certified: easily passed third-party tests
Backed by a 60-day money-back guarantee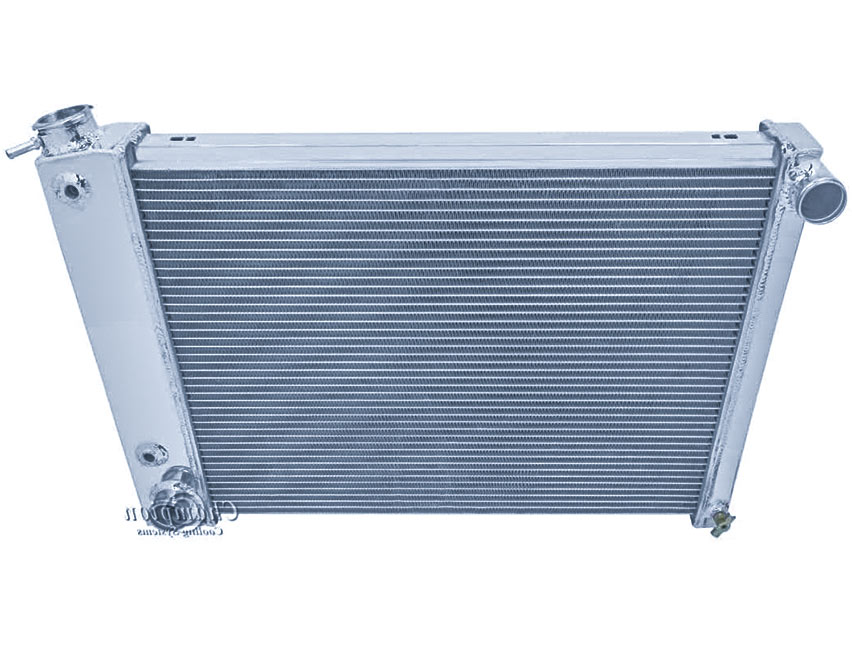 Verdict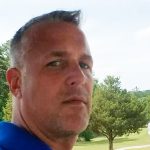 There's very little not to like about the CC370 radiator. Champion engineers went for an all-aluminum design to ensure steady performance and durability. On top of that, this rad went through numerous third-party tests and has proven to be a reliable option for the Big Block Chevy engine.
4. DeWitts Pro-series – Best Radiator for 1968 Chevy Big Block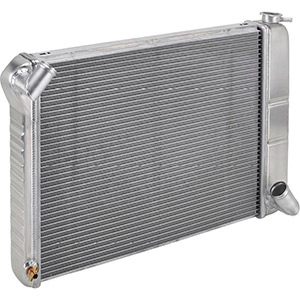 If you're a bit worried that the radiator replacement process will be too much to handle, you might want to put your trust in DeWitts. This is one of the most user-friendly and easy-to-install aftermarket units for the Big Block motor. The mounting process will take one/two hours max. Pro-Series is a US-made product, by the way, crafted using domestic materials and, much like Champion, tested for the US roads.
In addition, DeWitts covers the radiator with a lifetime warranty. There is one significant downside, though: this is one of the most expensive rads for Chevy's engine. It actually costs twice as much as the rivals on the list. On the bright side, it features serpentine fins, press-formed end tanks, and a brazed aluminum core. So, should you pay the steep price? It's up to you to decide! All I can say is that in the long run, DeWitts will be a reasonable purchase.
Pros & Cons
Fast, straightforward installation
Covered by a lifetime warranty
A 100% US-made product
The most expensive option on the list
Verdict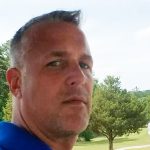 Although this Pro-Series radiator isn't particularly cheap, it does carry excellent value and is more than capable of keeping the Big Block engine nice and cool. US-made, covered by a decent warranty deal, and easy to install, it's a sure pick if you have a big budget so spare.
Buyer's Guide
Radiators come in all shapes and sizes. Plus, there are more than a dozen popular brands that specialize in crafting rads. So, how do you figure out which one to put your trust (and money) in? That's exactly why I wrote this guide! Here, we'll talk about the various designs, types, the importance of fans, tube rows, material quality, engineering, and more. Stay tuned if you want to become a pro at picking radiators!
Tubular vs. Cellular
This refers to the radiator's core and the tubes. Say, in a tubular setup, the tubes are connected to the tanks. The water flows through these tanks, and to make the flow stronger/faster, engineers put fins around the tubes. The worst thing about this design: even if one of the tubes goes bad, the entire system will be affected negatively. That's what makes cellular-type radiators a far greater investment.
In contrast to tubular rads, when one or several tubes start to malfunction (they get clogged, for example), that won't have a dramatic impact on the cooling efficiency of the system. AKA the honeycomb radiators, they've got a different approach: while the air passes through the tubes, the coolant runs through the spaces in-between them.
Cross-flow or Down-flow?
And what's the difference between cross- and down-flow radiators? Mostly, this has to do with the placement of the tanks. In a down-flow radiator, you'll find the tanks at the bottom and top of the core. This design is a bit outdated and mostly fits older trucks. Down-flow rads are slightly taller and narrower than factory units, which makes them quite versatile in terms of installation/mounting. Their cooling efficiency isn't that great, though.
As for cross-flow radiators, they have the tanks on the left and right sides of the core (located in the top left and bottom right corners, to be exact). This type is more prevalent in modern-day vehicles and, overall, does a better job of cooling the antifreeze. Shorter and wider, it's also more effective at "handling" the heat. However, it will be harder to fit a cross-flow radiator in an older-generation vehicle – keep that in mind.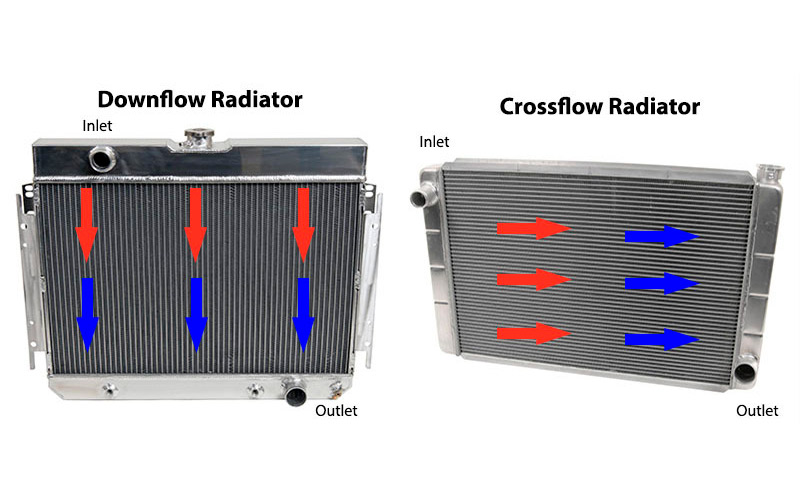 Aluminum vs. Copper vs. Plastic
Alright, with the different types and designs out of the way, let's focus on the materials. Right now, the aluminum + plastic combination is the most popular option. The core is crafted from aluminum while the tanks are plastic. The big pro is excellent performance in the most challenging situations. And if you're on a really tight budget, you might consider buying plastic rads.
These feature alloy cores, and, again, plastic tanks and everything else in between. Plastic radiators are very lightweight but not very impressive in terms of cooling efficiency. Besides, they don't last for very long. Now if you're looking for top-notch rads, go with an all-aluminum unit. Durability, resistance to rust, and extended thermal conductivity make it incredibly reliable and effective.
Aluminum radiators aren't very cheap, though. But, they're more affordable than copper + brass rads. These are bulky, unreasonably expensive, and, most importantly, highly exposed to rust. That's why aluminum-plastic and 100%-aluminum radiators have been leading the market for the last couple of decades.
Fans, Rows, and Hoses
With the fans, the choice is very simple: mechanical fans are somewhat slow, not very reliable, and "consume" 20HP. Electrical fans need a lot less power to operate at full speed. Plus, they are cheaper. As for tube rows, let me say that in most cases, extra layers mean better performance. However, this doesn't mean that a four-row radiator will always be better than a one-, two-, or three-layer radiator.
Some brands concentrate on boosting the efficiency of every single row of tubes, while others follow that "the more, the better" rule. Finally, radiator hoses also play a key role in cooling. But, you won't have to make any hard decisions here, as even the factory set of hoses will, most likely, be more than enough for the task. If there are no cracks, signs of leakage, or clogging, you're alright.
Cooling Systems Guide for Big-Block Chevy Engines
So, you made a choice between tubular, cellular, cross-flow, down-flow, aluminum, plastic, and copper radiators. Then, you picked the right fans and decided on how many tube rows you want. Now it's time to talk about how to properly cool a Big Block engine by Chevrolet. Otherwise, you'll end up with burned piston rings, blown gaskets, and something worse (like serious damage to the engine).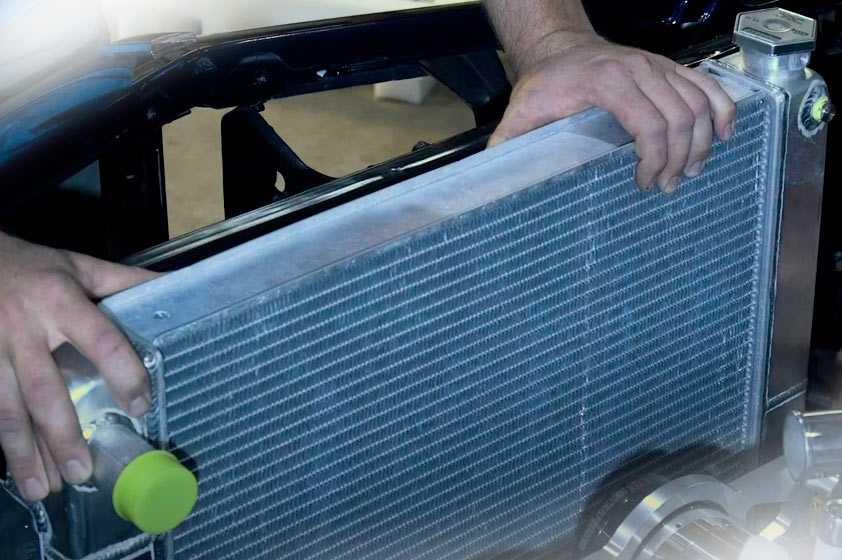 We briefly discussed this in the intro, and I want to say once again that the principles are pretty much the same as with any other consumer-level engine. Now, some folks go to the extreme and use portable refrigeration units and other expensive gear. Mostly, they do that for competitive racing; so, unless you're a pro driver, that won't be necessary.
I would, however, highly recommend using synthetic oil. The reason – conventional oil is rather thick (especially when it's cold) and offers lots of resistance to the internal engine parts. That's NOT what you want for any motor, especially the Big Block Chevy. Synthetic oil is thin and warm and provides just the right kind of lubrication for the engine to perform at its best. Less drag equals better performance and a lower risk of overheating.
You might also want to consider replacing the stock water pump. It's limited, restrictive, and lightweight. An aftermarket unit, in contrast, makes the water flow at a much higher pressure and does a better job of cooling the engine. Go for electric pumps. By reducing the drag, they make the motor operate at the top of its game. Plus, they work non-stop and the engine doesn't have to be running to be cooled off.
And, as we already learned, a third-party radiator will introduce big, positive changes as well. Look for a 100% compatible, drop-in type of rad for quick and hassle-free installation.
Cooling a Mighty Big-Block Chevy is Easier than You Think
That's right: there's no need in buying any complex or expensive gear/accessories to effectively cool even the most powerful Big Block Chevy. It all comes down to finding the right radiator unit, water pump, coolant, and maybe air filtration system. It's safe to say that any third-party unit will provide a dramatic improvement over the stock system. This is especially true if you're driving an older Chevrolet vehicle (like from the 80s or the 90s).
If you've got the money, replacing the hoses, clamps, fittings, and all the hardware should also be a part of the deal. Chances are, some of those bolts, nuts, and washers are covered in rust. To battle this, use any rust penetrant from a local store and some rags to get rid of the corrosion. As for the hoses, they tend to get clogged over time, which is NOT what we want for our Big Block motor. Again, electric fans are the best option on the table.
A decent-quality replacement shroud assembly would also come in handy. And don't forget to get a relay kit if you want the fans to automatically adjust to the engine's temperature. One thing to keep in mind is that modern-day cooling gear is significantly lighter than the stuff from the previous century. So, you can expect a minor boost in performance and mileage once you install brand-new rads, pumps, and fans.
Finishing up, add some premium-quality coolant to get the system running, and that's it!
What Coolant to Use for Big Block Chevy Performance Engine with Aluminum Radiator?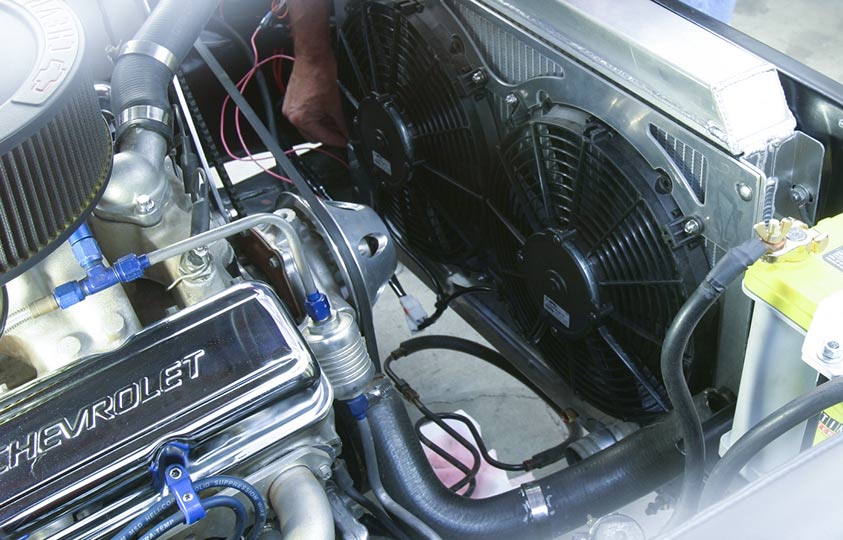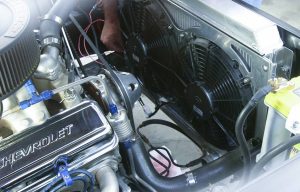 The final question that we gotta answer today: what's the best coolant for a Big Block motor? There are hundreds of different antifreeze brands on the market – which one do you choose to keep the Chevy engine cool? For an aluminum radiator, Dex-Cool by Preston is considered to be an industry standard. This is one of the most efficient and reliable products for a long line-up of engines.
It's also highly resistant to rust and clogging, which is exactly what we need. However, it's only recommended to use in contemporary coolant systems. Therefore, if you're sticking with the factory radiator or water pump, you might want to choose a different antifreeze. Napa is another coolant brand worth your attention, along with Zerex G05 and Evans NPG (this one's a bit expensive, though).
It's safe to say that most silicate-free antifreeze products will be a great fit for the Big Block Chevy. Oh, and make sure to mix it with distilled water (as opposed to tap water). That's pretty much all there is to it. At their core, coolants are the same. But, again, to keep the engine from overheating and ensure the cooling system reaches its full potential, keep these recommendations in mind.
Conclusion
And that is it for today! The Big Block engine might not be the most capable unit out there. But, it does a pretty great job of powering Chevy's heavy-duty trucks/SUVs. And, if you own an older-generation Silverado, or, say, Suburban packed with this motor, pay extra attention to the radiator. You can't just pick any unit you like – it's important to find the perfect pick for the Big Block.
With Speedway, you'll get a decent-quality radiator at an affordable price. Prime Cooling, in turn, is all about cooling efficiency and boasts fast, charge-free shipment around the States. Champion features a 100%-aluminum build, while DeWitts is designed and built in America and takes zero effort to install. So, which brand do you think has the best offer? Share in the comments!