Big, mighty engines like the PowerStroke are always at the risk of overheating. To prevent them from breaking down prematurely, you'll need a decent-quality air filtration kit, exhaust system, and, of course, antifreeze. But wait – how is that coolant going to stay cool? That's where radiators come in. The coolant is constantly flowing through the engine. Pushed by the water pump, it absorbs the heat generated by the motor.
Next, the liquid rushes back into the radiator, where it's cooled down. So, the radiator needs to be efficient enough to handle all the heat. Today, we'll focus on finding the best radiator for PowerStroke. I'd been testing dozens of units for a full month and now I can finally share my top picks with you! We'll start with the 6.0-lit motor, and go from there!
Best Radiator for 6.0 Powerstroke Review
1. Mishimoto – MMRAD-F2D-03 Aluminum Radiator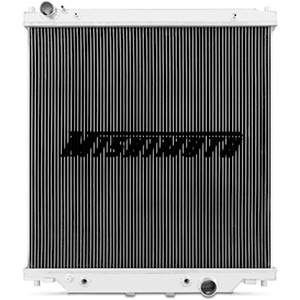 An obvious leader among third-party radiator manufacturers, Mishimoto is famous for its premium-quality products. The MMRAD series has been around for quite some time now and is known for its strong, reliable performance. As for this particular rad, it will be a perfect fit both for light- and heavy-duty trucks. Durable, and highly efficient, it was specifically designed with the 6.0-lit PowerStroke in mind.
Add the company's trademark lifetime warranty, and you'll see why Mishimoto has such a strong foothold on the market. Full-aluminum construction, the two-row design, and drop-in installation are even more reasons to consider it over the competition. I do have to mention the (minor) issues with quality control, though. Some Ford drivers complain about dented packages, lack of installation hardware, and scratches.
Pros & Cons
Equally great for light-duty and heavy-duty trucks
One of the most durable radiators on the market
Backed by the company's lifetime warranty
Verdict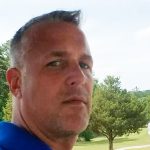 Despite the problems with quality assurance and control, the F2D-03 aluminum radiator is a bargain. It fits the PowerStroke motor like a glove and will keep it nice and cool. Sturdy, smooth, and efficient, it will be a great upgrade both for a lightweight and a heavy-duty truck.
2. G-plus motor – High Performance 2 Row Core Aluminum Racing Radiator for 6.0L Powerstroke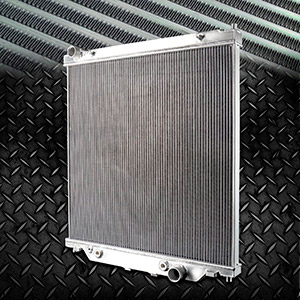 Moving on with the list, we've got G-Plus – another fan-favored and critically-acclaimed brand. This radiator features a universal, highly flexible design that makes it compatible with a long list of vehicles. Another big selling point is the extended coolant capacity. It provides a 30% boost compared to the factory gear, which is quite a significant gain, especially if you do lots of off-roading and put both the engine and the cooling system through a tough test.
More importantly, G-Plus is available at a very attractive price. So, if you're on a budget but still need to replace the restrictive stock radiator, this unit might be exactly what you need. Do keep in mind, however, that the cooler threads are a bit too big and might cause some hassle during the installation. It's nothing some Teflon tape won't fix, of course.
Pros & Cons
Compatible with a wide range of vehicles
Above-average coolant capacity
Available at a very affordable price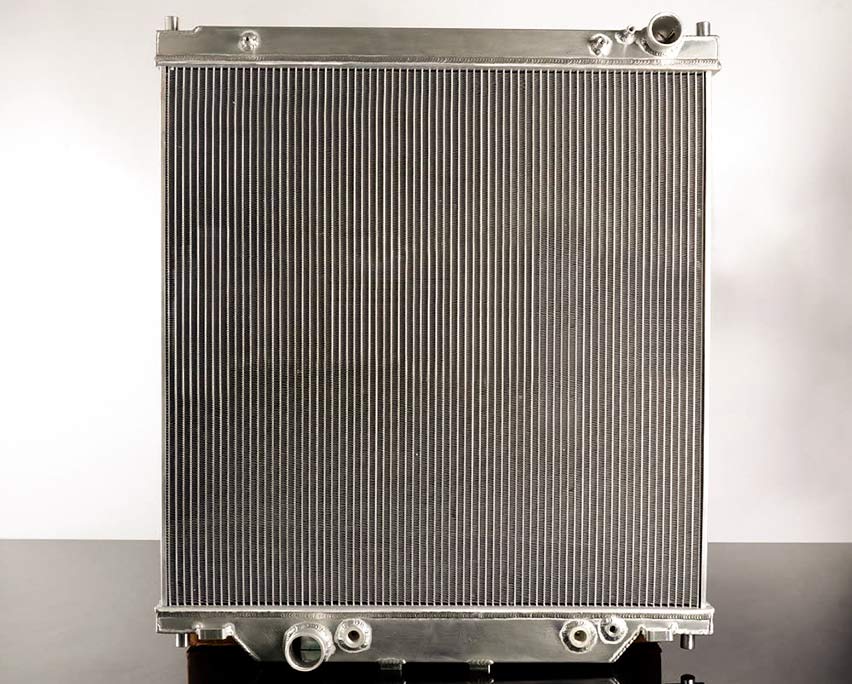 Verdict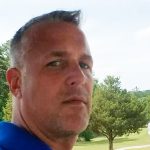 This is one of the cheapest radiators for the PowerStroke, and it delivers excellent performance all-around. It easily fits a long line-up of Ford trucks and boasts an impressive coolant capacity. The cooler threads are a bit of a "miss", but that shouldn't be much trouble.
3. Prime Cooling – 2 Row Aluminum Radiator for 6.0L V8 Turbo Diesel Powerstroke Engine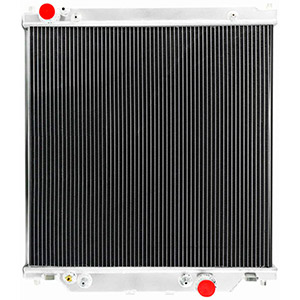 Next up, we have Prime Cooling with another two-row radiator for the PowerStroke. Designed, built, and tested with hauling trucks in mind, it will be an excellent choice for heavy-duty truckers involved in the "towing business". Thanks to the premium engineering and material quality, Prime Cooling easily handles the most extreme situations on the road. I'm talking about great heat/pressure tolerance.
What I didn't like about this unit was the installation process. For the most part, it's simple and straightforward. It might take you an hour or two, but you won't need any expensive tools to make it fit. Unfortunately, it is a bit taller and thinner than the factory rad. To compensate for that, I recommend using rubber (like a sealant or just pieces of rubber) to close the gaps and prevent air from soaking through.
Pros & Cons
Specifically designed for towing/hauling trucks
Impressive build and material quality
Enhanced pressure tolerance
Slightly taller than it should be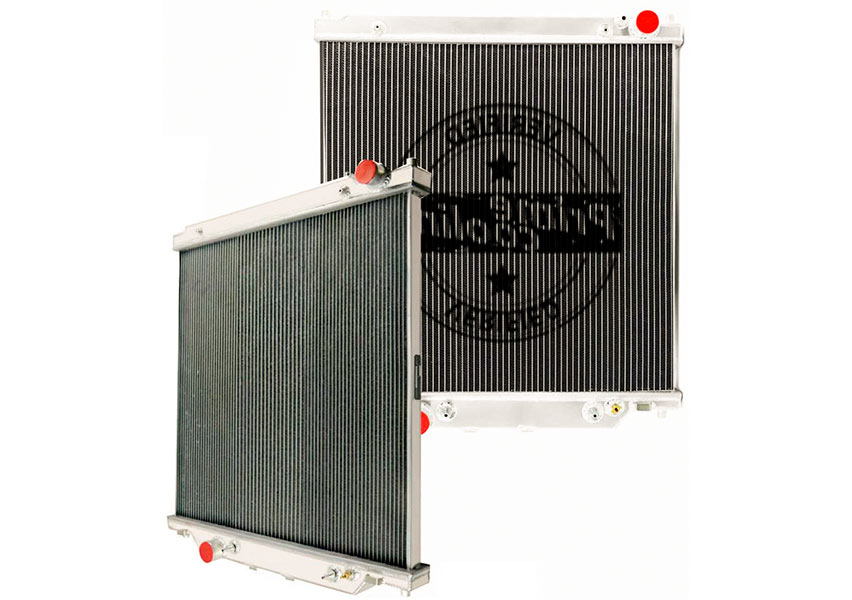 Verdict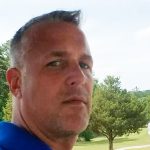 Owners of heavy-duty trucks will like how Prime Cooling performs on challenging terrain. On top of that, it keeps the engine cool no matter how much cargo you're hauling. As for the cons, you'll probably have to use some rubber to make the radiator fit and work properly.
4. HHAUTOSTORE – 6.0L Full Aluminum Radiator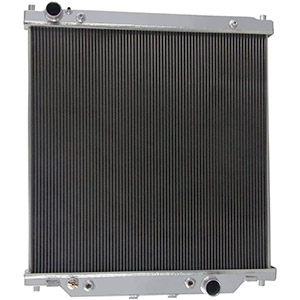 This radiator right here is a safe bet. It doesn't really have any significant downsides except for the bad packaging. It's not horrible, of course, but still not on par with the competition. Moving to the pros, we've got fast shipping, superb cooling efficiency, and quality engineering. The delivery times are, indeed, quite impressive, and shipment won't cost you a penny. As for the efficiency boost, you can expect a 45% improvement compared to stock gear.
That makes OzCooling one of the most powerful aftermarket radiators on the market. Therefore, if you're constantly pushing your PowerStroke to the limit and are a bit worried about overheating, that won't be an issue with the Oz radiator. Oh, and this is a US-made product, by the way, manufactured using domestic materials. Tested on the challenging American roads, it has proven its worth in extreme situations.
Pros & Cons
Up to 45% boost in efficiency
A 100% US-made product
Fast shipping (at no extra cost)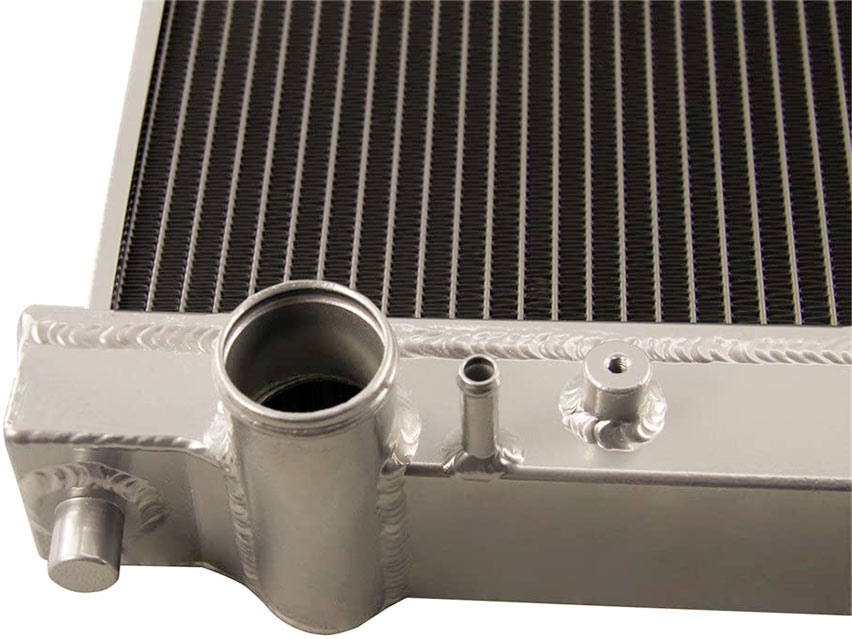 Verdict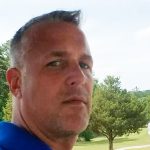 What are you looking for in a third-party radiator? Is it fast, charge-free shipping? Or maybe you put cooling efficiency first? Well, you'll get all of that with this product, and then some. While the packaging isn't particularly great, this US-crafted radiator is still a bang for the buck.
5. ALLOYWORKS – 2 Row All Aluminum Radiator For Ford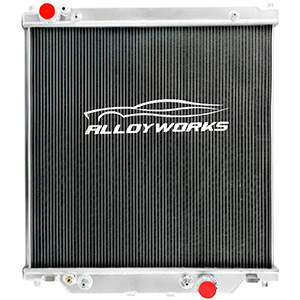 And what does AlloyWorks have to offer to a Ford truck owner? Why should you pick it over the other radiators on the list? Well, precision engineering can be a big reason for that. It ensures strong, steady performance, maximum efficiency, and long service life. This rad was designed specifically for rough, tricky roads. And it doesn't matter whether you're driving an F250 or F550 – you'll get premium cooling in any case.
AlloyWorks prides itself in always putting its products through a series of demanding tests to ensure quality. That's why this radiator might deserve a spot on your list of must-haves. There is one downside, though: the transmission cooler fittings don't always fit the mounting spots. What you can do is shorten them a bit and that will fix the issue right up.
Pros & Cons
Precision engineering for maximum performance
Easily handles harsh conditions on the road
Rigorously tested to ensure proper quality
Misaligned cooler fittings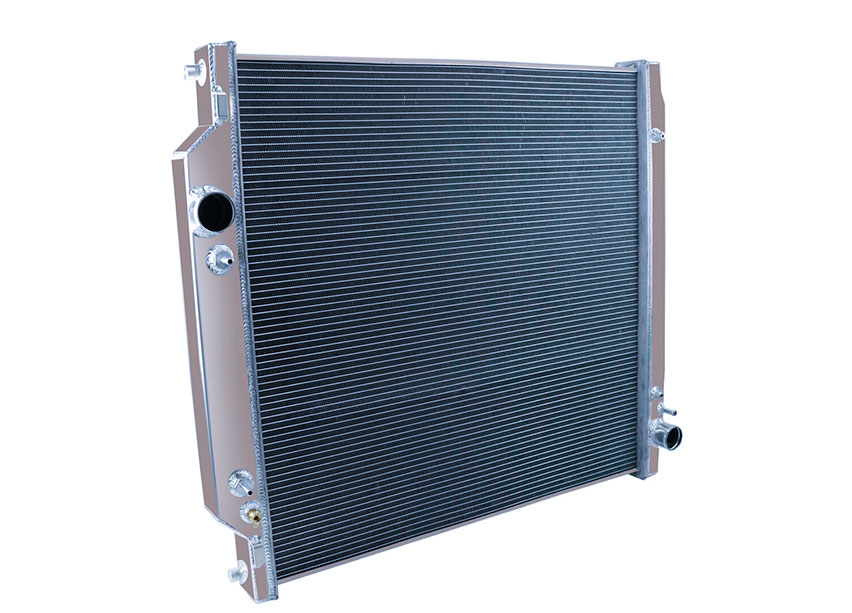 Verdict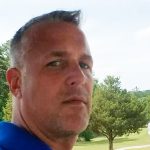 Precision-engineered and heavily tested in the most demanding conditions, the AlloyWorks radiator will be a bargain for the entire F-Series of Ford trucks. If you're looking for a reliable "workhorse" to keep the motor cool and prevent overheating, this could be it for you.
Best Ford 6.4 Powerstroke Radiator Replacement Review
Mishimoto MMRAD-F2D-08V2 Performance Aluminum Radiator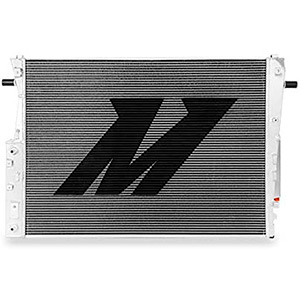 Ok, now that we've checked out the finest third-party radiators for the 6.0-lit PowerStroke, let's see what the market has to offer for the 6.4-lit V8. As always, Mishimoto is a safe bet, and F2D-08V2 is one of the most durable and long-lasting options for the F-Series. Premium-quality engineering and materials allow it to stay on top of its game for many years. I'm talking about 100% brazed aluminum core and TIG welding.
The rubber mounting pegs also add to the radiator's reliability and strong performance. There is one big downside, however, and it has to do with the price: it's just a bit too steep for the average Ford driver. On the other hand, if you make a living off driving a heavy-duty truck and want to protect the motor from overheating, you might like what Mishimoto has in stores with this rad.
Pros & Cons
Exceptional build and material quality
Rubber mounting pegs for longevity
100% brazed-aluminum, TIG-welded core
Rather expensive for the average driver
Verdict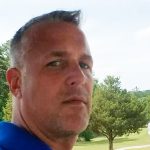 The biggest turn-off of this otherwise superb radiator is the price. Yes, this is an expensive product, but with it, you'll get high-grade build/material quality, reliable performance, and a perfect fit for the 6.4-lit PowerStroke.
2. Prime Cooling – 3 Row Core Aluminum Radiator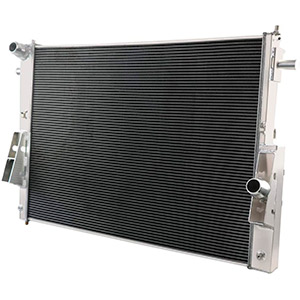 If the Mishimoto radiator is way too expensive for your budget, but you still want premium cooling, take a close look at this product. Here, we've got a three-row radiator that's almost as efficient but comes at a more affordable price. As you'll learn further down this review, three rows/layers don't automatically mean better performance. But, in the case of this rad, it's a big pro.
The lightweight, large surface area does an excellent job of "freezing" the coolant while it's flowing through the tubes. The included drain plug isn't very good, though – you'll be better off with an aftermarket replacement (that'll cost you $5-10). On the bright side, Prime Cooling arrives in a protective box that keeps the radiator from harm's way.
Pros & Cons
Lightweight design – durable and efficient
Features an extended surface area
Arrives in a protective package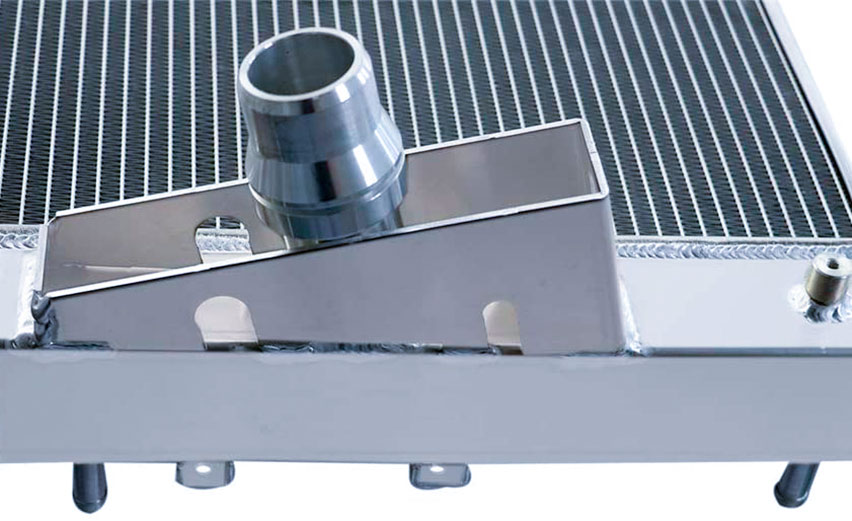 Verdict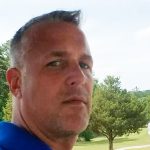 The extended surface area, three-layer tube construction, and lightweight design turn Prime Cooling into a must-have. Packed in a safe, protective package, it will arrive at your doorstep ready to rumble. The drain plug is of poor quality, however, and should be replaced.
3. CoolingSky – 4 Row All Aluminum Radiator for 6.4L Diesel Powerstroke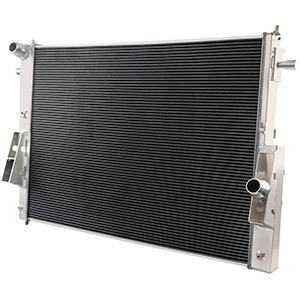 So, we've already checked out two- and even three-row radiators. But what about a four-row unit – how effective is it going to be? Well, this radiator is obviously efficient. But, what makes it stand out even more is its ability to withstand extreme conditions and deliver strong performance no matter how hot it is outside. Aviation-grade aluminum engineering and 100% TIG-welding make it a worthy investment for any Ford owner.
And let's not forget about the high-density fins. They make the radiator extremely productive and efficient. One thing to keep in mind: CoolingSky isn't one of those quick-to-deliver companies. So, you might have to wait for a while before this package arrives. But, that's a small price to pay for the exceptional performance and the four-row design.
Pros & Cons
Superb Aviation-aluminum engineering
Four rows of tubing for max cooling
High-density, multi-louvered fins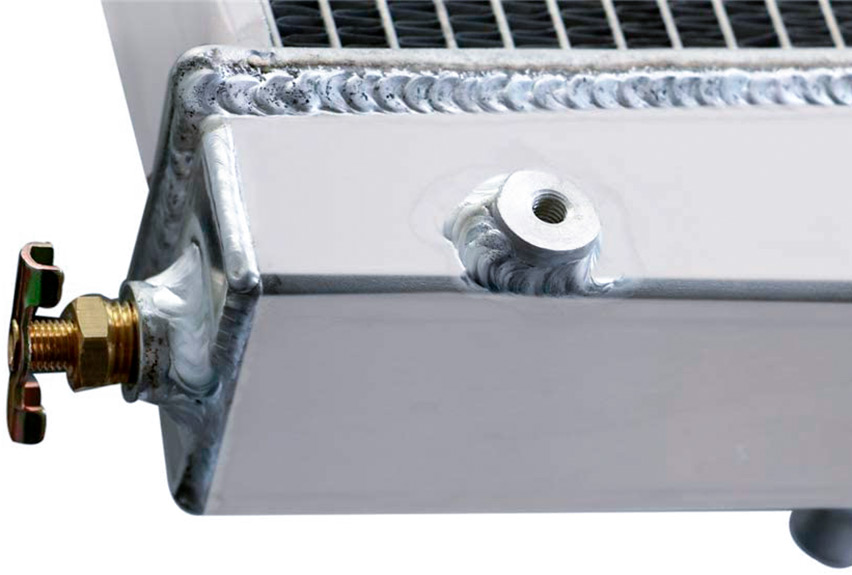 Verdict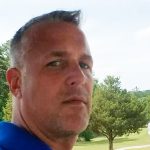 CoolingSky's biggest selling point is the four-row design along with premium engineering and high-density fins. F-Series drivers looking for superb cooling for their 6.4-lit PowerStroke engines will be pleased by this radiator, especially in demanding situations.
Best Radiator for 6.7 Powerstroke Review
1. Mishimoto MMRAD-F2D-11 Primary Aluminum Radiator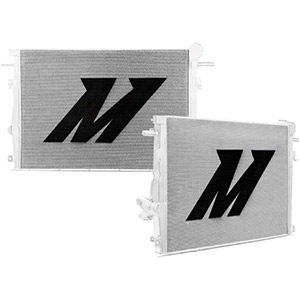 What is it that you're looking to get with a brand-new radiator? Most truckers will answer "better cooling", and that's exactly what you can expect from F2D-11. Mishimoto engineers did their best to maximize this radiator's cooling efficiency. As a result, you'll get up to 37% better performance compared to the stock gear. If you've been driving around with the 6.7-lit PowerStroke for a while, you know how important it is to keep this motor cool.
The top-notch efficiency is achieved by making the main body/core 10% thicker than most rivaling products. Add Mishimoto's standard lifetime warranty, and you'll get a great investment for any F-Series heavy-duty truck. Sadly, I have to also mention the durability issues with this radiator. Simply put, it has a rather short lifespan. Many drivers claim it gives up on you in two-three years, which is bad news.
Pros & Cons
Significantly thicker than the factory radiator
Almost 40% more efficient at cooling
Covered by Mishimoto's lifetime warranty
Verdict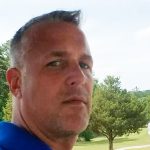 The biggest problem with this otherwise outstanding radiator is durability. And while you can, of course, take advantage of the lifetime warranty, it doesn't always cover a breakdown. On the bright side, this rad provides a 40% boost in efficiency and delivers all-around strong performance.
2. Mishimoto MMRAD-F2D-11S Secondary Aluminum Radiator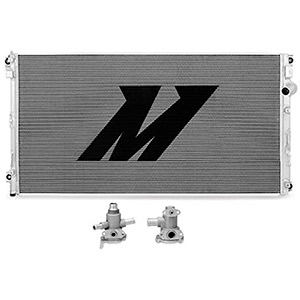 And here's another pro-grade radiator by Mishimoto. Only this time around, it is highly durable and reliable. You will have to pay a steep price for the extra longevity and efficiency, as this is one of the most expensive aftermarket rads for the 6.7-lit PowerStroke. At the same time, it's very easy to install manually. You won't have to pay a mechanic to help with that. The process is simple and doesn't take an eternity to complete.
The package, in turn, includes (fully removable) thermostat housings. They help the radiator keep the coolant temperature low and protect the motor from overheating. In fact, F2D-11S keeps the entire system nice and cool, dropping the temperature by 6-7 degrees Fahrenheit. I'm talking about the fuel, EGR, and transmission, among other things.
Pros & Cons
Quick, straightforward installation process
Comes packed with removable thermo housings
Reduces the coolant, fuel, and EGR temps
Verdict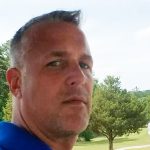 Is this the most affordable radiator on the list? Far from it! However, it still deserves your attention, as it's very easy to install, delivers excellent performance, and keeps the antifreeze, fuel, and other essential components cool, extending the engine's lifespan.
3. Ford 6.7l Powerstroke CSF OEM Replacement Primary Radiator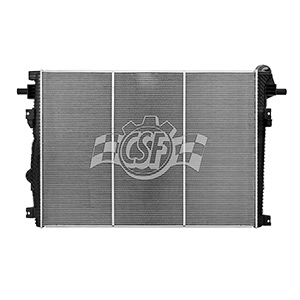 Last, but not least, let's look at a replacement radiator by CSF. Crafted from high-grade components/materials, it can be trusted with keeping the engine cool. ISO-certified, it has passed dozens of challenging tests with flying colors. And, it is one of the least expensive options for the 6.7-lit PowerStroke. CSF is significantly cheaper than both Mishimoto products.
Sadly, the installation process can be a bit tricky. Even though the official specs claim this radiator is a "drop-in fit", you might have some minor difficulties with it. Mostly, I'm talking about mounting holes that don't fit the factory spots. But, this inconvenience is more than compensated by the warranty: the manufacturer backs it with a one-year guarantee that should give you some peace of mind.
Pros & Cons
ISO-certified: passed numerous tough tests
Rather affordable, compared to the rivals
Covered by a standard one-year warranty
A bit of a challenge to install
Verdict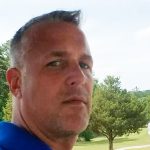 While CSF might not be a very smooth, drop-in install, you should put it on the list nonetheless. ISO-certified, it is ready for extreme conditions, challenging terrain, and hot weather. Plus, it is covered by a 12-month warranty and comes at a very affordable price.
Best Aftermarket Radiator for Ford 7.3 Powerstroke Review
1. Mishimoto MMRAD-F2D-99 Aluminum Radiator for 7.3 Powerstroke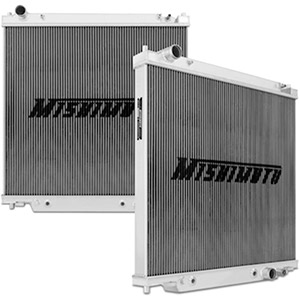 The F2D-99 replacement radiator isn't much different from all the other Mishimoto rads on the list. It's just as efficient, durable, and reliable. Oh, it's also quite expensive, which is another thing that most Mishimoto products have in common. But, if you're serious about protecting the 7.3-lit PowerStroke V8, this unit right here will be a reasonable purchase. Primarily, it's gonna be a drop-in fitment.
You won't have to spend hours trying to make it work (only 30-40 minutes). Next, the end tanks are TIG-welded and aid in the overall longevity and durability of the radiator. And let's not forget about the cores. Thanks to the minimal-distortion and low-stress cores, this two-row rad is capable of keeping the engine temperature at comfortable levels no matter how much pressure is put on it.
Pros & Cons
Drop-in fitment – takes 30 minutes to install
TIG-welded end tanks for extra durability
Low-stress, minimal-distortion cores
Verdict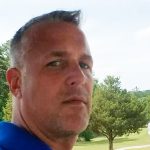 Folks in the market for an easy-to-install, reliable, and trustworthy radiator will find a decent pick with F2D-99. While this rad isn't particularly cheap, it does carry excellent value and will be a beneficial purchase in the long run.
2. Mishimoto MMRAD-F2D-95 Performance Aluminum Radiator for Ford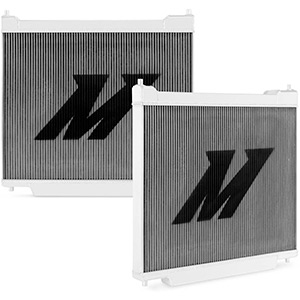 Wait, another Mishimoto? Why would you choose this one when the #1 radiator is a premium-quality product? There are several reasons, actually. First of all (and this is arguably the most important factor), F2D-95 is significantly cheaper. In fact, it's almost three times cheaper than the "big brother". So, yes, be very careful when ordering a new rad online and pay extra attention to the names.
Moving on, I want to mention the superb-quality aluminum construction. It does exactly what any heavy-duty driver wants it to do: keep the coolant flowing and the engine pushing the truck forward. Super-Duty vehicles are this radiator's field of expertise. Sadly, packaging isn't F2D-95's strongest suit. Like some other Mishimoto radiators, this one arrives in a box that isn't at all protective.
Pros & Cons
Durable, efficient all-aluminum construction
A good choice if you're on a budget
Carries excellent value for Super-Duty trucks
Verdict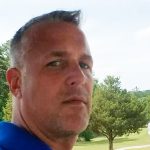 Although this Mishimoto radiator arrives in lackluster packaging, I would still recommend checking it out. F2D-95 is affordable, efficient, and will be a great match for any heavy-duty truck.
Mishimoto MMRAD-F2D-83 Performance Aluminum Radiator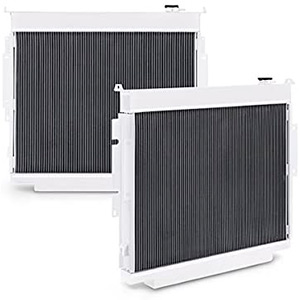 This is the last Mishimoto radiator on the list, and it's a very good deal. In many ways, it's like the golden middle between the previous two units. This applies to the price, overall performance, and everything else. Now, it's not the most efficient rad out there, and that's something of a downside. But, it will still be an improvement compared to the stock gear, of course.
Besides, if you're driving an older truck, Mishimoto will be a perfect fit. Plus, F2D-83 comes with two very important extras – a drain plug and a cap. The plug is highly valuable, as it helps filter all the harmful metal fragments from the liquid (the antifreeze). As for the cap, it ups the boiling point of the coolant, resulting in a more "combat-ready" system.
Pros & Cons
Magnetic drain plug – filters out metal fragments
High-pressure radiator cap included
A great fit for older PowerStroke engines
Average cooling efficiency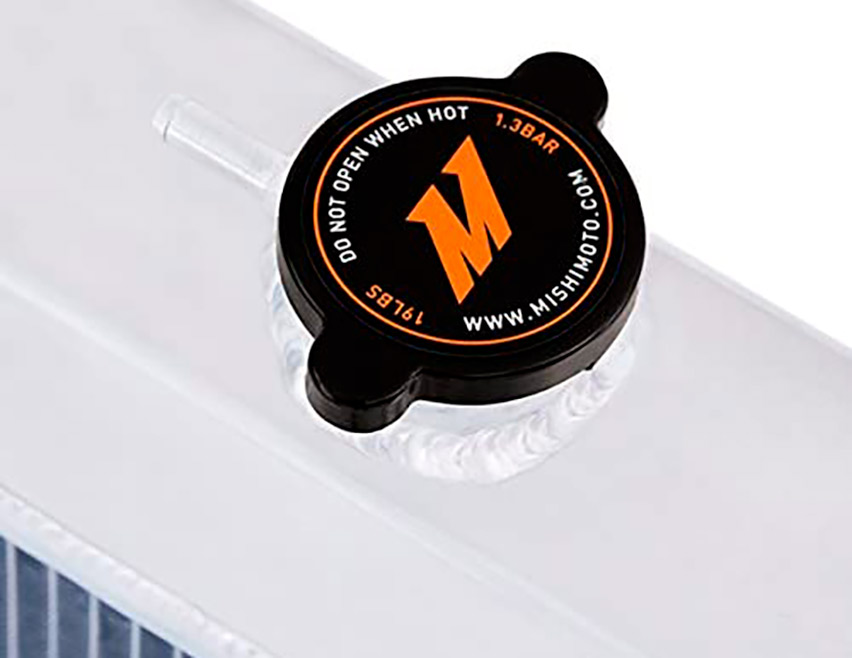 Verdict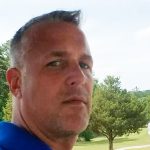 You can't go wrong with F2D-83, as it doesn't have any big cons. It is a reasonable pick if you drive an older heavy-duty vehicle. Add a magnetic drain plug, a radiator cap, and decent performance, and you'll get a winner.

4. Blitech 3 Row Aluminum Radiator for 7.3L Powerstroke V8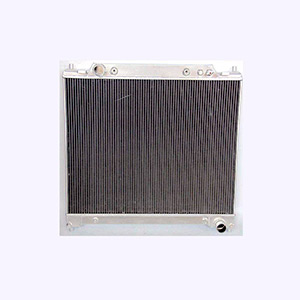 Do you prefer three rows over two? Then let's take a closer look at Blitech. Designed to "handle" the 7.3-lit PowerStroke, it features a lightweight, easy-to-fit, yet sturdy body. This is one of those "sure thing" aftermarket investments that you won't regret later. The three rows of tubing do a very good job of cooling the antifreeze down. The body, in turn, is constructed of T-6061 aluminum.
Direct, bolt-on installation, high coolant capacity, and stable performance are a part of the deal as well, along with fast shipment within the United States. There is one downside to keep in mind, though: Blitech arrives in minimal packaging. That means you won't get all the nuts, bolts, and clamps necessary for the installation. So, don't throw away the factory hardware!
Pros & Cons
Three-row radiator for extra performance
Lightweight, yet sturdy and reliable
Fast shipment from US-based warehouses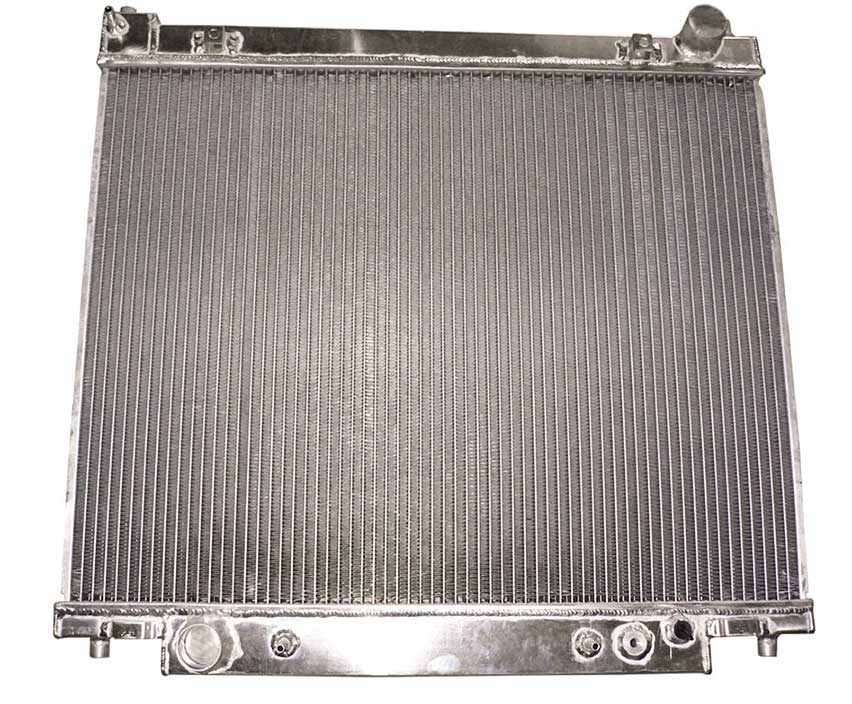 Verdict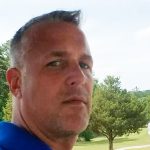 What will you get with this third-party radiator? A little bit of everything, actually. While it's not a full package and might not have all the installation hardware, Blitech is lightweight, brick-strong, and features a three-row design.
5. CoolingSky 3 Row Radiator for 7.3 Diesel Powerstroke Engine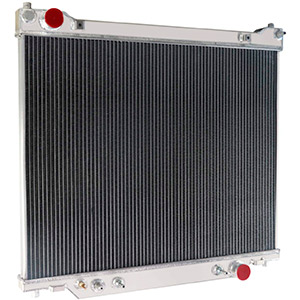 Alright, CoolingSky is the last stop for today. And, it's got a couple of perks up its sleeve. The company has a direct-line sale system that helps them provide premium-quality production. ANd, this radiator features a unique tubing design that makes it 30-40% more efficient than any PowerStroke factory cooling system. On top of that, it boasts advanced anti-corrosion protection, which ensures a long lifespan.
What I didn't like about CoolingSky was the poor quality control. Missing installation hardware, slow delivery times, and wrong parts – that's what you can expect. But, this only happens to a "select few" buyers, so it's not that big of a deal. All things considered, this rad is still a crowd-pleaser.
Pros & Cons
Trademark design – impressive cooling efficiency
A perfect fit for a long list of Ford trucks
Excellent protection against rusting
Minor quality control issues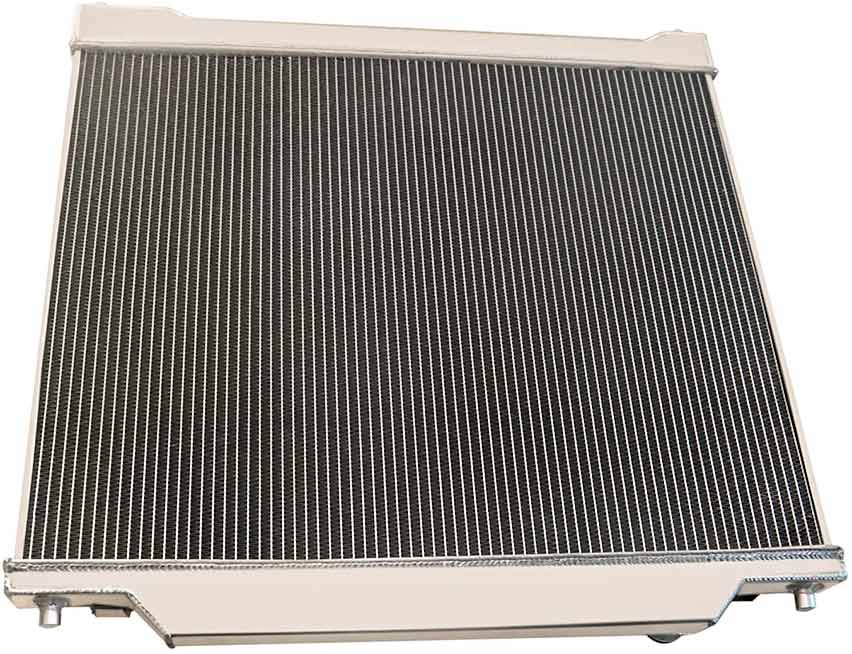 Verdict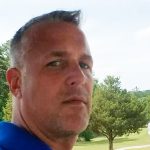 CoolingSky is incredibly efficient and rocks a unique, aviation-aluminum body that's on par with the most expensive rivals. It does have some QA issues, that's true, but easy fitment and anti-rust protection make it a bargain.
Buyer's Guide
Is coolant efficiency more important than capacity? What's the best material for a radiator? How easy is it to install a brand-new radiator on your own? What's the average price of a decent-quality unit? Should I go with one, two, or three rows? These are some of the most popular questions that I get asked. So, in this Buyer's Guide, you'll find quick, yet detailed answers, and then some.
Radiator Efficiency vs. Capacity
Some drivers think that these terms are interchangeable, but they're not. And, they're both very important. Now, efficiency is exactly that – it describes the radiator's ability to cool down the coolant, or, rather, how good (or bad) of a job it does. So, always check this in the specifications. If the aftermarket radiator isn't more effective than that factory unit, there'll be little reason in buying it.
The best third-party rads provide an up to 45% boost. As for capacity, it's another defining factor when buying a new radiator for your PowerStroke. The higher the capacity, the more coolant the radiator will be able to hold (and cool) at the same time, which dramatically increases its productivity and performance.
Engineering Quality + Materials
Next, we've got the build and material quality. The finest radiators are crafted from aluminum – a lightweight, durable, and heat-resistant material. And if the core is crafted from brazed aluminum, best believe it will serve you for a long time. Engineering-wise, I would recommend going with a brand that can be trusted. That way, you won't have to worry about poor-quality construction. Oh, and see that it's got "TIG-welded" in the specifications.
This is an advanced welding technique that, again, ensures durability and efficiency. With that out of the way, look for some extras. First of all, I'm talking about a drain plug. It has one important job: to filter out the metallic fragments from the antifreeze and keep it clean. A radiator cap would also come in handy. It raises the boiling point of the coolant, making the system more effective and reliable.
Ease of Installation + Fitment/Compatibility
Don't ever buy a third-party radiator unless it's 100% compatible with your PowerStroke engine. Otherwise, you'll have to waste lots of nerves trying to make it work. Now, sometimes, even specifically designed rads might force you to do some trimming or bending, but that's nothing compared to trying to fit a non-compatible radiator. Speaking of fitment, it should say "drop-in" or "direct fit" in the specs.
And it won't take much effort to figure out whether the unit will work with your system, or not. You'll find all the necessary information in the description on the official website or the biggest online stores. See that it fits your truck's exact make, model, and year. Don't just order a rad simply because it says "designed for heavy-duty vehicles"!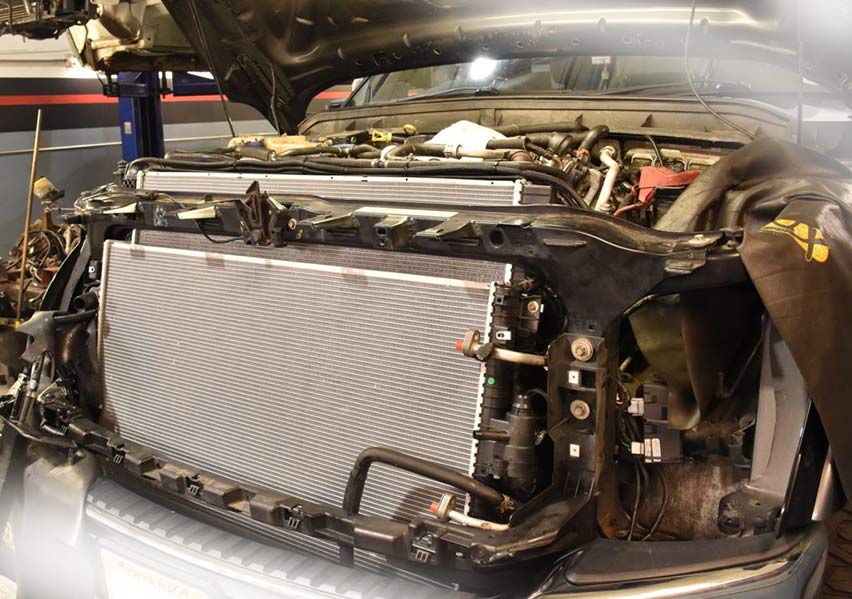 Pricing: How Much for a New Radiator?
The starting price on a solid-quality rad is $100-120. For that kind of money, you'll get good enough performance, a rather long lifespan, and above-average efficiency. Moving up the "ladder", we've got the 200-300-dollar units. These are usually backed by warranty deals and include extras like we just discussed. The brand matters as well, of course. Depending on the manufacturing location, logistics, and pricing policy, the final cost can be quite different.
And one more thing: with the PowerStroke engine, radiators crafted for the latest trucks are mostly cheaper. This isn't a universal rule, but still, something to keep in mind. Finally, rads that arrive in protective packages and feature all the necessary installation hardware will be more expensive than the "bare" units.
What Info Do I Need to Know to Order a Radiator for 6.0L Power Stroke Engine?
So, you're happy with the radiator's cost, ease of installation, build quality, and efficiency. What else is there to check? Is there something else that you should pay attention to before you make an order? Well, yes, there are several key aspects to consider. Remember: radiators are among the most reliable and long-lasting aftermarket accessories/gear. So, it would make sense to only settle for a perfect rad.
Most importantly, I want you to check the number of tube rows slash layers. Next, check the dimensions. Finally, see whether it's designed with heavy-duty trucks in mind, or not. That pretty much sums it up. Now, speaking of tubes, more rows don't always mean better performance. As we learned today from different radiator reviews, sometimes, two-row units can be more efficient.
But, in general, an extra layer of tubes is good news and will, most likely, be a worthy investment. Moving on, the size of the radiator is another important factor. Obviously, you should ensure compatibility before making a purchase, as we discussed in the Buyer's Guide. Plus, if the rad is too big, it won't fit the factory mounting spot.
And if it's too thin, it will leave gaps, which is NOT what you want with The 6.0L Power Stroke Engine. At the same time, look for a radiator with an extended surface area. The larger the "active" area, the easier it will be for the rad to keep the antifreeze cool. Last, but not least, take some time to look for a radiator that was designed for super-duty trucks and hauling/towing.
Signs You Need a Radiator Flush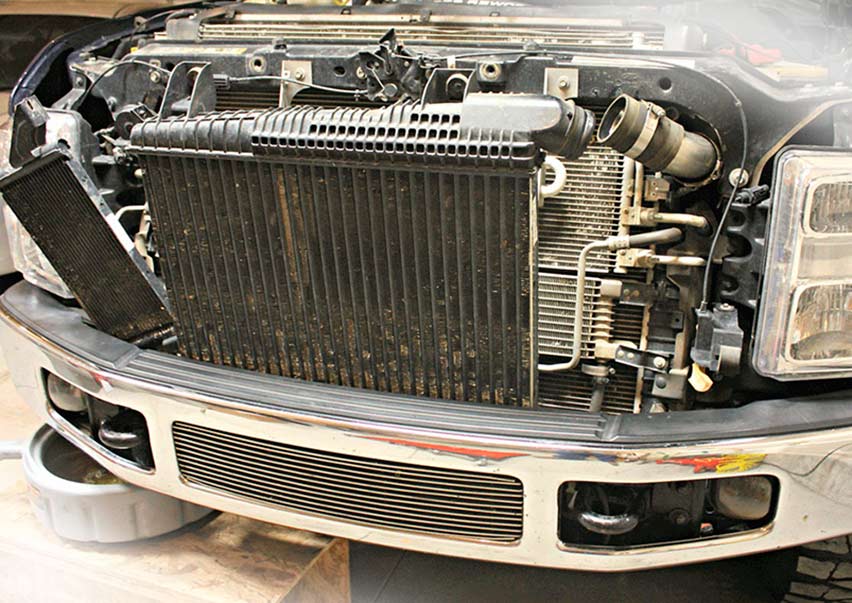 I get asked this a lot: when do I need to flush the coolant system? Another popular question is – why would I flush it in the first place? Well, this isn't rocket science. Over time, the antifreeze gets contaminated and clogged, and that dramatically worsens its efficiency. So, unless you want that big, powerful, and expensive PowerStroke to give up on you, keep your eyes and ears open for any signs of the coolant going bad.
Here's a quick look at the most common symptoms slash side effects signaling that you need to flush the radiator ASAP:
The temp gauge is reading way hotter than usual. This happens when you start the engine – the gauge slowly goes up and reaches a critical point. Now, while there could be something wrong with the motor, the spark plugs, or the air intake system, 90% of the time, spikes in the gauge indicate that the coolant needs to be flushed.
The antifreeze is leaking. This is arguably the easiest-to-detect symptom. All you have to do is look under the truck, and if you see drops of coolant, that means coolant replacement is in order. In a severe case, it's gonna be a puddle of the fluid piling up (say, when you parked the vehicle in your garage). The coolant has a sweet smell and is colored green or orange.
You hear a strange noise. It will be coming from the truck's hood. Again, unusual noises aren't only caused by bad antifreeze. Trouble with The 6.4L Power Stroke, faulty ignition coils, or a malfunctioning exhaust system can also be to blame. But, if it's a grinding, growling noise, then it's probably the coolant.
The antifreeze gets clogged. If you drive around with bad/clogged coolant, that will have a negative effect on performance, fuel efficiency, and steering. So, make a habit of checking on the liquid regularly. The biggest sign of dirty coolant is rust. You'll see bits of it "floating" in the mixture. If that's what you're experiencing, flush the radiator fluid ASAP and refill the cooling system with brand-new antifreeze.
Ford Quick Tips: The Trick to Purging Air From Your Cooling System
Did you know that air is the biggest problem for any fluid? That's right: when it gets mixed with the antifreeze, that can cause damage to the engine. The efficiency of the antifreeze will worsen and it won't be able to keep the motor cool. So, to get rid of the so-called "air pockets", you gotta bleed the entire system. The whole process will take +/- 30 minutes. And, I highly recommend doing it at least two times to achieve the best result. Here's how you do it:
Park the truck on a flat surface and turn off The All-New 6.7L Power Stroke motor.
Open the hood, locate the radiator cap, and carefully remove it.
With that out of the way, grab a can of antifreeze and add it into the cooling system. Use a funnel for that.
This should push most of the air pockets forward and they'll escape the tubes, which is what we want.
Keep adding coolant until there are no bubbles and the radiator is full.
Next, get into the truck and set the heat control knob to the max setting.
As for the fan, switch it into the lowest mode.
With the PowerStroke engine "coming to life", the antifreeze levels in the radiator will drop.
So, go back to the hood and add some of that coolant to keep the system active.
Soon, the thermostat will kick in and allow the antifreeze to reach the block.
Once that happens, close the radiator cap and let the liquid flow through the tubes for 5-10 minutes.
That's actually all there is to it!
What Tools are Used to Change a Radiator for Ford 7.3L Power Stroke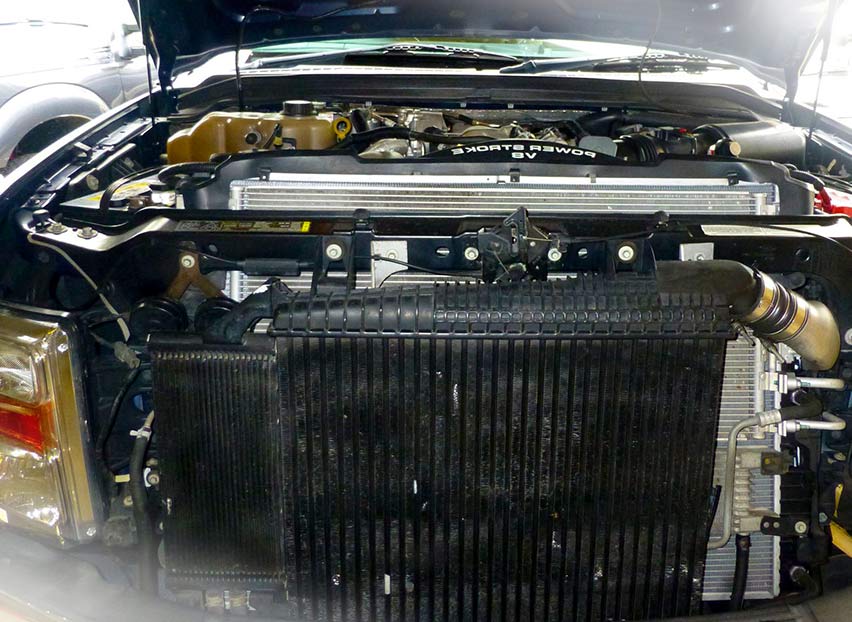 It's safe to say that you won't have to spend big bucks on the tool set. Yes, the list is going to be pretty big, but, again, this equipment is available for cheap. Besides, you could always ask a friend or neighbor to lend a screwdriver, a bucket, or some gloves. In any case, make sure you've got the following stuff ready. Here's what you'll need:
Protective gloves and a set of goggles for the eyes
A set of screwdrivers (Phillips, Slotted, and Flathead should do)
A wrench set (available for cheap online or at local stores)
A bucket (one that you can use to collect the coolant from the system)
Hoses and hose clamps to connect and secure the aftermarket radiator
A jack to lift the truck and a couple of jack stands to hold it steady
A fresh bottle/canister of antifreeze (you can't reuse the old coolant)
Installation hardware (usually comes with the radiator)
A detailed user manual (it might be challenging to handle everything without it)
Ok, there you have it! The equipment required for manual radiator replacement is vastly available and won't break your bank. And, once you connect everything and get the new radiator to cool the 7.3L Power Stroke, you won't have to get back to it any time soon, as rads are quite durable and have an impressive lifespan. So, follow the provided instructions closely and use all the right tools!
Conclusion
Alright, that pretty much sums up my breakdown of the best PowerStroke radiators. We checked out 16 premium-quality radiators for four different PowerStroke engines – 6.0, 6.4, 6.7, and 7.3-lit. They all went through a series of rough tests and have proven their efficiency in real-world situations. With that said, there are still some (minor) cons along with the pros. And, of course, every single unit is unique.
So, I want you to read all the reviews carefully and pay extra attention to the advantages and disadvantages. That should help make the right choice. The Buyer's Guide and the FAQ section, in turn, will teach you everything there is to know about efficiency, build quality, pricing, installation, and more. Still got some unanswered questions? Ask away in the comments!