If you're used to carrying precious cargo around or just live in a windy, snowy, or dusty area, a tonneau cover is a must. It's no secret that any truck's bed is its weakest spot, and the F150 isn't an exception to that rule. Without proper protection, over time, the bed will become overwhelmed by water, dust, and corrosion. And let's not forget about the thieves!
Our focus today will be on the best tonneau cover for F150 Supercrew. This is one of the biggest and strongest trucks out there. It can take in up to six people and is good at towing. And that's even more reason to consider getting a bed cover. For this post, I picked five offers from big-time brands. The list includes both soft and hard covers, along with a Buyer's Guide.
1. Tyger Auto – Best Roll Up Tonneau Cover for F150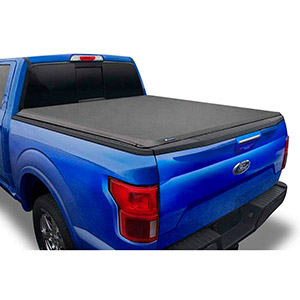 As far as the finest soft covers for the F150 go, this one is a top-three pick. Tyger Auto did an excellent job with it, taking the original concept to the next level. The first thing that caught my eye was the patented, US-made locking mechanism. It's more advanced and secure than the market average. And it will protect the bed from exposure to thieves and elements (rain, snow, dust, and more).
The package, in turn, includes high-quality installation hardware and a very detailed user manual. With its help, it will be very easy to go through with the installation on your own. The material quality is pretty decent as well. You've got dual-coated marine-grade vinyl for the top and steel rails with aluminum coating. I have to warn you, however, not to put anything on top of this cover. Even a minimal amount of snow tends to stretch the vinyl.
Pros & Cons
Trademark locking mechanism
Comes packed with a guide and hardware
Premium material quality for the price
Can't handle any extra weight
Expert Recommendations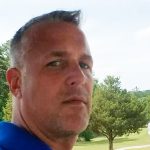 Highly secure, crafted from good materials, and packed with a guide – that's what Tyger Auto's tonneau cover is all about. It's quite good at securing the bed and keeping it safe. And while it has a hard time holding any excess weight, that won't even be an issue if you live in a warmer area.
2. Gator Covers – Best Tri Fold Tonneau Cover for F150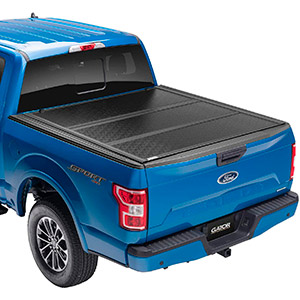 This next product on the list is a hard cover. That means it's more secure and tougher to "crack" for the thieves. This is a tri-fold cover and will be a very good investment for the F150, especially the SuperCrew edition. Its biggest selling point is the auto-locking panels. Crafted from heavy-duty aluminum, they'll make sure to keep all the "external forces" at bay. Plus, thanks to black powder coating, they're scratch- and UV rays-resistant.
Another standout feature: in contrast to soft covers, this one can hold up to 300 pounds of extra weight. It should be evenly distributed, of course, but that's still rather impressive. What I didn't like about the GC24019 cover was the slightly steep price-tag. However, the superb material/build quality and the advanced locking system make it all worth your while.
Pros & Cons
Auto-locking panels for added safety
Black powder coating against sun rays and scratching
Easily holds up to 300 pounds
A bit on the expensive side
Expert Recommendations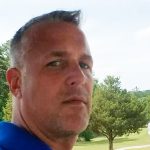 Looking for a hard tonneau cover to protect the F150? Gator Covers might have just the right stuff for you with EFX. It's equally good at protecting against thieves and weather elements and can even carry around 300 pounds of weight – more than enough for the average truck driver.
3. Maxmate – Best Soft Tonneau Cover for F150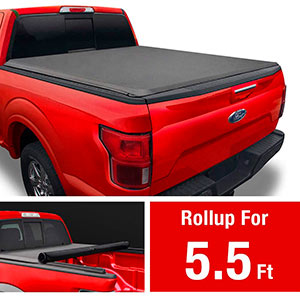 The owners of one of the latest editions of the F150 should pay extra attention to this product. It's one of the best soft bed covers out there and will be a perfect fit for this truck. There won't be any shaking or swaying, no matter how windy it is or how hard you're pressing on the gas pedal. And, MaxMate offers it for cheap. Add a ten-year no-hassle warranty, and you'll see why this is a popular tonneau cover.
The tension system and the locking mechanism are decent as well. The Velcro strips aren't very durable, however, and might give up on you in two or three years. But the generous warranty will back you up if that happens. Overall, as a low-budget cover for the SuperCrew, MaxMate is a no-brainer. It fits easily and is good at protecting the bed.
Pros & Cons
No shaking of vibration – a perfect fit
Backed by a generous ten-year no-hassle warranty
A low-budget purchase compared to the rivals
The Velcro strips are average at best
Expert Recommendations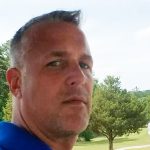 This tonneau cover looks great on the road, takes very little time to install, and fits the F150 like a glove. The affordable price-tag, along with the ten-year warranty is even more reason to consider it over the competition. The Velcro strips are its biggest downside, but they're good while they last.
4. Syneticusa – Best Retractable Tonneau Cover for F150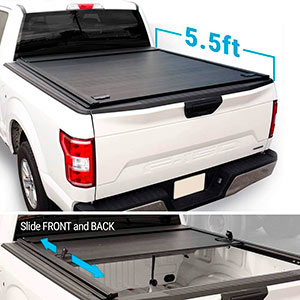 If you're worried about bad weather ruining whatever you're transporting in the truck's bed, pay extra attention to this retractable cover. It provides top-notch protection against debris (and all kinds of contaminants) and dust, thanks to quality engineering. The front-back slide system, in turn, is very "user-friendly" and convenient. Next, the low-profile design is both efficient and stylish.
It helps to improve the MPG (miles per gallon) ratio and boost performance, thanks to aerodynamic gains. You'll be able to install this tonneau cover on a wide range of F150 model years (2004-2020). Just don't rely too much on the installation instructions, as they're not very clear (especially the blurry pictures).
Pros & Cons
The low-profile design maximizes fuel efficiency
Superb protection against dust and contaminants
Compatible with a long list of F150s
The installation instructions can be misleading
Expert Recommendations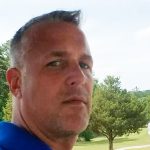 Despite the low-quality user guide, this tonneau cover will be very easy to install. It's compatible with many F150 models and boasts a highly aerodynamic design. It improves the MPG ratio and makes the truck go a little bit faster. Strong protection against dust/debris comes as a nice bonus.
5. Rough Country – Best Hard Tonneau Cover for F150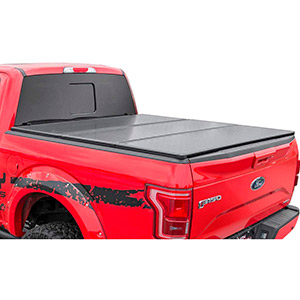 Here, we have another easy-to-install bed cover for the F150. It's a hard cover, by the way – that equals better protection and more durability. If you've got a set of basic tools in your garage, everything will run smoothly. The quick-clamp system is its pride and joy. With it, you won't have to spend hours during installation. In addition, it makes it easier to access the stuff under the cover, as well as mount it on and off.
Unfortunately, the clamps may break if you're not very careful – they're made of cheap plastic. On the bright side, Rough Country backs it up with a lifetime warranty. During my test, this tonneau covered proved to be incredibly reliable. After a whole night under heavy rain, it didn't let a single drop through!
Pros & Cons
Very easy to install with basic tools
Efficient quick-clamp system
Protected by a lifetime warranty
The clamps are of low quality
Expert Recommendations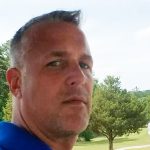 Backed by a lifetime guarantee, highly efficient, and easy to install, the Rough Country bed cover is a bargain. Still, be extra careful with the clamps and replace them with something more durable.
Buyer's Guide
The weather and the thieves are your truck's bed's biggest nightmare. Thankfully, with a decent tonneau cover, you'll be able to keep it well-protected. But how do you know what to look for? What's the most important thing about a bed cover? Is it the material quality, or weather resistance? And should you pay a top dollar for a hard cover, or not? Read on, and you'll find answers to all those questions!
Material Quality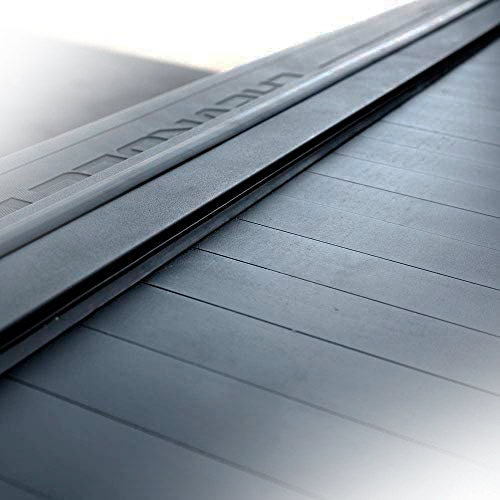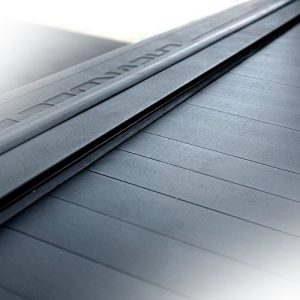 Bed covers consist of the top, side rails, and clamps, not to mention the crossbars that provide support when needed. Therefore, you gotta take a minute and check the specs for the material quality. For a soft cover, marine-grade vinyl is the best deal (for the top). The rails/clamps, in turn, are usually crafted from steel (it can be stainless, or aluminum-coated). Hard covers use metal panels, mostly crafted from aluminum.
The construction quality shouldn't be taken lightly either. Unfortunately, this can't be checked properly when making a purchase: you'll just have to watch videos on YouTube and read reviews. The good news is – most leading brands value their reputation and back their gear up with premium engineering.
Weather Resistance
Rain, snow, slush, and dust – those are just some of the "tools" that nature has at its disposal. Then there are the sun rays (UV) and debris that can also cause a lot of problems for you. No matter how top-notch the cover may be, over time, it will get overwhelmed. So, weather resistance is another important factor to consider. Lucky for us, it's possible to get an "all-in-one" kind of a deal: a bed cover that protects against everything.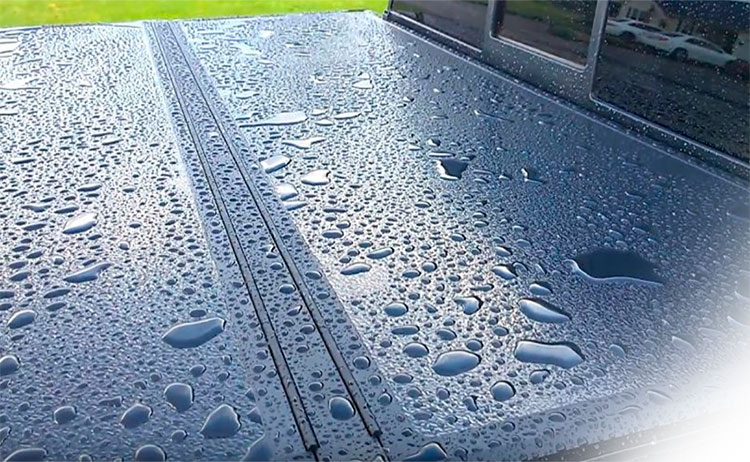 I highly recommend getting a so-called "weather-tight" cover. It will be a perfect, tight fit and won't let water (rain and snow) get underneath the vinyl top and create a mess of things. This is achieved thanks to the adjustable tension system. It ensures the cover is wrinkle-free and there are no gaps.
Easy Installation
Some tonneau covers take up to an hour to install and require pro-grade tools. Others can be mounted on and off the truck in less than five minutes. And, all of that can be done with some basic tools or even your bare hands. Now, the cheaper covers come with separate panels and a folding frame – not very practical. Premium-quality covers, in turn, use the rolling system that makes it easier to lock the bed and open it up.
The most secure hard covers usually take more time and skill to install. One more thing: pay attention to the cover's design. If it was crafted with aerodynamics in mind, that will slightly boost the overall performance. Plus, you'll get better fuel economy. That's because with an open truck bed, the air works a bit against the truck, making it turn those wheels harder (and burn more fuel).
The Locking System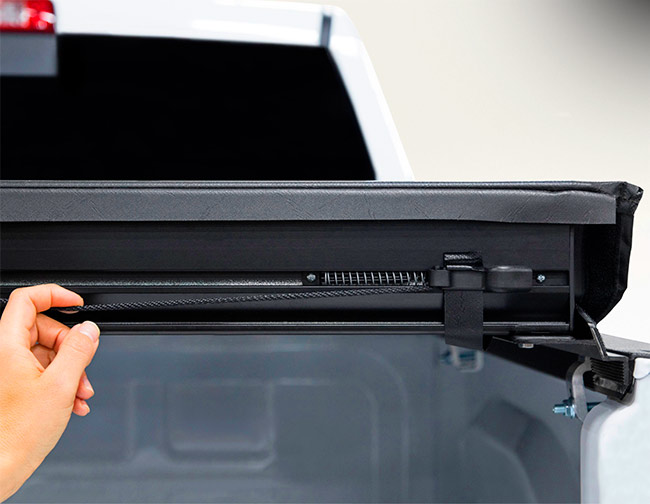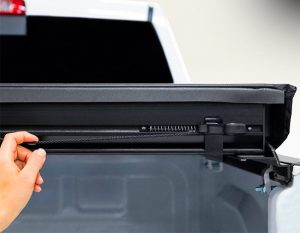 As I already mentioned in the beginning, tonneau covers protect not only against the weather but also thieves. The bed is any truck's most unprotected area, and it won't take a long time to steal something from back there. That's where the locking mechanism comes in. The more advanced it is – the less you'll have to worry. You have a choice between two systems here: first, it can be an actual lock.
Or, you can go with a different design that "shuts down" whenever the tailgate is up. For example, the Gator bed cover comes with auto-locking panels. When closed, they automatically lock the bed, making it pretty much impossible to get in. Locks are much easier to open (for the owner of the car), but the tailgate technology is more secure.
Soft vs. Hard
Folks on a budget will appreciate soft covers, as they're much cheaper. On top of that, they are quite flexible and well-protected against the weather. Tough fabric/vinyl – that's the go-to material, and it's very easy to roll and fold. Soft covers aren't very good at securing against thieves, though. In contrast, hard covers are all about brick-strong protection.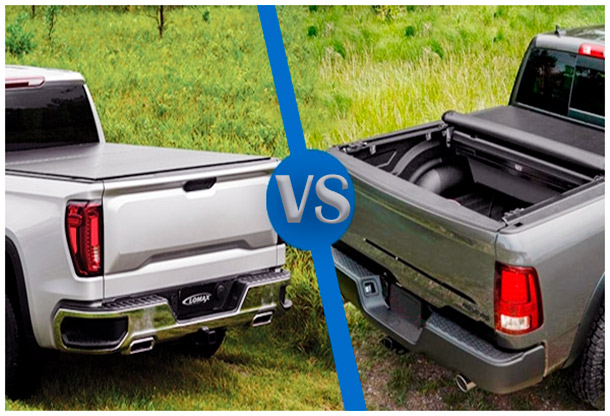 Thanks to durable metal panels, it will be much harder to get through to the bed. However, hard covers are trickier to install. And, they're a lot heavier, but that's compensated by their ability to hold up to 300-400 pounds of extra weight.
Best Tonneau Cover for F150 SuperCrew (Updated October, 2023)
Product
Product Information
View on Amazon

Editor's Choice

1) Tyger Auto T1 Truck Bed TG-BC1F9029

Best Features:
– A unique and secure locking mechanism
– Includes a detailed guide and installation hardware
– Impressive build and material quality
Type of Cover: Soft
Size: 5.5′ Bed
Year: 2015-2020
Available Options: Size: 6.5′ Bed

2) Gator EFX Tonneau Cover GC24019

Best Features:
– Auto-locking panels for extra security
– UV- and scratch-resistant powder coating
– Can carry up to 300 pounds of weight
Type of Cover: Hard
Size: 5.5′ Bed
Year: 2015-2020
Available Options: Size: 6.5′ Bed

3) MaxMate Tonneau Cover TCF169029

Best Features:
– Fits perfectly with no gaps; doesn't vibrate
– Protected by a ten-year no-hassle warranty
– Available at a reasonable price
Type of Cover: Soft
Size: 5.5′ Bed
Year: 2015-2020
Available Options: Size: 6.5′ Bed

4) Syneticusa Aluminum Waterproof Tonneau Cover

Best Features:
– Low-profile design – efficient and good-looking
– Strong protection against dust and debris
– Covers a wide range of F150 trucks
Type of Cover: Aluminum
Size: 5.5′ Bed
Year: 2004-2020

5) Rough Country Tonneau Cover

Best Features:
– Easy, fast installation: takes +/- five minutes
– Quick-clamp system: no extra tools required
– Backed by a lifetime warranty
Type of Cover: Hard
Size: 5.5′ Bed
Year: 2015-2020
Conclusion
Bed covers may not drain your wallet, in fact, they're quite budget-friendly, yet they pack a punch when it comes to value for money. As mentioned earlier, extreme weather conditions like sweltering heat, bone-chilling cold, relentless rain, or invasive dust can wreak havoc on your truck's tonneau. Moreover, if you frequently store valuable items in that space, a lack of a secure cover might as well be an open invitation to opportunistic thieves. Therefore, investing in a robust bed cover is indeed a logical and prudent choice when considering aftermarket accessories for the F150 SuperCrew.
In case you're still on the fence about which cover would best suit your vehicle, my curated top-five list can serve as a reliable guide. Each product featured in the comparison table promises substantial value for your investment. To gain a deeper understanding of the diverse types of covers, the significance of a sturdy locking system, and other critical considerations, feel free to peruse the Buyers' Guide. It's packed with insights to help you make an informed decision.