A tuner is a device that aims at maximizing your car's performance. It connects to the computer system and re-calibrates certain settings to gain extra horsepower, torque, mileage, and more. Now, different tuners fit different cars and engines, and today, I want to talk about the best tuner for 2017 6.7 Powerstroke. This motor was developed by Ford's engineers for its line-up of heavy-duty trucks/SUVs.
It's one of the most reliable, durable, and capable engines on the market right now. And if you want to take it to the next level and boost the efficiency, the following list will be right up your alley – I chose five tuners for it. And while they'll all be money well spent, you still need to check every single pro and con to make the right choice. Let's do just that!
1. EDGE – Best Tuner for 6.7 Powerstroke Emissions Deletee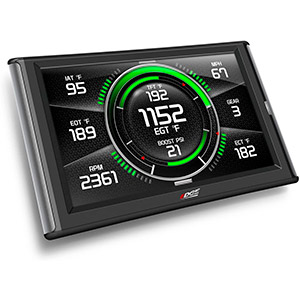 Ford drivers looking to get a decent boost in HP and torque without investing in a replacement gear will probably like this tune. With it, you'll get a guaranteed performance increase by just connecting to your vehicle's computers and letting the tuner take care of the rest. Another standout feature is engine data monitoring. It happens in real-time and helps the driver find flaws and fix problems before they grow into something more serious.
The big (five-inch), high-definition touchscreen deserves our attention as well. It makes EDGE look like an infotainment system/head unit with that sleek design and everything. The backgrounds are customizable, and the swipe-screen system is very fast, intuitive, and easy to navigate. There's one downside, though, and that's the steep price. Of all the programmers on today's list, it's the most expensive one.
Product Rating
Performance Increase
5 / 5
Pros & Cons
Real-time vital engine data monitoring
Trendy design with a sleek touchscreen
Significantly increases the HP and torque
A somewhat expensive purchase
Expert Recommendations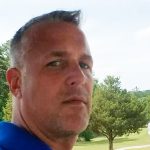 As far as the most capable and good-looking engine management systems go, CTS2 is an obvious leader. It provides real-time engine monitoring, features a premium touchscreen, and gives HP/torque a nice "kick". The slim design is an eye-grabber, too. You'll have to pay a top dollar for all those pros, however.
2. Pedal Commander – Best Controller with Bluetooth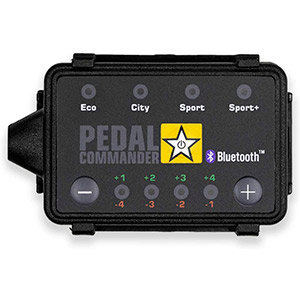 Moving on with our list, let us check out what Pedal Commander is all about. Its biggest selling point is the advanced Bluetooth connectivity, of course. You can download an app (available for free) and control the tuner from your Smartphone (iOS or Android), which is pretty cool. Plus, the device includes 36 highly adjustable settings. They can be fine-tuned to achieve the best result on your vehicle.
These settings are divided between four different modes: Sport, Sport +, City, and Eco. During my review, I was disappointed by Eco, as it's not at all fuel-efficient and makes the engine act kinda strange. On the bright side, this is one of the most affordable aftermarket tuners for the Ford line-up. So, if you're on a tight budget and need a new programmer ASAP, Pedal Commander might just be the best deal for you.
Product Rating
Performance Increase
5 / 5
Pros & Cons
Can be controlled through a phone via Bluetooth
Includes 36 pre-built adjustable settings
A very affordable purchase
The ECO mode is pretty much worthless
Expert Recommendations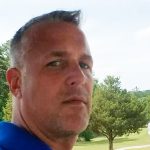 Advanced Bluetooth connectivity, a long list of pre-built settings, and impressive customization options are all a part of this tuner. But that's not even why I decided to put it on the list. I did that because this is a low-budget device that appeals to a wide range of drivers. It offers a perfect price-quality ratio.
3. Southwest – Best Fuel Economy Tuner for 6.7 Powerstroke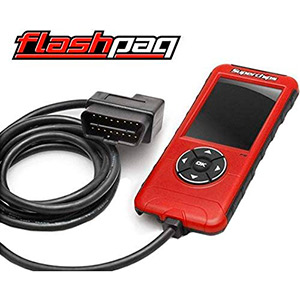 The FlashPaq tuner has been around for quite a long time and can be relied on to take care of your engine. It is compatible with a long list of Ford nameplates from 1999 to 2019. So, if you've got a truck and an SUV, don't hesitate to connect them both to this programmer. What I like most about it is the solid improvement in fuel efficiency. Once you let the FlashPaq do its magic, you'll instantly see a boost in MPG.
Add a friendly, easy-to-use, and fast user interface, and you'll see why Southwest is still a big player in the field. Sadly, you won't get a touchscreen as with the most advanced tuners – only a small display and buttons right below it. But, this isn't that big of an issue, especially if you're looking for a reliable, rather than a good-looking device.
Product Rating
Performance Increase
5 / 5
Pros & Cons
Improves fuel efficiency on and off the road
User-friendly, quick-to-respond UI
Works with a wide range of cars
No touchscreen (only a rather small display)
Expert Recommendations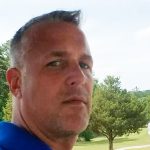 Enhanced compatibility (with Ford cars), a fast, straightforward interface with easy navigation, and increased mileage turn this tuner into a must-have. And while the FlashPaq doesn't have a proper touchscreen, as a reliable workhorse, it's exactly what the doc ordered.
4. SCT – Best Diesel Tuner for 6.7 Powerstroke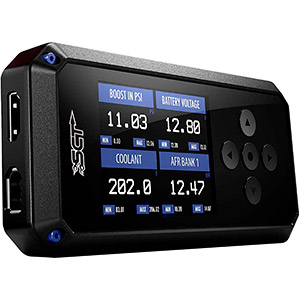 If you're one of those folks that always worry they're going to drop and break their devices, SCT's offer is just for you. This company's engineers created one of the most durable "shells" for this tuner, and it can take a beating. It's also quite advanced and feature-packed. With it, you'll be able to use Wi-Fi and download all the latest updates via the Internet. The programmer comes with built-in (dyno-tested) tune files, by the way.
In addition, you can create/load your own tunes – up to 20 – and improve performance that way. Good-quality tunes usually cost a lot, though, and SCT doesn't provide any free ones. As for the biggest downside – this programmer won't start working properly right after you purchase it. The device requires a PCM unlock, and that will cost extra money.
Product Rating
Performance Increase
4.9 / 5
Pros & Cons
Can be loaded with up to 20 user tune files
Wi-Fi enabled: onnects to the Internet
Impressive design and build quality
Won't work without a PCM unlock
Expert Recommendations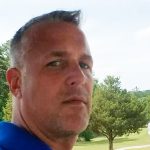 Wi-Fi enabled, packed with dyno-tested tunes, and easy to load up with new tunes from the Internet – that's the SCT tuner in a nutshell for you. It also features a strong, durable design that protects the electronics inside. You'll have to do a PCM unlock to be able to use it, however.
5. Bully Dog – Best 6.7 Powerstroke Tuner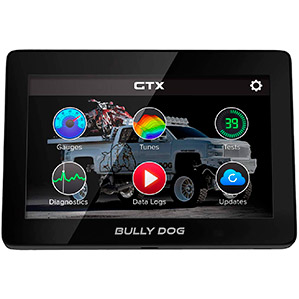 Don't let the brand's name fool you: Bully Dog is a prominent player on the market of car electronics. During my test, I was impressed by the easy, fast installation process. You won't even have to read any installation instructions to make sense of everything. Also, the package is quite generous and includes not only the tuner but all the necessary cables and a suction cup mount.
And it doesn't take long for this programmer to start doing its thing. Once you familiarize yourself with the settings and launch the right sequences, you'll instantly see a boost in performance. Sadly, this isn't a particularly reliable tuner. Some users report that it stops working after a couple of months and can, overall, be laggy and non-responsive at times.
You can also look at the previous version of the product on xtremediesel
Product Rating
Performance Increase
4.9 / 5
Pros & Cons
Doesn't take long to introduce real changes
No-hassle, effortless installation process
The package includes lots of extra stuff
Not particularly reliable
Expert Recommendations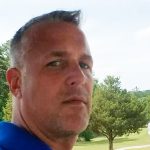 Ford owners searching for a big package with lots of extra stuff will find Bully Dog to be a good investment. It's also very easy to install/connect to your car's computer and takes little time to maximize the HP and torque. Unfortunately, it's not very reliable and is known to "act up" once in a while.
Best Tuner for 2017 6.7 Powerstroke (Updated October, 2023)
Product
Product Information
View on Amazon

Editor's Choice

1) Edge 85400-100 Diesel Evolution CTS3

Best Features:
– Advanced real-time engine data monitoring
– Slim and sleek design with a touchscreen
– Provides a decent boost in HP/torque
5-inch full color Screen

2) Pedal Commander – PC18

Best Features:
– Bluetooth-compatible for added control
– Highly customizable: includes 36 settings
– One of the cheapest tuners on the market

3) SUPERCHIPS FLASHCAL F5 IN-CAB TUNER

Best Features:
– Does a decent job of boosting the MPG
– Features a friendly and fast interface
– Compatible with a long list of vehicles
High-definition, 2.8″, color Screen

4) SCT – 40490 – BDX Performance Tuner

Best Features:
– Includes a big set of built-in tune files
– Wi-Fi enabled for quick access to updates
– Durable, hard-to-break construction
Large Backlit LCD Screen

5) Bully Dog – 40465B – GTX Performance Tuner

Best Features:
– Delivers immediate results
– Easy and straightforward installation
– Comes packed with lots of extras
Capacitive 5″ glass touch screen
Buyer's Guide
Engine management systems come in all shapes and sizes. Some boast big, high-definition screens, while others feature a fast, feature-packed user interface. And then there's advanced connectivity, downloadable updates, and easy installation. And let's not forget about the price. So, what should you pay attention to first when scrolling through a list of available tuners? Read on, and you'll find all the answers in this Buyer's Guide!
Display/Navigation
While this might not be the most important factor, most drivers usually look at the screen first before checking other parameters. Ideally, you want a big, five-inch screen that won't make your eyes blink. A high-definition display should do the trick. And, I highly recommend going for a tuner that has a touchscreen. That way, it will be much easier to select the right preset, access different functions, and check various data.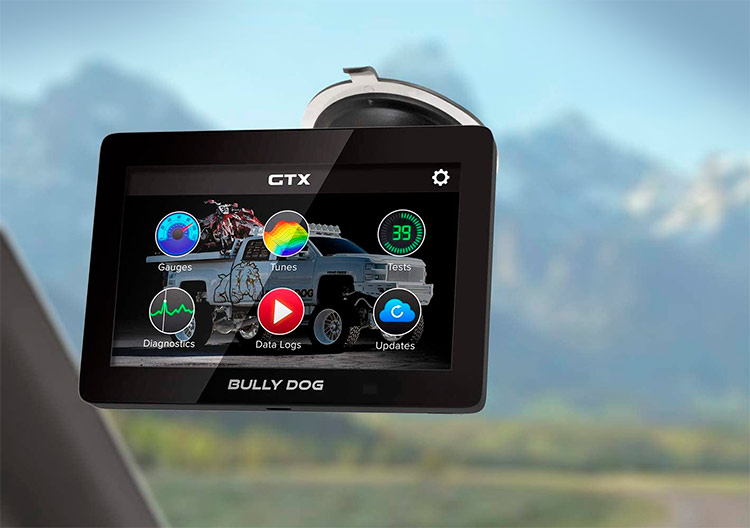 Easy navigation comes next. Some user interfaces are far from intuitive and straightforward – they're overcrowded and hard to use. It's also very important for the UI to be quick to respond. There's nothing worse than a programmer that takes forever to switch between different screens and access certain features.
Connectivity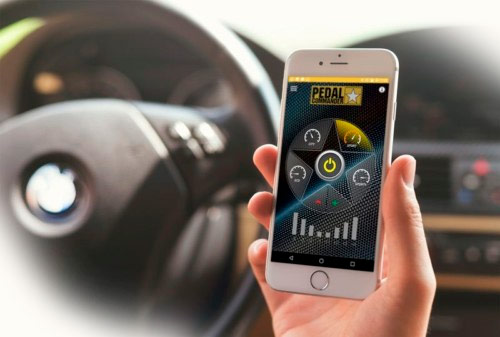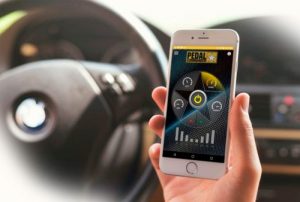 I'm talking about advanced functionality and compatibility with Smartphones, of course. The most capable tuners support Wi-Fi and Bluetooth and provide the users with additional means of control. With such a device, you can use your phone to select different modes and even give direct commands. Just make sure you're running one of the latest editions of iOS or Android.
Plus, you'll have to download a dedicated app to start using Bluetooth connectivity. Customization is important as well. I'm talking about a UI that allows you to create your own presets and save them. Plus, in some tuners, it's possible to change the background and do other kinds of tweaks.
The Feature Set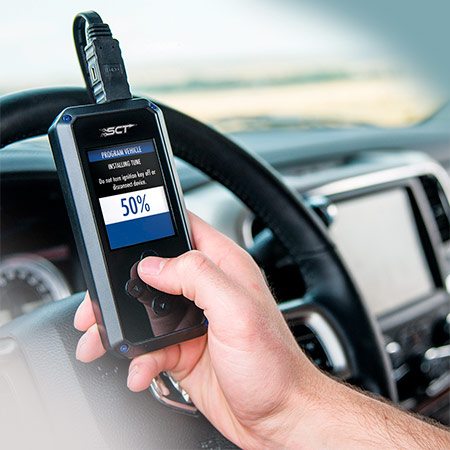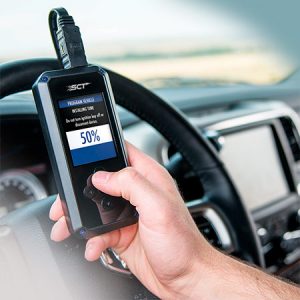 Don't even think about buying a tuner that can't run a full diagnostic of your vehicle, recalibrate the speedometer, or the axle. This is the standard set of features that any decent tuner comes with. A more advanced device will be able to monitor data in real-time and provide the driver with constant updates. Also, check the list of available performance tests that work towards improving the powertrain and gaining extra HP and torque.
Durability
By definition, most gadgets are pretty fragile and will probably break if you hit them or drop them. Unfortunately, that happens a lot (with head units, for example). That's exactly why you should look for a tuner that can take a beating. Check the material and engineering quality. If the tuner is too cheap, rest assured the manufacturer tried to cut the budget on build quality and used average materials.
Extras
All that you'll need to start using a brand-new engine management system is a USB cable (to connect to any device that supports this format) and an adapter plug (OBDII) to, well, plug into your car's electronic systems. A magnetic holder slash suction cup mount would be very welcome as well. It allows "sticking" the tuner pretty much anywhere you want.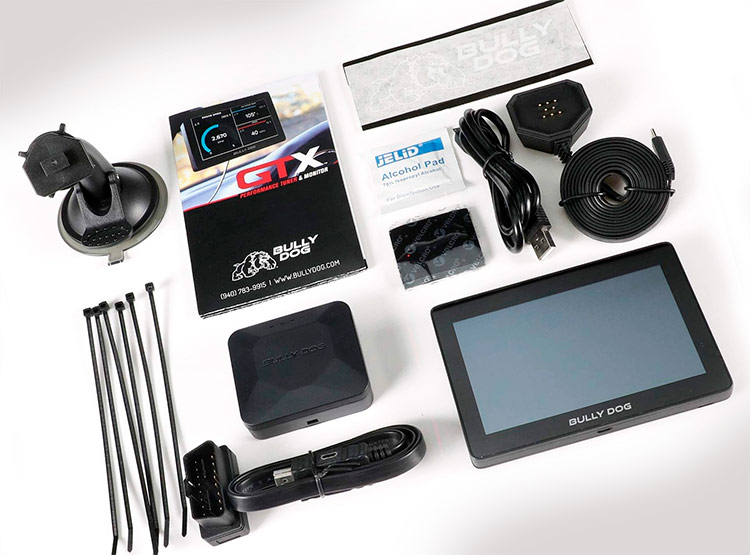 I always check the package to see whether it includes instructions or not. While most similar devices are user-friendly and very easy to use, there may be some difficulties with connections and the first launch. A detailed user guide will be a God-sent in this situation and help you get started.
Conclusion
And that concludes my review of the best tuners for Ford's powerful 6.7-lit V8 – the Powerstroke. As we learned today, programmers can introduce a lot of positives changes to the powertrain, including extra HP/torque, better acceleration, improved fuel efficiency, and more. On top of that, they are very good at running diagnostics and revealing issues before they grow into something bigger.
EDGE has one of the most advanced and feature-packed tuners on the market, with a lovely touchscreen. However, it's rather expensive. Pedal Commander, in contrast, is very affordable. The other three devices have their own advantages and disadvantages as well. I'm confident that you'll find your perfect pick on my list. All you'll have to do is check the best/worst features, take a look at the specs, and only then make a choice!